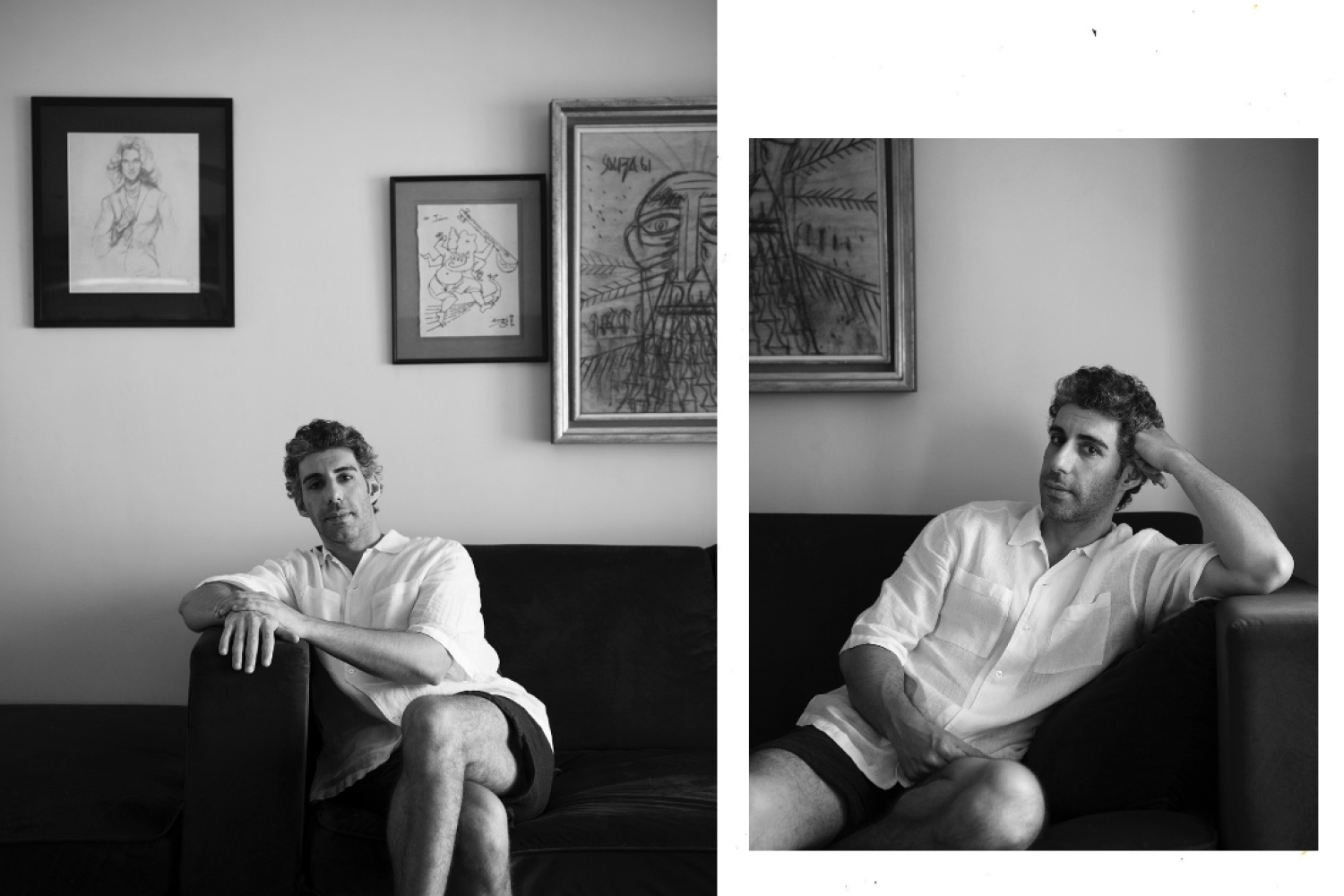 The Pursuit of Home
Jim Sarbh
AT HOME WITH MIMI AND JIM
My conversation with Jim Sarbh began with how he came to adopt his pet cat Mimi considering he'd had an eventful day at the vet's due to her injury. The feline continued to prance around, unbothered in the airy space of Jim's home in Khar, as he nestled comfortably on his emerald green sofa and told me how it was a romance that began over aspilt bag of blueberries after a grocery haul just as the first lockdown was announced. Mimi fawned all over him, while Jim, unequipped to house a cat during early lockdown, completed his sundry errands only to fixate over her all through the night. A few days with some extensive rescue efforts, another chance encounter and a random Instagramrepost later, Mimi made her way home to him.
As I observed my surroundings, I was intrigued by the design elements and trin- kets all across Jim's home. The actor, who has had a very successful innings at the cinema and OTT recently with Gangubai Kathiawadi and Rocket Boys, spoke to me next about his idea of home and whether he feels attached to the tangibility of it. His response was succinct and without hesitation, "I like my home. I feel nice when I come back to my space, the one I've set up the way I like where it doesn't feel like things are on top of each other. There's a nice sense of space. I like the feeling of coming back home after travelling for a project."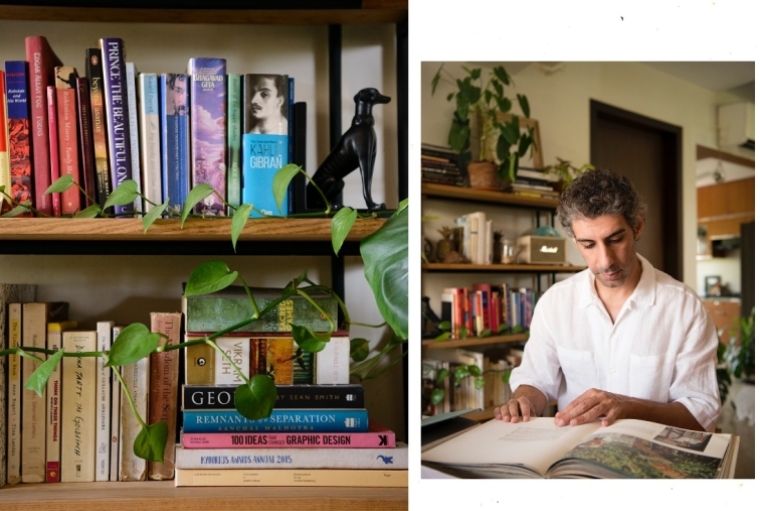 THE NATURAL CONNECT
The Mumbai summer was sweltering but the sunshine filtering in through the gargantuan windows lent a rather cosy vibe. I saw house plants settled everywhere, from the kitchen to the living room, hanging on the walls and in and around his book shelves. He spoke fondly of his sacred space, "I personally like the idea of having greenery in your house. Some of my favourite buildings are ones with creepers and when they make a full green wall with climbing plants. I feel happy in a natural setup, I can zone out." Having spent his formative years in Australia, away from the main city of Sydney, Jim was surrounded by lush greenery and forest trails connected to a park.
ON ART
When it comes to art Jim doesn't have any prerequisites, "It could be something as simple as a colour, or as complicated as a thought experiment. Recently, I was looking at the two paintings of Judith Beheading Holofernes by Artemisia Gentileschi and Caravaggio and somebody sent me an article about how they're comparing the paintings through a post-modern gendered lens. It is also about how they've depicted the killing, there's Judith in the old tale who was considered pure. Disgusted by her village's inaction as Holofernes' army approached, she took matters into her own hands. She goes on to more or less seduce him and eventually cuts his head off. In the first one the woman has a rather odd and unreadable expression and there's also an older nurse behind her who is slightly frightened. In the second one, both women are the same age and putting in effort to cut his head off. There were also details of how the painter was a victim of sexual assault and apparently she had fought back and knew what it was like to have a large Roman man upon her." His preference ended up being the narrative that Caravaggio presented that excited him despite not being realistic to the moment like the other one, Judith with her "almost pitying, almost fascinated and impassive" expressions and Holofernes with "shock and horror" in his eyes as he lay down half dead. For Jim art needs to be striking. "Art doesn't always have to have meaning but I like stories so I'm happy to involve myself in the meaning also."
What caught my eye, as he discussed art with just as much ardour as he did films, was a frame behind with a dedication to him. I asked him if there was a story behind it and he attempted to recall, "My grandfather opened the Pundole Art Gallery, I was merely five years of age when this was painted. It was probably during one of my visits, he might have been around, he might have taken a piece of parchment and given me a little something. Or he might have painted something and brought it for me. It could be anything."
BAUBLES, BOOKS AND MORE
Before we made our way towards his very exciting bookshelves, Jim talked about the intriguing trinkets adorning the living room table. The 'frog dogs' was what he had chris-tened the little keepsakes from Estonia. "The ceramics found in the old town of Tallinn were very different from what one finds in Switzerland. This was all weird stuff, nothing too pretty. I like art when it isn't just one thing. The appeal is nicer when it is a couple of things and more complicated to unravel." Lying right next to his 'frog dogs' was a kooky little bauble, a nose tarantula to be precise. On the wall adjacent also hung ornamental masks he had picked up from Guatemala travelling for a wedding. He took me back to the memory of him trekking up close to the active volcanoes and recalled being intrigued by the spritz of lava that he interestingly described as saliva drool. "They had all of these weird masks, the one on the right has to be my favourite, it looks like a Basquiat, who was also inspired by a lot of folk and tribal art."
While souvenirs from his extensive travels filled the space, I wondered if he was also someone who felt attached to his scripts or props from movies. "I am ruthless with getting rid of old stuff from the past. My mom and sister can't understand it, they're hoarders and like to keep things around," he reveals. When it comes to stepping out of his characters, the outlook towards his craft is similar. "As soon as it's done, I'm very happy. I'm glad it doesn't continue living in my head. It's hard for me to disconnect considering I'm a workaholic. It's better for me to finish it so I never need to think about that char- acter again."
Jim went on to talk about the two bookcases in his home, one of his choice and the other setup by the designer. From Dostoyevsky to Shakespeare's Sonnets and Gibran, the collection was eclectic and compelling. For Jim, books are just books. "There are things that will pop into my mind and I may want to refer back to it but I'm not the kind who reads a book eight times over. There's new things to read also." As I prepared to bid adieu to the actor, I felt morbidly curious about his first memory of performing and if he remembers it. He surprised me by singing, 'dig, dig, as a wombat' he had performed sometime in upper kindergarten in Australia. He remembered his lyrics entirely and ourconversation wrapped up on that delightful note.

This article is an all exclusive from our Bookazine. To read more such articles, grab your copy here.

Text Unnati Saini
Photography Karan Kumar Sachdev