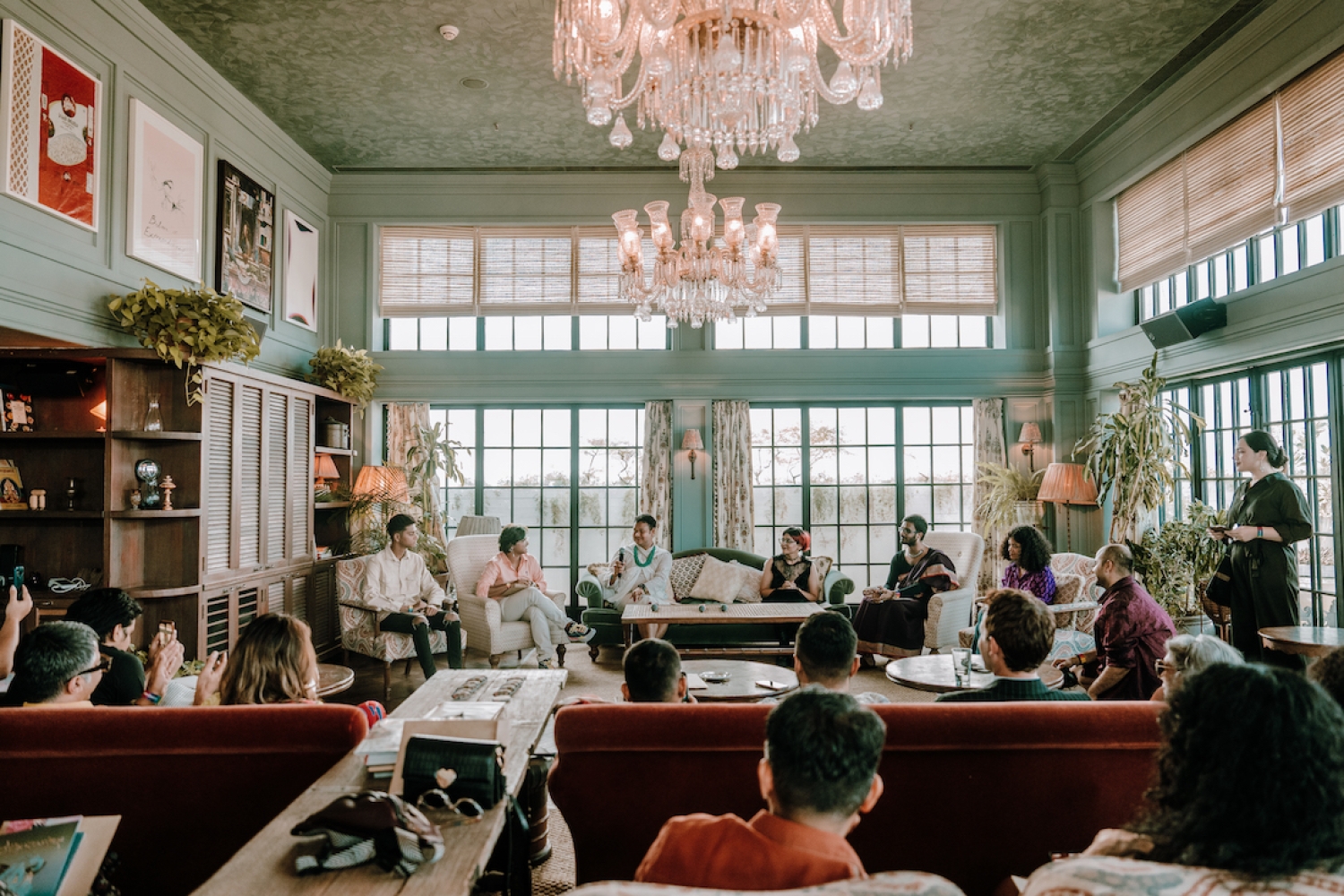 Image Courtsey SOHO house mumbai
The Queer Muslim Project works towards creating awareness around the intersection between LGBTQIA+ groups and Muslim communities. They establish dialogue and educate those around on issues of gender, sexuality and religion, especially within the South Asian context. From the several other initiatives and events that the project undertakes and hosts as part of their culture building goal, the Queer Frames Screenwriting Lab, in collaboration with Netflix, is their most recent. Read about the Lab and more through our conversation with Rafiul Alom Rahman, Founder and Director, The Queer Muslim Project.
Give us an introduction to The Queer Muslim Project.
In 2017, The Queer Muslim Project began in response to a void — the lack of accessible, safe spaces for LGBTQIA+ individuals to come together and tell their stories, in all of their diversity, beyond fear and shame. Today, we have grown into South Asia's leading digital and cultural platform for queer, Muslim and allied voices, with a growing global community of over forty thousand people. We use art, culture, media, and storytelling to challenge harmful stereotypes and norms, build power and visibility of underrepresented artists and storytellers, and enable queer communities to shape their own narratives.
Tell us a little bit about the various initiatives you've taken towards empowering queer and Muslim voices.
The Queer Muslim Project is focused on culture building. We use digital storytelling and artistic production to re-narrate public conceptions of queerness in South Asia in a way that makes visible the diversity of queer lived experiences and transcends intentional misrepresentation and socially-reinforced stereotypes. A big part of The Queer Muslim Project's work therefore is around narrative change. In addition to our digital media and content initiatives, we work with artists and storytellers from underrepresented communities and equip them with the tools, resources and networks needed to tell stories that create meaningful change.
Among our artist development programs is Language is a Queer Thing, a multi-year poetry exchange program, promoting up-and-coming talent from India and the UK in the spoken word field. Created as part of the British Council's India/UK Together Season of Culture 2022, the project brought together six multicultural LGBTQIA+ poets from India and the UK in 2022 to collaborate, create new work and share it with audiences in both countries. The project reached over one million listeners via BBC radio programs and in-person audiences at mainstream literary festivals — BBC Contains Strong Language in Birmingham and Tata Literature Live in Mumbai.
We also recently completed the pilot run of The Queer Writers' Room. Supported by the U.S. Consulate General Mumbai, the program invests in young writers from South Asia using arts and culture strategies that can activate them as catalysts for change. The program featured notable contributors to the field of literature and publishing like Christopher Merrill and representatives from the Asian American Writers' Workshop as mentors, under whose guidance the young writers produced new stories now published in the form of a digital anthology.
Image Courtsey U S Consulate Mumbai
How did the idea for the Queer Frames Screenwriting Lab, in collaboration with Netflix, emerge?
Stories have the power to spark imaginations, shift cultural attitudes and norms, build empathy, and move people to action. At The Queer Muslim Project, we have always strived to establish a creative ecosystem that empowers artists, storytellers, writers, and organisers from underrepresented communities to be the agents of their own stories, and with the Queer Frames Screenwriting Lab, we are taking that commitment to the next level. Given the diverse and expansive range of stories and characters that Netflix content always showcases, we are quite excited to collaborate with them on identifying and nurturing budding talent from the LGBTQIA+ community and creating a pathway for newer voices and perspectives. The partnership is part of Netflix's Fund for Creative Equity, an effort to help create more behind-the-camera opportunities for underrepresented communities within the television and film industries.
What is it that you seek to achieve through the lab?
As queer people, too often we don't see ourselves authentically represented on screen. In Indian media, there are limited frames of reference for queer stories and talent. We believe inclusion behind the lens is key to creating more diverse representation on screen. The Queer Frames Screenwriting Lab is an effort to build a more inclusive and equitable creative industry by supporting queer talent from underrepresented communities in India. The initiative will identify ten diverse and intersectional queer writers/filmmakers from India and support them with the tools to tell transformational stories and help bring more diverse queer narratives to the fore.
The Lab will offer a tailored curriculum on screenwriting and a nurturing community for emerging and early career LGBTQIA+ writers and filmmakers in India. The participants will be mentored by celebrated filmmakers — Neeraj Ghaywan, Gazal Dhaliwal, Onir, Faraz Arif Ansari, among others.
Applications are open till the 13th of August. Interested candidates may apply at bit.ly/QueerFrames2023.
Image Courtsey Soho House Mumbai
What do you think the current landscape of queer narratives from India is missing?
The fact that the LGBTQIA+ community isn't a monolith — our lives are multidimensional and our experiences are varied and diverse. While the focus is often on the sexual preference of a queer character, very little is explored in terms of our relationship and everyday negotiations with other aspects of our lives — our connection to faith, friends, family, our inner drive and passions, and hopes for the world.
In recent years, we have seen a surge of LGBTQIA+ content from India on streaming platforms, however, these stories are often not sourced from lived experiences of queer people, nor does the process involve LGBTQIA+ creatives at different stages of production. While well-intentioned, they lack a nuanced and complex understanding of queer lives in South Asia. Films and television shows with queer storylines are often sporadic and lack an intentional and consistent effort to showcase diverse queer narratives and talent. For a larger cultural shift to happen, we need an abundance of stories that are created by LGBTQIA+ people from diverse backgrounds and cultures with access to the right skills, resources and networks in the TV and film industries.
Lastly, what do you have planned for the future?
We have a few interesting things in the pipeline, including showcasing opportunities as well as festival engagements in India and the UK towards the latter part of the year. Our 2023 run of Language is a Queer Thing will bring together six incredible queer spoken word poets from India and the UK through an in-person residency and a public showcase at the BBC Contains Strong Language Festival in Leeds, UK in September.

Words Neeraja Srinivasan
Date 03-08-2023