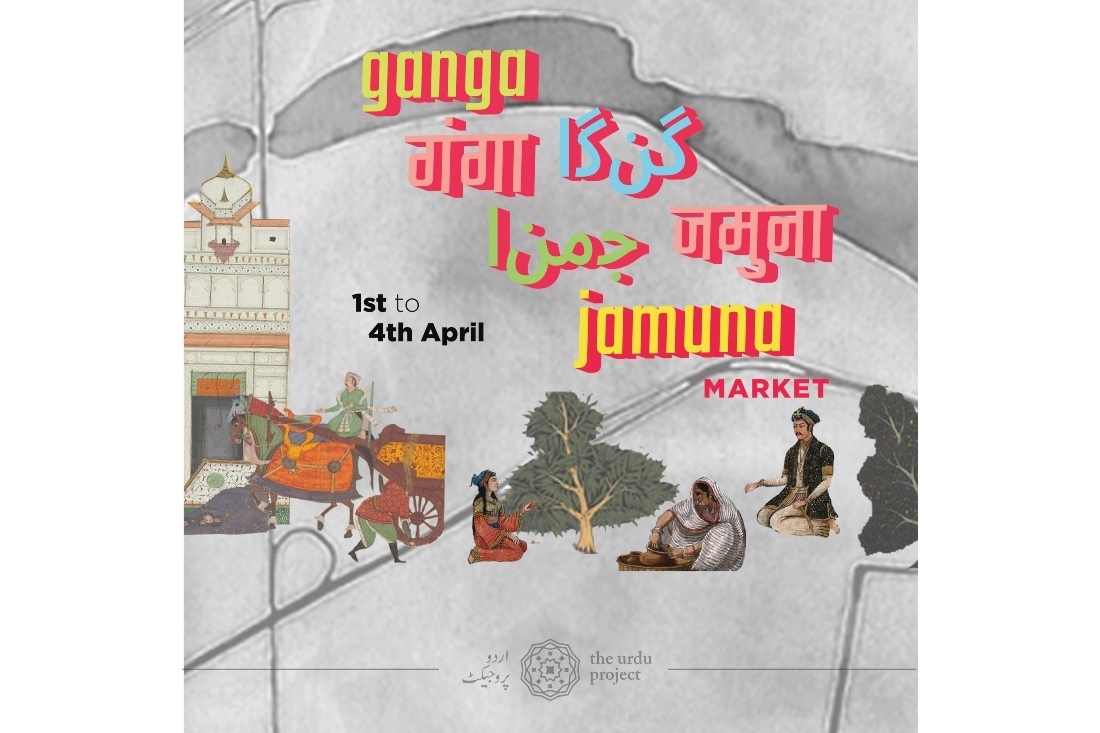 The Urdu Project is a storytelling collective, working at the intersection of oral and lived culture. Co-directed by Aastha Gupta, a filmmaker and visual artist, and Prateek Shankar, a visual artist trained as an architect, the project is reviving dialogue around the deep-rooted history of Urdu, as both a language and an identity, in the Indian subcontinent. The project addresses a rarely-asked question of our time — what happens to a fast disappearing way of life?
From their first documentary, in conversation with the language's last guardians in Old Delhi's Urdu Bazaar, to their eclectic upcoming lineup, The Urdu Project is putting Urdu back in conversation for a younger, inquisitive next generation. This weekend, they are travelling across the capital with a portable pop-up market, hawking craft and conversation out of the boot of a car. We are in conversation with Aastha Gupta, to give you some insight regarding the what, when, why and how of their work.
When and how did the idea for The Urdu Project take shape?
It began in 2016, though we had a hiatus soon after. I grew up in the Middle East and I was there for just long enough to learn the script, Arabic, but not the language. When I came to India, I realised that I can read and understand Urdu because the language is syntactically similar to Hindi. So I began learning the language. Initially, I was really interested in Urdu typography. I studied film and video at the National Institute of Design, and that was the easiest way for me to explore typography. But when I really dug in, I realised that, as you say, puri duniya basi hui hai (there is a whole world here). There is the world of Bollywood music, poetry, film. We use Urdu as a metaphor for cross-cultural mingling as well. It was the language of the army and merchant camps, where people from across northern and central India, and the Middle East, found themselves without a common language. In that sense, just researching typography didn't seem enough. So the project eventually evolved into the film, Guftagu. The film is about three very old men, over ninety. One of them, Gulzar Dehlvi, passed away last year due to Covid. It's about the culture they represent and their lives in the Urdu Bazar. This is how we came up with the first project.
If you could capture the Project's aim in one line, how would you put it?
We are trying to use Urdu as a metaphor for plurality. The project is a way to emphasise our shared histories across North India, and much farther beyond.
What role do you see for grassroots organisations like yours in this climate?
I think nobody can ever make art in isolation. We are trying to create space in a very polarised climate, where Internet speech is really aggressive and people have extremely polarised points of view. But we have far more in common than we realise, whether it is the extreme right or the extreme left-liberals. We don't realise this because we look at angular perspectives. We are trying to differentiate ourselves through Urdu, which has the political connotation of being a 'Muslim language'. But some of Urdu's greatest poets have not been Muslim. In fact, one of the protagonists of our film, Guftagu, is Kashmiri pandit.
This is also where the political becomes the personal. Both my grandfathers — one of them was from Haryana, and the other one was from Uttar Pradesh — wrote to their fathers in Urdu. Their children didn't speak the language because by the time it came down to their generation, it had come to be known as the Muslim kid's language. It's this intersection of the personal and the political that we are trying to navigate. Our co-director, Prateek, comes from Hyderabad. What he brought to the Project was the angle of the Deccani, which is a sister language of Urdu. So, the idea is very personal to both of us.
What's the biggest challenge that comes with being a not-for-profit arts collective?
The first part of the project was crowd-sourced. It was a really unique model of production as it was based entirely on barter. The equipment and accommodation was provided to us. When we set up the website, people wrote to us saying they were really interested in an Urdu revival, and they wanted to contribute. I thought if we take money from these people, I wouldn't know what to do with it. So, people contributed in kind and that's how Guftagu happened. That's the beauty behind it. We decided not to do a private screening and to let people watch it because they contributed. That's how it should be.
Currently, we are funded in small part by Futura Trōpica, which is a network supported by the Eyebeam Institute in New York. It is a small fellowship program that was started by Juan Pablo García Sossa, an artist from Colombia. He wanted to set up a network of intertropical creators, who could collaborate and exchange knowledge across the tropics, the so-called Global South. We are also partly crowd-funded right now. We have set up a crowdfunding campaign. Let's see how it goes, it's still running!
How has the process of thinking about language through mixed-media, audio and video, proved different?
When you look at language through text, one tends to ignore the human aspect of it. What happens to language when it becomes spoken? That's a big part of language. When we were shooting Guftagu, it was crazy how the people we spoke to would just talk to each other in poetry. They had poems at the tip of their tongues. It was as much about the way they would speak, as it was about the words. Now, we are trying to play with language in many, many different ways. We are trying to trace the impact of language on culture. We are taking a look at the written word as an image. It's also a process of discovery. Recently, we were thinking of using artificial intelligence to parse new texts. It's an ongoing journey.
Can you tell us a little more about your latest installation, Ganga Jamuna Market?
Ganga Jamuna Market is a little thought experiment. One part of it is just sheer frustration at the pandemic and the lack of conversations in person. So we thought, let's go to the people and provide them with something that could spark conversation. Ganga Jamuna Market is an emulation of the theli wallahs, street-hawkers. It is set up in the of the boot of a car, which will drive to various locations. It's a very desi, colourful gaadi. The boot opens up and you can come and see the things we are selling. It's really not so much about the sale, as much as it is about the items starting conversation. We have a few zines in collaboration with Zinedabaad Collective, about crossing borders. There are also some zines that we have sourced from Pind Collective, who are doing extremely interesting work around connecting artists from India and Pakistan. We just hope that if we're parked in the middle of the street, maybe somebody who is interested in art will walk up to us, but maybe somebody who is just intrigued by the car will walk up too. The idea is to talk to people who come to the bazaar. As creators, we are trying to negotiate this idea of gate-kept art. We have many conversations about what we can do to change that, because Urdu really is a language of the streets, so we thought we should be on the streets.
What's next?
We are working on some major artworks for Gully Guldasta. We now have a fantastic collective of artists. We have an animator, an interaction designer, an urban planner, and everybody is doing different things. The idea is to have a fictitious map of Delhi, which takes a magic-realistic approach to the real map, within which are embedded stories. The stories are based on a selection of seminal Urdu texts. For example, one of the texts we are using is Twilight in Delhi by Ahmed Ali. It's one of the last accounts of Delhi before the Partition. There's another collection of stories by the All-India Progressive Writers Association, Angarey, which was quite a scandalous text when it was published. That needs a little bit of negotiation too, because we don't want to hurt any sentiments, but we do want to talk about pluralism. We have also included excerpts from contemporary Delhi. In total, there are three stories to it, neend, garmi and shor (sleep, heat and noise). It's a very layered installation, even in terms of the artists involved. A small portion of it will be exhibited in Bangalore at the end of April.
Text Nikita Biswal
Date 30-03-2021