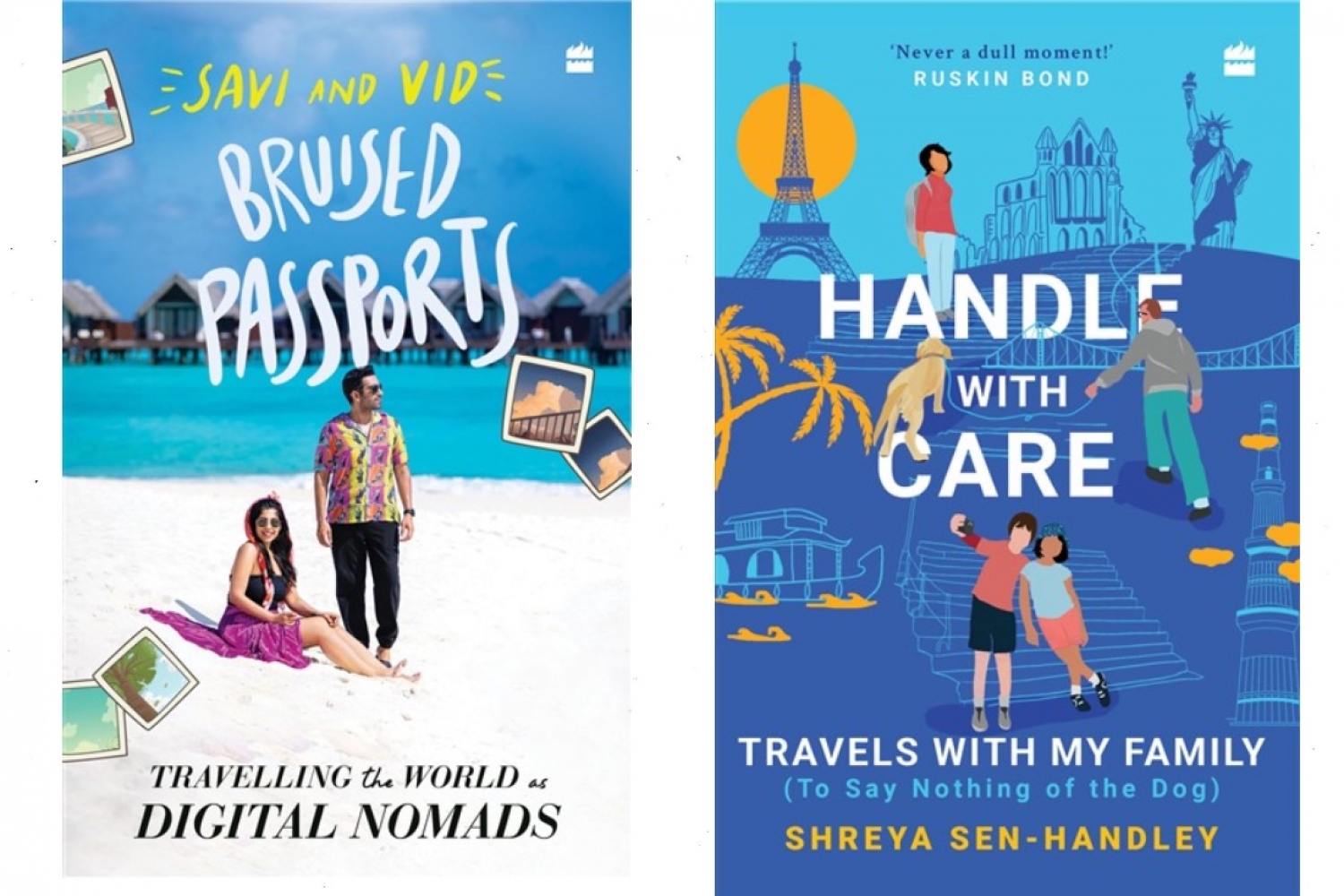 Every once in a while, all of us have the urge to don the traveller's hat, leave the mundanity of our daily lives and embark on adventures. As dreamy as it sounds, we can rarely indulge ourselves in these thrilling experiences. But we can savour the joys of such spectacular journeys vicariously by reading travelogues while sipping our piping hot cup of coffee nestled on our sofas. Therefore, we have curated a list of travelogues you must read that have released or are releasing this year.
Handle With Care: Travels with My Family (To Say Nothing of My Dog)
In this amusing ride around the world by author and journalist Shreya Sen-Handley, we get to see how clumsy, fulfilling and fun travelling with your family can be. Her vivid descriptions of journeys to global attractions like New York, Paris and England makes us want to pack our bags and travel around, whereas her stories from Rajasthan and Kerala makes us relive those memories from our own family vacations. This is the perfect, breezy read for satisfying your wanderlust while looking at the stars from your balcony. Pick it up if you're looking for just the right dose of humour and travel tips.

Swamp Songs: Journeys Through Marsh, Meadows and Other Wetlands
Basking under the sun in a villa in Tuscany, exploring vintage cottages nestled in the bucolic countryside of England, waltzing down the cobblestoned streets of quaint villages and towns across hidden gems in the world — our travel dreams are, more often than not, a blurred mosaic of these vignettes. But Tom Blass redefines the very idea of travel in this book which chronicles his journey through various wetlands: bogs, marshes and swamps. If you're looking for something which will immerse you in the mysterious and the unknown, this is the perfect offbeat travel read for you. It's as illuminating as it is fun, shedding light on the lives and culture of the people who inhabit these topographies.
Bruised Passports: Travelling the World As Digital Nomads
Most of us know Savi and Vid by their dreamy Instagram images, set in exotic locations, but having indulged our wanderlust for many years on their eponymous travel blog, they are set to sweep the bibliophiles in the whirlwind of tracing uncharted territories through this book. Bruised Passports is much more than a blithe account of breathtaking adventures, cultural epiphanies and idyllic boutique stays of the iconic travel couple. It's also a travel guidebook, seasoned with enthralling anecdotes, which makes learning the planning and decision making part of journeying to unknown places, fun and comfortable.
Crossed Off the Map: Travels in Bolivia
Blending travel writing, history and reportage, Crossed off the Map: Travels in Bolivia journeys from the Andes to the Amazon to explore Bolivia's turbulent past and contemporary challenges. It tells the story of the country's profound and unexpected influence on the wider world over the last 500 years - fragments of history largely forgotten beyond its borders. In its pages, award-winning journalist and travel writer Shafik Meghji illuminates the dramatic landscapes, distinct cultures and diverse peoples of a country that — in the words of one interviewee — 'was the building block of the modern world, but is now lost in time'.
Shadowlands: A Journey Through Lost Britain
Britain's landscape is scarred with haunting and romantic remains; these shadowlands that were once filled with life are now just spectral echoes. Peering through the cracks of history, we find Dunwich, a medieval city plunged off a Suffolk cliff by sea storms; the lost city of Trellech unearthed by moles in the Welsh Marches; and the ghostly reservoir that is Capel Celyn, one of the few remaining solely Welsh-speaking villages, drowned by Liverpool City Council. Historian Matthew Green tells the extraordinary stories of how these places met their fate and probes the disappearances to explain why Britain looks the way it does today. Travelling across Britain, Green transports the reader to these places as they teeter on the brink of oblivion, vividly capturing the sounds of the sea clawing away row upon row of houses, the taste of medieval wine, or the sights of puffin hunting on the tallest cliffs in the country.

Text Saumya Singh
Date 21-04-2022