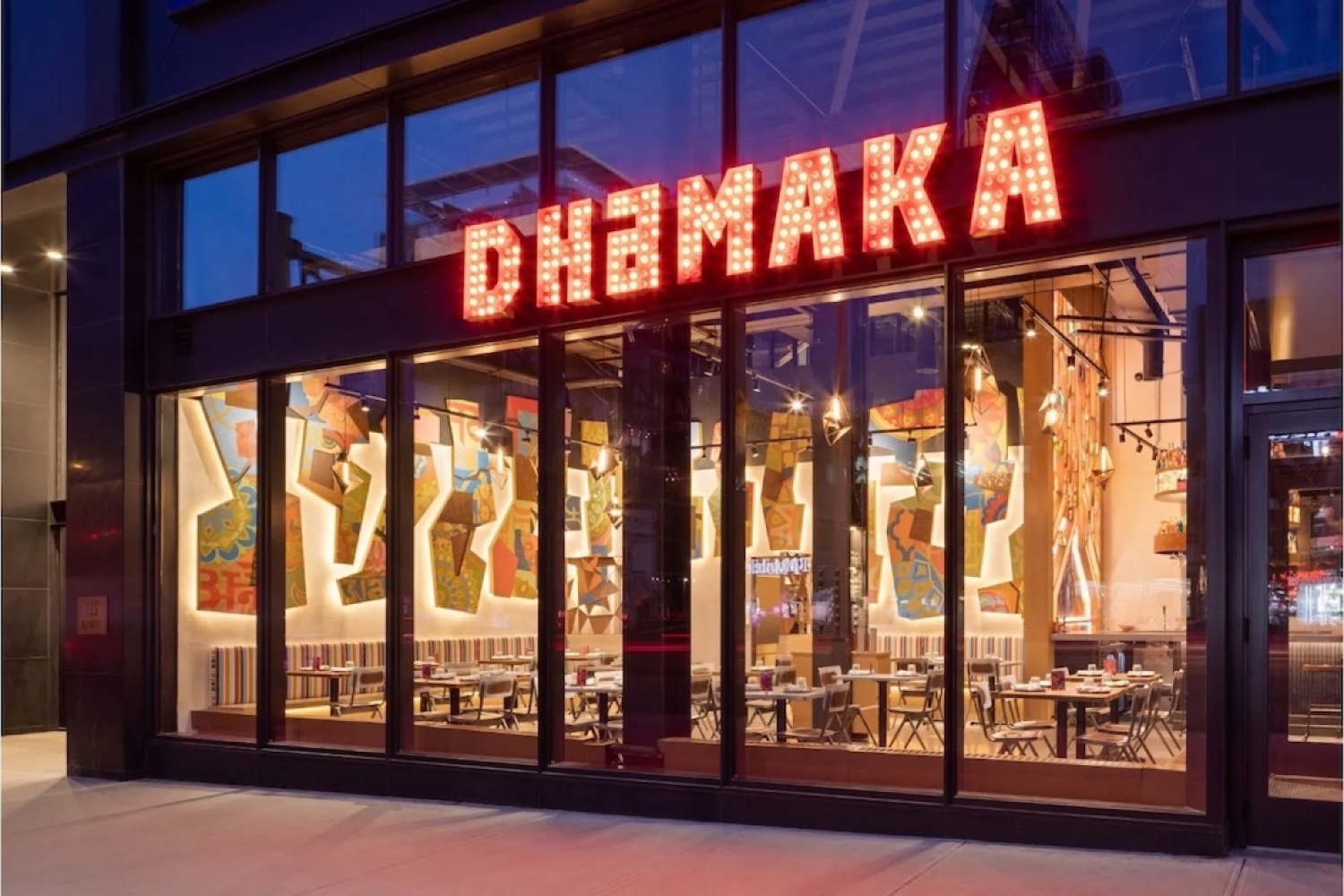 Two Partners, One Purpose, Zero Apologies.
Dhamaka
From a small mountain town in Asheville, North Carolina, to a laundry-room entryway in Melbourne, aromatic spices from the sub-continent are dominating the headlines and racking up the accolades. Dishes that were once reserved for road-side dhabas and Nani's dinner table take on modern personas, often borrowing technique and taste from chefs from the West. And while the proclamation of innovation might work for some, a pair of now New Yorkers, insist on a far more assertive approach to sharing desi cuisine with the world.
Enter Roni Mazumdar and Chef Chintan Pandya, the purposeful pair behind the Unapologetic Foods group that boasts a handful of NYC hot spots with a few more on the way. While their food and faces boast no shortage of recognition on the global news stand, their 'sorry-not-sorry' approach to serving Indian cuisine is as scant as the goat kidney and testicles served at Dhamaka, the latest of their sit-down concepts that recently earned Chef Chintan Best Chef New York State, from the coveted James Beard Foundation. "Expression of our cuisine in any different format is not wrong. But there's only one crime—when you never actually express it in its own real format. That's the problem we're talking about. There's nothing wrong with making mac and cheese with a chicken masalasauce. Do it all you want. But why do we feel that the only representation, we will never have, is the real one? That's the problem—the real Indian food has not been shown to consumers in this country yet."
Remembering himself as a pre-adolescent who migrated from Calcutta to New York, Roni recalls not always being so unapologetic about desi khaana, hiding behind pizza, sandwiches and the like. As his appetite for food from his homeland grew, a reality set in—outside his own home, Indian food in New York and America at large, was reserved for the same five Mughlai dishes and a slew of westernised versions, contrived to suit what was always believed to be the American palate.
Some 8,000 miles away in Mumbai, a young chef- in-training, Chintan, found that even immersed in the culture, his problem was same-same-but-different to that of his future business partner. "The problem that happens in India is we're always taught about European food, not Indian food. I remember a discussion in one of our classes about bouillabaisse. It's a French soup. I remember how people were so proudly talking about it, how there's a specific book about bouillabaisse and how everyone should know about it. But we've never spoken similarly about champaran meat, which I think has more complex flavours than a bouillabaisse. That's why thou- sands of people, who pass out of that hotel management school, don't know how to respect the culture and the food."
It was during this same time, while learning about French and other master cuisines of the West, that Chintan set out to discover the dishes he wanted to eat and then some. Making his way through the country and spending time with individuals in the outskirts of big cities, Chintan focused on understanding these so-called forgotten dishes. What resulted was a handwritten notebook of recipes that would become meals at home.
But luckily for diners at Dhamaka, those recipes did not stay only written down. The champaran meat, which could be argued as Chef's rebuttal to the almighty bouillabaisse; with over twenty-four hours involved in its preparation, and another four hours to cook, this Bihari staple is listed on the menu as "subject to availability". For those fortunate enough to score one of the twenty-five clay pots made daily, the tender chunks of mutton, mashed table side with a whole head of masala moist garlic, are worth every minute and monetary resource that Chintan doled out to get the execution just right for this legacy dish.
The menus at Dhamaka, Adda Indian Canteen, Semma, and the fast casuals that follow, show a level of diverse authenticity never seen before at an Indian restaurant in the West. Roni recalls the time before the unveiling of Adda Indian Canteen, when Chintan handed him the opening menu, studded with dishes that many Indians had never even heard of, let alone their neighbours to the West. Would the menu be resoundingly dismissed? Would they have to revise the list to fit within what had always been perceived as American tastebuds? The answer, as seen by the line that continued to wrap around the restaurant night after night, was no.
And with that hunger from their diverse patronage, Indian, American and everyone in between, the partners were further committed to serving Indian food unapologetically. "I think for him, he has reached a point where I say, 'Do you think people will like it?' and it doesn't matter. We're not actually worried about a dish that is going to fit into whose palate anymore. Rather, our entire focus has changed and we've grown together. He says, 'Don't ask me if people will like it. Ask me if I am doing everything I can to make this dish right'."
Along with the decision to serve the unsung recipes, the commitment to making them the right way imposes responsibility to source ingredients with the same level of unbridled honesty, as is illustrated by their delivery of paneer. Prior to the opening of Dhamaka, the soft-dairy dish was made in-house at their other restaurants. When the Lower East Side location opened up, Chintan knew he wanted to push the limits to deliver the most authentic version of the dish, catapulting the pair to find a dairy— which remains top secret—to source all the full-fat milk they produce. The entire stock is used only to prepare the paneer and dessert at Dhamaka. The result is a beautifully prepared paneertikka, touched by Midas, whose sturdy fatness dissolves magically into cloudy lightness as soon as a morsel of it finds its way into a hungry mouth.
While Unapologetic Foods is most certainly a product of their partnership, Roni and Chintan recognise that for the group to continue to grow and sustain, their roster of key players must expand as well. "We talk about this all the time. Think of any Indian hospitality group, big or small, that has existed for eternity in this country. You'll always hear one chef's name. There will always be one king. And it's a conscious decision that we made. We said, it's not about us. It's about giving voice to our community. We don't just say that, we need to walk the walk." And walk that walk they have with Chef Vijay Kumar, who has earned carte blanche for the menu at Semma, showcasing mastery of his native Tamil Nadu cuisine. Mastery that has garnered the one-star of the Michelin accolade, no less. Recognition that the group grants to Vijay, while simultaneously celebrating themselves. Inherently, for the group to remain chef driven, Unapologetic Foods puts forth the strategy of tailoring their restaurants to complement the chef by connecting with the talent, drive, and determination of an individual to bring what they can to the table. Much like what they did and continue to do for themselves.
This concept of challenging what has always been done just might be the true secret ingredient behind the success of the two. An unbridled commitment to preparing the ancestral dishes of their motherland, regardless of what could be perceived as the wants and needs of the consumers; a hands-on, seemingly too quality controlled approach to sourcing; a defiance on building themselves as culinary demigods in exchange for partners in the limelight. A sum of many parts, Unapologetic Foods' unorthodox submission to serving desi food in America, or to the world for that matter, will continue to build with each person added to the thousands on their waitlist. The proof is in the paneer.

This article is an all exclusive from our January EZ. To read more such articles, follow the link here.

Words Gauri Sarin
Date 22-05-2023