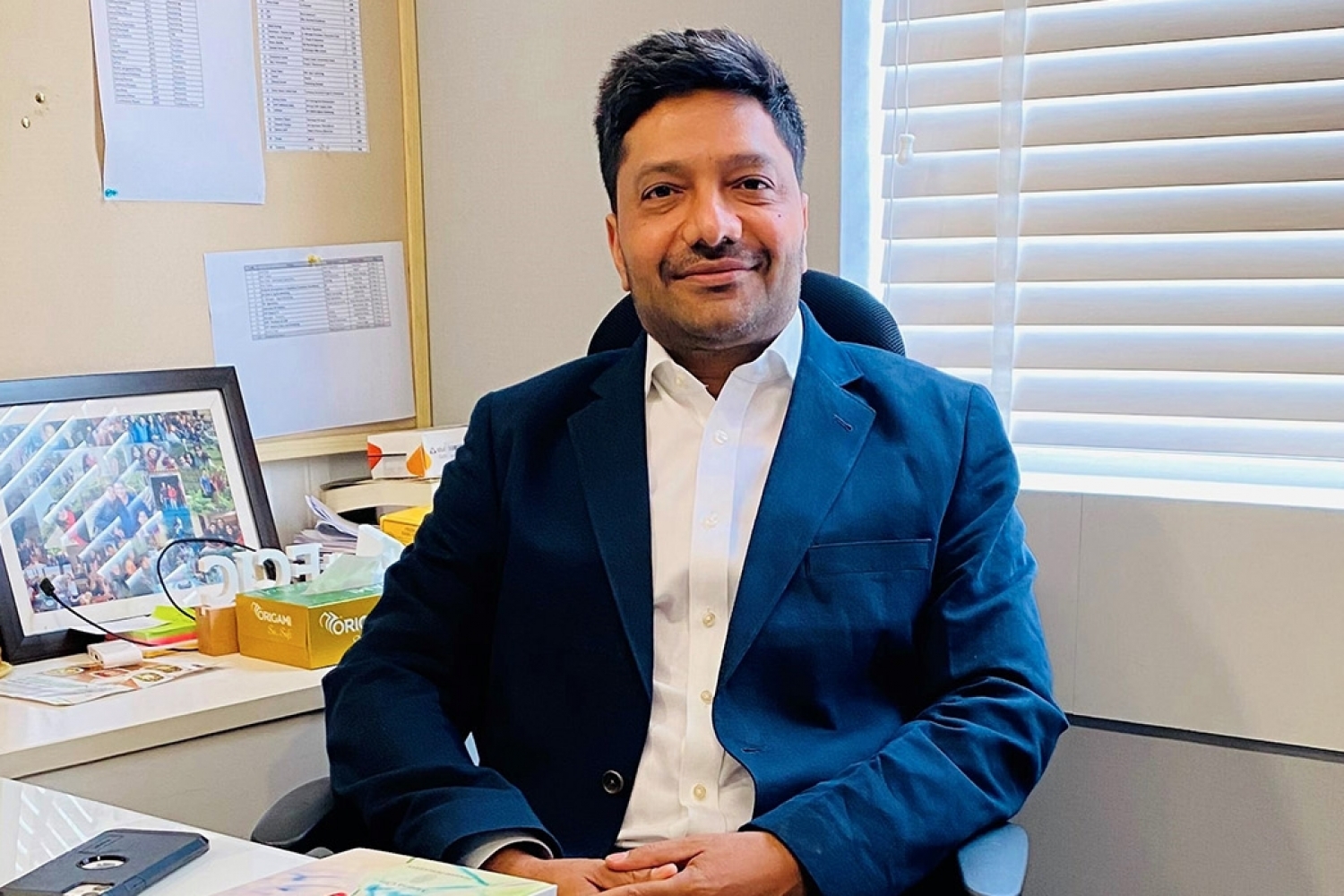 A naive boy made his way into a big city from a small-town year ago, big dreams in eyes. He was curious, inspired, patient, resilient, and took one baby step at a time to reach great heights. Vishal Jindal is an IIT engineer along with MBA Finance with rich Entrepreneurial & Private Equity investment experience, He is now taking the F&B industry by storm with his brand Biryani by Kilo.
We spoke to him to know more about his journey and the future.

Can you talk a little about your beginnings?
I moved to Delhi when I was very young and was born in Uttar Pradesh. I wasn't connected to the F&B world at all but remember being driven and very curious to learn about consumer sectors and in human psychology. Also, I was always a good learner.

Was there a dream when you were going up?
To be successful & grow, but nothing specific to the F&B industry. After graduating from IIT, I went for my masters in MBA from Syracuse University, New York after which I started an IT business. I came to India in 1996, set up IT business with my brother which became quite successful; we exited that business and I moved to Singapore.
Next, I Co-founded Long short hedge fund with a couple of friends who were my batchmates from IIT. But then life got me back to my home country where I Co-Founded another private equity consumed focused fund. So basically, if one overviews my career, I had two journeys after my education. One is entrepreneurship and then in investments with hedge fund and private equity. Moments of retrospection later I understood that being an entrepreneur is what makes me happy. I have a dream to create the biggest F&B Company focused on Indian food with worldwide foot print.

Can you talk about the inception of your journey in food?
When I came back to India, I had been investing in public/private markets in F&B and the consumer industry. I wasn't very happy about the fact that we don't have a massive chain like McDonalds, Dominos etc originating from India. F&B Chain that is conceptualised in India with worldwide footprint. Despite India having such a rich food history and very wide diversity of cuisine.

But given my logical engineering hat and my investment background, I knew the difficulties in selecting a single category, like a burger or a pizza. We needed category that had the potential to be taken worldwide and had to be delivery friendly. Biryani Is a one pot meal and very versatile (lots of different kinds of Biryanis) and has a few hundred years of history behind it. Everyone loves biryani & It is healthier than a
pizza, burger with less gluten. It is more aromatic and is extremely flavoursome. We did our share of research and found that Biryani companies who were in the same category were making it in 10 or 20 kg batches, and then selling it the whole or next day. A few were shipping it off to
other outlets who were reheating and selling ahead. At Biryani By Kilo, we sell Biryani fresh every time by delivering it in same handi in which it is dum cooked to retain flavours & freshness. And that is what my Partner Kaushik Roy and I got together to do. That is what our USP is, fresh Biryani with the authentic flavours & deliciousness every time you order it. Or wherever you order from be it Bombay, Delhi or Calcutta, Bengaluru, Mysore. And tomorrow when we open in the UK or middle east or far east, BBK Biryani will have the same consistency, deliciousness, and authenticity. We have more than 80+ outlets, we'll have a hundred outlets this August 2022. So far, we've had a good journey.

Do you have a five-year plan?
My Partner and I both had very successful careers in terms of different jobs or businesses. And we understood if we have to do it, it has to be massive and scalable. So, we were clear BBK had to be pan India and has to be worldwide chain which can make all Indians Proud. We want to make a legacy which all Indians can be proud.

Can you ask a little about your plans to enter the international markets?
So, from next year, we will be going to the Middle East and far east. We've been having discussions with big F&B companies there who are master franchisees of Big Chains like KFC, McDonalds. They want to plug in biryani through BBK because we have mastered the SOPs and the tech and the branding aspect. So we have plans from next year to enter some of these countries.

Why did you decide to have something tangible behind BBK and was it challenging?
It wasn't so challenging really, because we have a big F&B team, and the product is the same. It's just that we wanted the customer also to connect at a deeper level with the brand. So, we have a strategy to open one dining outlet in every city so that the customer can really experience the brand. And for us to know & connect with the customer better.

Where do you see yourself ten years down the line from now?
I obviously want to expand BBK and have more outlets and make it big like the other food chains worldwide. Have a major presence in more countries and then the next generation of leaders can take it further. My vision is to take Biryani which is Indian Heritage to the rest of the world in the most authentic way and make BBK the biggest most loved Biryani & kebab chain in the world. That's what we want to do, and we'll do.

You also have a new menu, what inspired you to shake things up?
We realized in our menu; we had a lot of meat & veg options, but seafood was missing. Which is healthier also. So, we have come up with versions of fish and Prawns in our food too.

What has been your biggest learning in this process?
I feel if you have an idea that is worth following and creating something big, then you have to stay true to it for a very, very long time. Stay resilient, stay patient, stay courageous till one succeeds. Do that and everything else will follow but one must be very honest too. Those are basic things and then just hope for God to be kind.