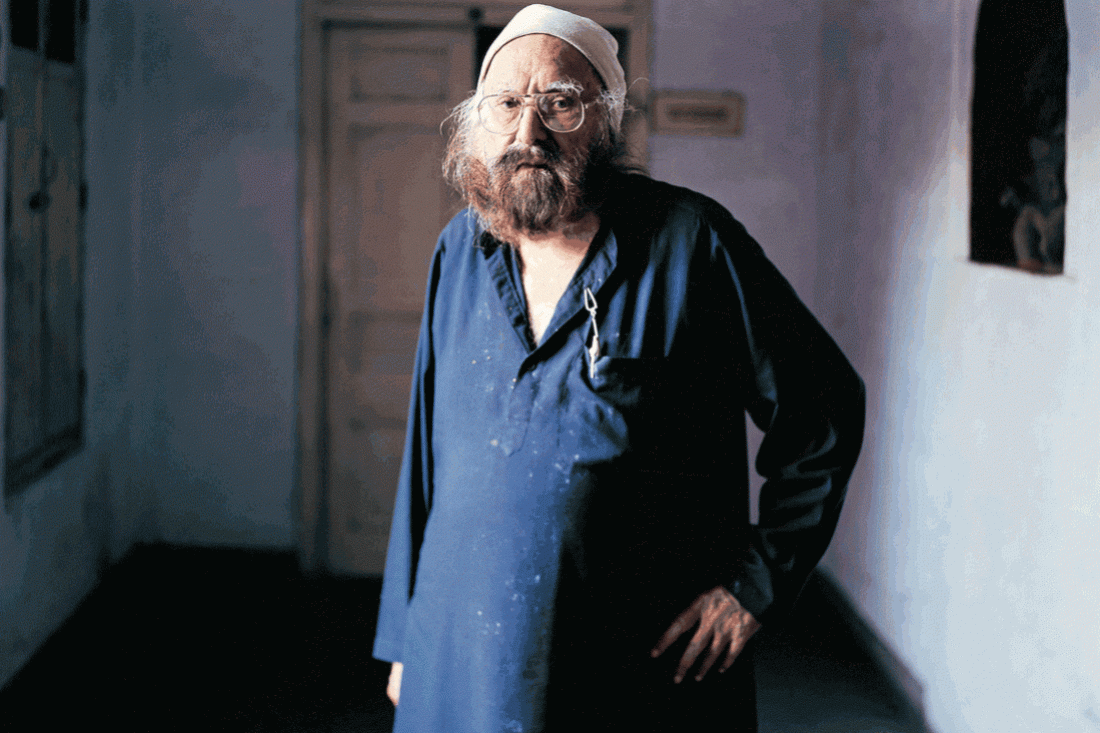 Photography by Bharat Sikka
Khushwant Singh: From The 15 Year Platform Archive
Memories and Musings

There are very few people in this world that I would have liked to meet and Mr. Khushwant Singh was one of them. Unfortunately, I never got that chance. I got to know him through his books, through his writings, his interactions with various people and his interviews. We never had a one-on-one; I never got to pick his brain and I never got to experience his generosity, his charm, his brilliance and his chatter in person. India's legendary writer, journalist, politician and lawyer might have been titled the 'dirty old man', but to me he was the novelist who gave me one of my favourite books, the thought- provoking, Train to Pakistan. To know him better and more intimately, I thought it was best to ask those who were close to him to talk about the moments they had shared with him, so that we could get a better understanding of the friend, the father, the mentor, and the large-hearted man that Khushwant Singh was...

DAVID DAVIDAR

First Encounter
I first met Khushwant Singh when we were both part of the same team that founded Penguin India in 1985. I was in my mid-twenties and this was my first job in publishing while he was already a superstar, having edited India's most successful magazine, The Illustrated Weekly of India, as well as The Hindustan Times and several other publications, besides being the author of several bestselling books and India's most widely read column. None of these made the slightest difference to the way he treated me despite my lack of experience and the almost fifty-year difference in age between us. It was a measure of the man—he treated everyone the same—with kindness and a lack of pomposity.

Fondest Memory
He threw a wedding reception for my wife and me at his house and stayed with the guests beyond 8 p.m., which was his usual curfew. Typically, by 8 p.m. everybody was expected to finish their drinks and leave regardless of whether they were the President of India or an intern.

The Loss
I've lost a beloved friend and someone whom I regarded more as family than friend. However, in a tribute to him written by my wife, she said that she felt that he'd always be with us. I share that feeling.

One thing you would have liked to say to him if he were alive?
Oh, I think I'd want to say more than just one thing.

One thing people would be surprised to learn about him?
He'd often switch off his hearing aid (during the last years of his life he'd gone a bit deaf) if he thought a visitor was boring, and simply nod and smile at the person, without registering a single word of what was being said.

Khushwant Singh in a line...
The most generous man I have ever known—in every sense of the word.
Photography by Bharat Sikka
ZOHRA SEHGAL

First Encounter
As far as I remember, it was long ago when he was interviewing someone in Bombay.

Fondest Memory
He never went to any shows, but once I was giving a recital at the Kamani Auditorium [in New Delhi] and suddenly, I saw him in the first row in the audience. He came up to me and I said, 'Arre aap kaisai aa gaye.' And he said 'Main rehai nahi sakaa, mujhe aana tha'. And when I went to his home for one interview, of course, he was very fond of kissing ladies and he kissed me on the right cheek, and I didn't like that but in a way it is a fond memory.

One Similarity
I think we are both show-offs.

The Loss
I feel India has lost one of the greatest interviewers. He had a great command over the English language and spoke very correctly and to the point.

One thing you would have liked to say to him if he were alive?
I think I would say to him, 'Dear Khushwant ji, mainu maaf kardeo agar koi gustakhi hoee hai.'

One thing people would be surprised to learn about him?
He was very dirty. I once visited his flat and went to the bathroom. There I saw that the tub was full of filth, although he belonged to a very rich Sikh family.

Khushwant Singh in one line
A rascal with a golden heart.

DIYA KAR HAZRA

First Encounter
It was early 2000. I was a copy editor at Penguin. We were a small team of editors and David [Davidar] wanted us all to come up with book ideas. Mine was Khushwant Singh's Book of Malice, a collection of his popular column. I was introduced to him by Ravi [Singh], who was Khushwant's editor. I still remember that day. Mrs. Singh, Khushwant's wife, sat in the drawing room with us for a while. I had heard so much about her and how intimidating she could be, so I was slightly nervous. On the contrary, she turned out to be completely gracious and lovely. Khushwant was warm and welcoming. He asked a lot of questions and was very pleased when I agreed to have a glass of scotch. He approved of 'drinking girls'.

Fondest Memory
I have so many memories with KS, but the most special one, I think, would be the time he invited me to Kasauli. It was summer 2004. I spent three wonderful days in his beautiful home, Raj Villa. He had given me clear instructions on how to get there once I reached Kalka station. It was afternoon when I arrived and he was taking his siesta. Suresh, who helped around the house, took me to a room—wooden floors, a fireplace and a grand chest. The room was filled with books. It had a large bed in the middle. There, on the pillow was a bar of chocolate and a letter.
There were guests every evening, quite often uninvited. Some were neighbours ('a crashing bore', Khushwant warned). People stopped by to pay their respects. ('They come to Kasauli and before they go to Manki Point, they come to see the monkey!' Khushwant loved to say, laughing loudly every time). I remember a family from Punjab landing up with a video camera. The young boy fell at Khushwant's feet. His father asked Khushwant which of his books the boy should read. 'Train to Pakistan' was Khushwant's reply. He was an impeccable host. He loved ordering food from the club ('especially for my guest of honour', he would say), the meals at home were delicious, and I had the pleasure of cooking for him as well.

The Loss
It's funny how one thought he'd live forever. It's a void that cannot be filled. Spending that hour with him ('7 o'clock sharp') made everything alright. He was one of the kindest, most large-hearted, life-affirming people I've known. He forgave easily and believed in being positive. Work was worship for him. His energy, his love of life, his sense of discipline was remarkable. He was genuinely fond of people and interested in them. He was a great conversationalist and raconteur, but was also a great listener.

One thing people would be surprised to learn about him?
He never got drunk and he was never inappropriate. He found it difficult to say no, which is why he was often kind while reviewing books he found 'unreadably bad'.

Khushwant Singh in one line
The youngest old man I've loved.
RAHUL SINGH

Earliest Memory
When we were in Lahore and he was practicing law. This was before partition. We used to go to the Lahore Club where my mother and father would play tennis. Then, riots broke out. I remember we used to sleep on the roof of our house and there were fires. My father put my mother, my sister and me in a car and told us to go to Delhi and return when the trouble was over. We never returned.

One advice
Always be honest and true to yourself.

A father and son date
On Sundays, he would take us for an outing, sometimes with visiting friends to a place outside Delhi, where we would walk and see some historical ruins and he would tell us about the history of the ruins or of the monument and also the birds and trees around us.

The Loss
I wish I had talked to him more in the last few years of his life.

One thing you would have liked to say to him if he were alive?
I would have liked to ask him more about some aspects of his life and his interaction with people that he did not write about.

One thing people would be surprised to learn about him?
With his children he was quite a conservative father, not the outrageously liberal person he made himself out to be.

Khushwant Singh in one line
The Kipling poem sums him up well: 'he could walk with kings and yet had the common touch.'
This article was first published in our Literature Issue of 2014. We are revisiting it now as a part of our Celebrating 15 Years of Platform Magazine series.


Text Shruti Kapur Malhotra