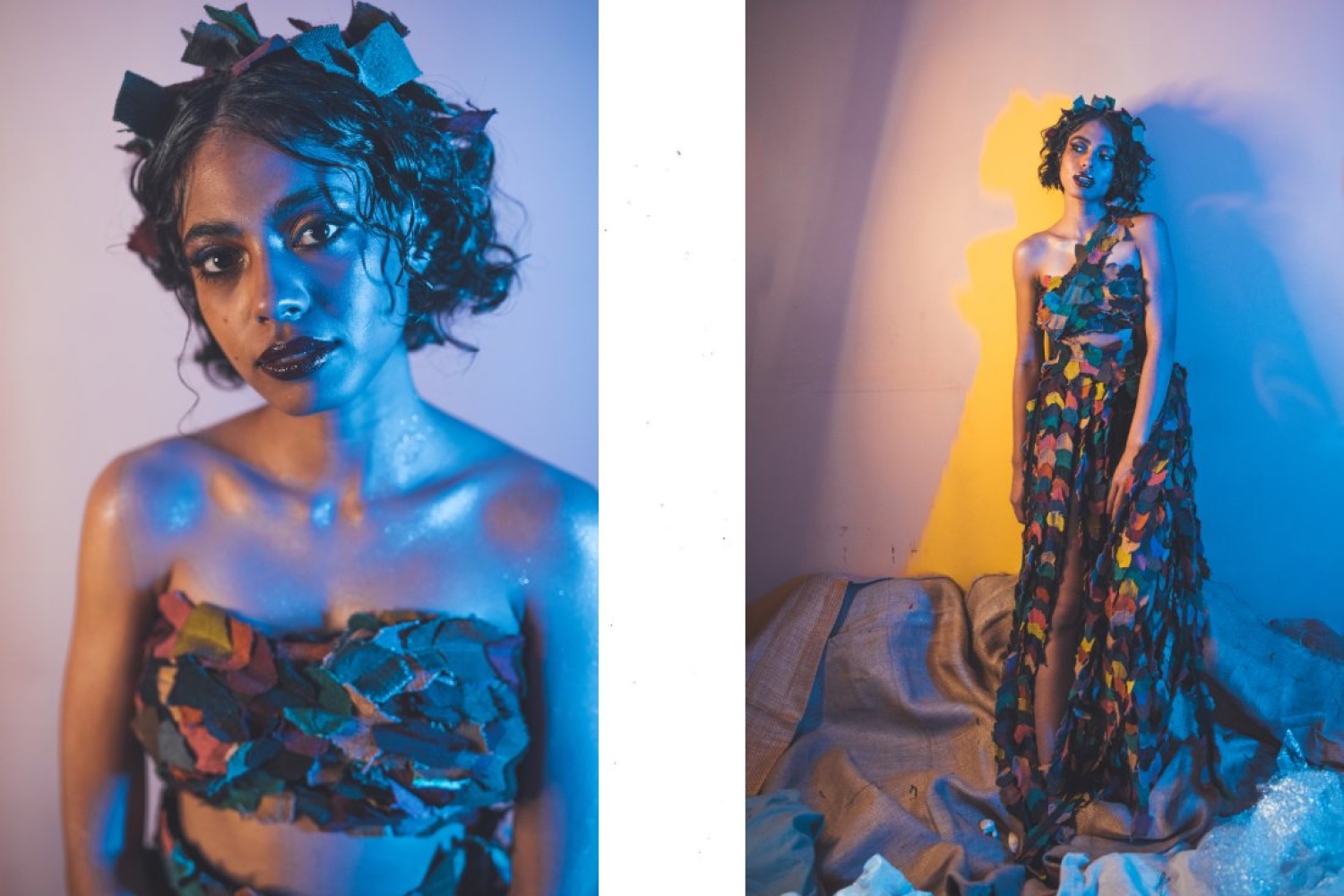 Aarifah grew up in Bombay. Reserved and shy, she usually kept to herself. She started off with drums when encouraged by Benjamin Sequeira who told her never to be afraid of making noise. She was still shy, timid and reluctant to take up space back then. The aspirations were to just keep playing, and later, just do something big in music. "College was easy — I worked part time at Furtados in Juhu for a year, played at college competitions, festivals, church competitions, open mics, opening for friends, small gigs here and there, but I knew I had to keep the momentum going to start earning post college. So my mom gave me a year after college to play music on the condition that if I was able to make some money, she'd consider it. My first official signed booking was to be a guitarist for a reality show called MTV's Angels of Rock. She was impressed, and here we are!" The story continues below…
When and how did your romance with music begin?
My cousin, Dan, used to be a crooner with Gino Banks, Shefali Alvarez, et cetera, and so I went for a gig of hers at Andrews Auditorium in Bandra, saw Gino Banks have a blast on stage, and was hooked. I mean I didn't immediately think I wanted to be a musician because at that time I didn't have the self-confidence and was terrified of being on stage. But seeing Gino Banks perform with vigour and joy was something I wanted to experience as well. So I asked my mom to let me learn the drums, to which I was told to first prove myself on the guitar we had at home (everyone in my family was self-taught). If I could do that, she'd think about the drums. So for some time, Marty Schwarts and my church friends helped me learn the guitar slowly. Later, I was at a family friend's party and my mom reconnected with an old friend of hers whose husband was ,*drum roll*, a drum teacher. My mom felt comfortable sending me to someone she knew personally and that was in 2009!
What does Aarifah mean? Is that your stage name?
Yes! Aarifah is my stage name. I think it fits because it means learned/all knowing! And I started out with the guitar, to drums, to writing and singing and now producing. I'm definitely curious to learn more!
Do you have a creative process?
Not really because every song has a different story, and so its own unique process. But in a nutshell, it's being inspired by everything, because the world is an inspiring place. Sometimes it's therapeutic just sitting down with the intent of being brutally honest about what's going on and being okay with whatever comes out on the page, or i'll pick up my guitar and just doodle until I surprise myself, other times it's the melody of a bird's chirp, the intonation of a phrase, a rhythm of a beat I hear amongst car horns — essentially, being open to the magic of creativity is my process.
Long Distances is a rock band you started with musicians Apurv Agrawal and Zubin Pastakia. How did that happen?
Sanaya, aka Sandunes, connected me with Zubin in 2020. He wanted a vocalist to bring his demos to life, and I'm always keen on pushing myself out of my comfort zone. We really enjoyed working with each other, and over the next few years, kept building our collaboration which resulted in us realising we needed more people. However, I actually met Apurv for the first time when we performed at High Spirits while I was drumming for Lawntuba and he was performing his solo set, Cowboy and Sailorman. Zubin connected with Apurv as he really liked the early demos and they had similar musical sensibilities, and the rest is history!
What inspired the two singles that you released earlier this year? How was it singing a Hindi song — are you keen to do more?
Long Distances' songs explore the uncertainties and anxieties in our world today. Lovesong for an Apocalypse was worked on during the pandemic, so we were very much influenced by the aspect of the world ending and finding hope and love in a grim environment. While Empire speaks of the impermanent nature of absolute power — no matter how invincible empires may seem, they are all eventually doomed to fall.
When I was asked to send a scratch for Jahan Pe Dil Hain, I knew I wasn't confident singing in Hindi. So initially, I was a little intimidated but I was really excited to try it out! Learning that Kanishk was really keen on my voice was all the encouragement I needed. Since then it's been extra fun breaking my brain while trying to understand and learn classical singing. It's definitely something I would love to do again!
Your new track, Anyway, is a heartbreak song filled with hope. What moments in your life have brought together this song? How was it working with Zain and what did he bring to the table?
I started writing this song while grieving the loss of a loved one, and completed it on my journey of rediscovering what love truly means. I realised there's always going to be a risk of heartbreak when dealing with love, and I'd be foolish to think I could protect myself from it. So yeah "I will slowly learn that true love is real, Anyway…"
Zain believed in the song from the get go! What's important to him is that a song can stand on its own two feet — the chords and melody. After that it was simple, suggesting keys as the lead instrument emulating a sense of melancholic depth, producing the string quartet for lending it lushness, walking me through confusions with the production, intimacy of lead vocals! An added bonus was he was keen on learning about the origins of the song as that added an emotive layer of dynamics to the equation!
How would you describe your music sensibility to someone who is new to your music?
There's a host of influences like Norah Jones, Foo Fighters, Sarah Bareilles, Hayley Williams that I'll reference in bits and bobs, but at the moment I'm in the experimental phase of my journey, where I strive to emulate my emotions and mental processes. My first single, Now She Knows, was an acoustic folk song, where the theme was self discovery and navigating fear. Anyway is a soft rock ballad that centres on hope and heartbreak, and sky's the limit honestly for the next one!

Words Hansika Lohani
Date 02-05-2023