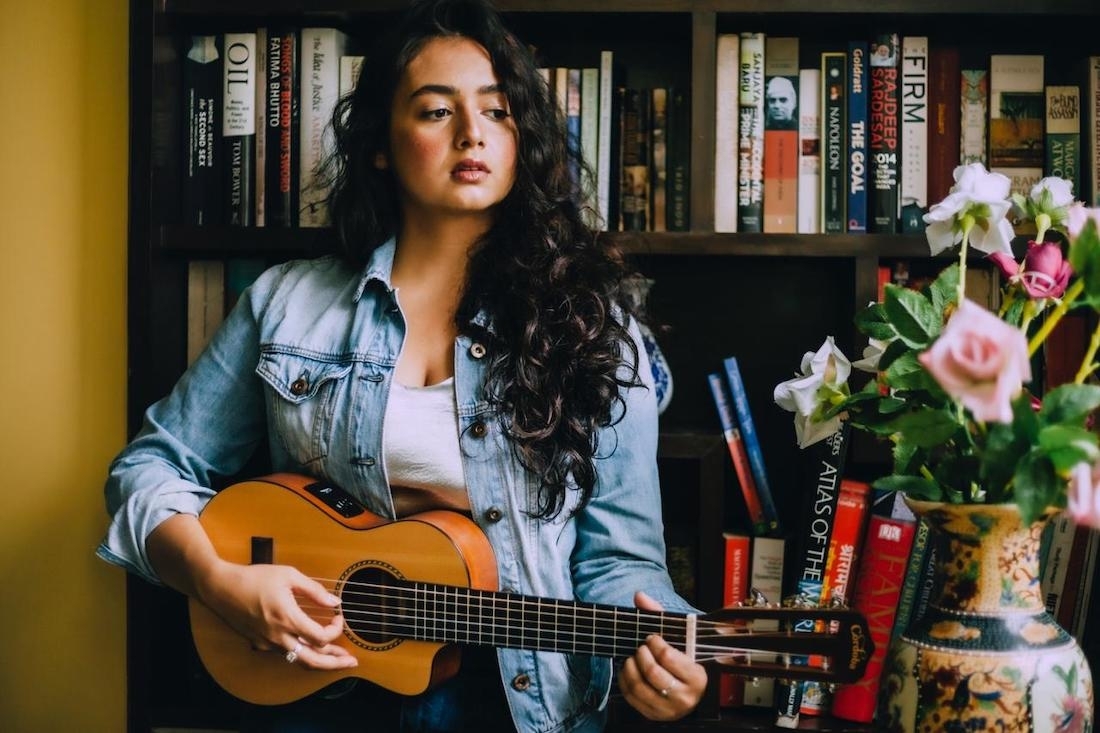 Photography- Aryaman Dixit
'My first and primary instrument is my voice, and I would sing all the time,' says singer-songwriter Abhilasha Sinha. Born and raised in New Delhi, Abhilasha recalls her house being filled with sounds of ghazals, old Hindi songs and her mother playing the harmonium as she sung along. The young musician is increasingly gaining traction on social media as her songs are being recognised for their whimsical honesty.
Even so, it requires fierce spunk to break the glass ceiling of the musical fraternity. The complexity of pursuing the arts as a career became all too familiar for Abhilasha, as she endeavoured to forge ahead in the field. 'Like in most middle class Indian families, music is a hobby and not a career. It's risky and not stable, and especially riskier for girls and women, given the nature of the industry. Naturally, my parents were apprehensive. It's taken some time and work but they've come around and are now my biggest fans,' shares Abhilasha fearlessly.
Her latest track Jab Tum Miley, is a melodious harmony, which packs within it soft vocals by Abhilasha, gentle acoustic strumming by Andrew Gialanella while Keshav Dhar and Pranav Pahwa feature on the electric guitar. Piano tunes are handled by Pranay Parti on this track, as Dan Thomas brings in his excellent drumming. Mixed and produced by Mumbai based Keshav Dhar and Abhilasha herself, the track is an exploration of the intricacies of long-distance love. Speaking of the song, she explains, 'I've always loved hooky melodies and vocal lines. Since my voice is my instrument, my writing is centred around vocal melodies, choruses, lots and lots of harmonies and pretty simple songwriting. My latest single has some of the most challenging vocals I've written so far, since the range goes from E2 to a C#4, almost two octaves. But I also love meditative instrumental breaks and floaty vocals, which I explored more in my trip-hop/rock project, No Honey.'
She reveals that her music taste seems to be all over the place. 'I would listen to Otep and Liz Phair to A.R. Rahman and Blink 182, in the same playlist.' Although her greatest musical inspirations have been The Staves, Lizzy McAlpine, Kamakshi Khanna, Gregory Alan Isakov, Lianne La Havas, Men I Trust and Raveena Aurora. She particularly loves Lizzo's story, Alexandria Occasio Cortez and gives a big shoutout to her fellow women musicians in India for always being so inspiring. Giving us an insight into her creative process then, she says, 'if I have a song that's been in my mind, I like to quickly play it out on my guitalele, then on my keyboard, and write out a verse or two. Then it sits in my voice notes for three months sometimes, or I finish the song in 15 minutes. It's very dependent on inspiration, and I want to learn how to actually be creative for longer periods of time, and not just spurts. Tips are appreciated!'
Creating music in her own language, even while living in New York, has never seemed like a challenge to her. 'As bilinguals we think and read and write in both languages we grew up speaking. I didn't really listen to any English music till I was 12 or 13, and we never really had old vintage Bob Dylan records like a lot of Indian families did — our music at home was 95% Hindi. Only when I begged my mom to take me to the mall to Planet M, to buy a five-year old mixtape of 'Western/English' music, was I introduced to Britney Spears, Maroon 5, Beyoncé, Dido, U2, Black Eyed Peas, Linkin Park…you get the gist. Piracy also let us download pretty much whatever 'cool' new music we wanted, and that opened up a whole new world of music. So I'll always be singing in English and Hindi,' Abhilasha exclaims.
However, creating within the ambit of a global pandemic has posed its difficulties. Even for the most talented, channelling creativity can seem like a daunting task when the mind seems to be occupied with things beyond everyone's control. 'I am a very collaborative person, so it's been kind of inhibiting. A lot of other stuff was going on, and I don't have a team — I'm my own manager, producer, creative director, everything. So self-motivation has been low. I was not the super productive content creator who used the pandemic to grow their audience. I was just trying to stay sane and the people who were killing it on the platforms were my motivators. It's been hard, but I think I'm finally getting out of this rut,' confesses Abhilasha.
To that end, she claims that she is working on getting into a better mind space for herself, and in the process is trying to evaluate her goals and the space she wishes to occupy in this moment. 'We compare ourselves to so many other people and their trajectories, that we forget we have our own unique lives,' she says. With hopes to release her first EP soon, which features some incredible guests, Abhilasha trudges on and encourages others around her to be mindful of themselves and their own needs, while continuing to bravely make efforts to actualise their dreams.
Text Devyani Verma
Date 11-06-2021