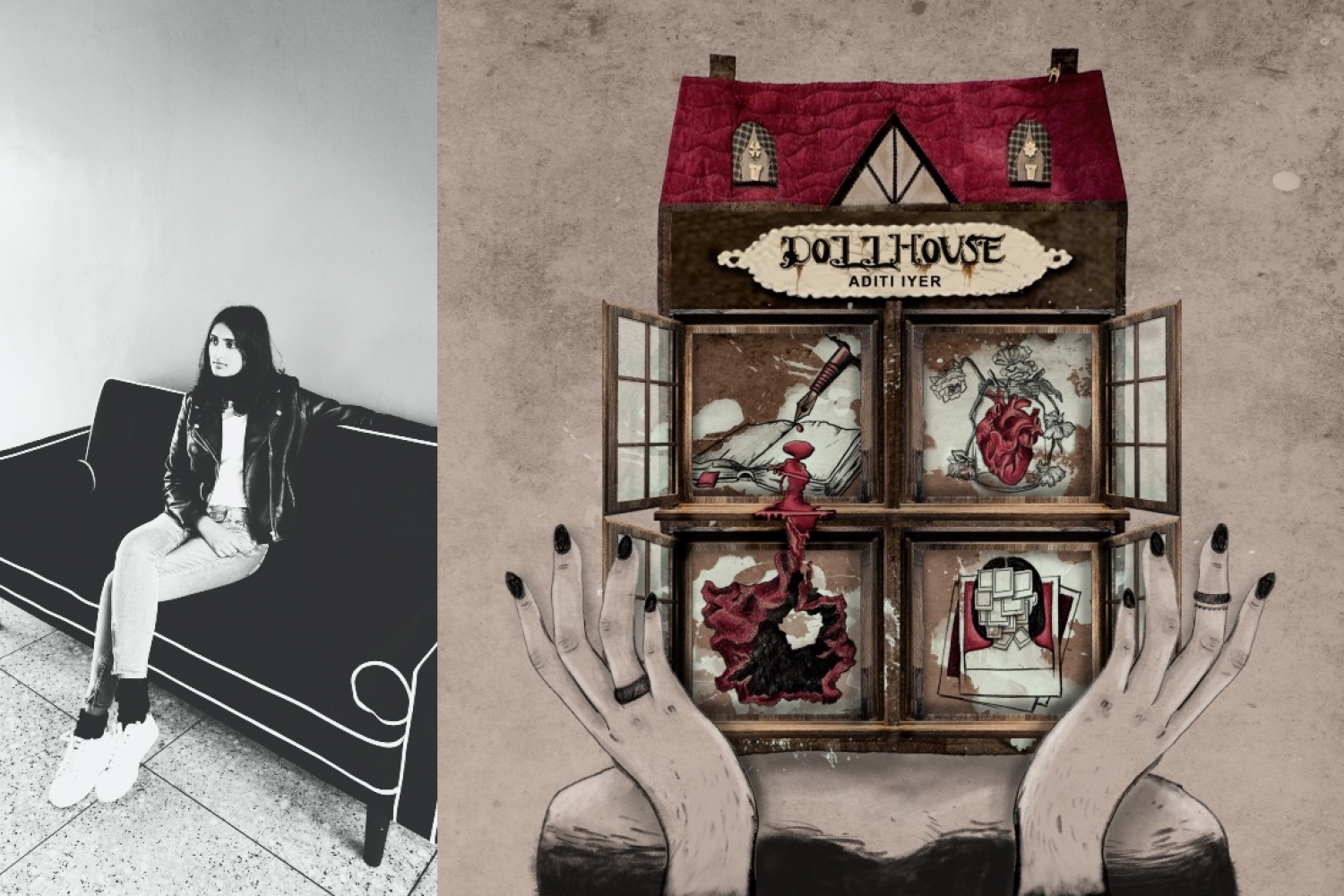 With an array of releases under her sleeve at just 17, Aditi Iyer is a promising singer-songwriter with a lot to say. She is a Mumbai-based trained opera singer, who is marrying this sound with pop tunes to create spellbinding music. She has spent the better part of her years on enhancing the range and dexterity of her voice, and the efforts are charmingly audible in her recently released EP titled Dollhouse.
'Dollhouse is the kind of EP that doesn't try to avert pain, but rather revel in it,' the artist declares. Poignant, haunting and groovy are words which have been used to describe the four track EP, which deals with the loaded issue of abusive relationships, set against sounds of heavy synth and bass. Disillusionment, confusion and slow realisation are themes which dominate the lyrically heavy work, ultimately encouraging all to believe in their own strength.
We spoke to Aditi to know more about Dollhouse and her musical process.
What attracted you to music?
I feel like music's always been there for me even before I could fathom why I loved it. My parents tell me I started humming songs they played at nine months, that I sang all the nursery rhymes in my kindergarten class at three, and I remember just naturally graduating to Celine Dion and Whitney Houston at four or five. Music's almost been genetically imprinted in me so I can never pinpoint the moment I realised I loved it or what really attracted me to it. But I know that one thing I do love about music is the freedom.
How would you describe your sound?
I'd say versatile, deeply emotional, yet intellectual. I always aim to make music that makes you think but also feel things. I also love a sense of intensity in what I do. I can cover things and revel in feelings that other people usually don't want to or may not. So, while I'm still exploring and experimenting with my genre, those characteristics are always there in anything I ever make.
You're a trained opera singer. How has that influenced you as a musician?
I think opera and western classical has really been a defining feature in how I sing. In opera, there are so many strict rules on how to open your mouth properly, how to sustain notes, get resonance, and so many others. These have been so helpful to me in pop because they help me have power and control over my voice without hurting or subjugating it. I honestly sing pop with opera techniques in a different context and ever since I discovered opera, it's completely changed the way I sing, my range, and my capabilities as a singer and a musician.
What led you to the genre of opera and what made you switch to a more pop sound, as you've done in your latest EP Dollhouse?
I've actually always been a pop singer my whole life. The first songs I ever sang were pop and my last EP, The Girl They See, was a definite pop sound so I really wouldn't say I switched to one in Dollhouse. In fact, it's opera that came later in my musical journey.
At eight years old, I began learning from this renowned opera teacher in Delhi, Situ Singh Buehler. She's really been the person who introduced me to opera and what I was capable of doing. Before her, I guess I never really thought a lot about it. She taught me everything, from breathing techniques to vocal ones, to all the opera and western classical songs I know. I'd say she's been instrumental to my opera journey and the influence it has in my singing.
Dollhouse doesn't shy away from speaking about the darker side of some relationships. What made you choose such a topic?
The subject of abusive relationships is really a topic I feel for deeply because it's so horrible but also so common, particularly with the people in my life. I knew a friend who went through something similar, where she was with a guy who kept using her and making her feel terrible about herself, but she never listened to me or her other friends when we told her to break up with him. I think so many people don't understand just what it means to be in a relationship and what it's supposed to feel like, so a lot of the time they normalise abusive relationships. I guess I made this EP for my friend and people like her, so they don't think the way they do.
Generally, what inspires you as a musician?
I'm really inspired, when making music, by experiences I've never had before. I view music as a way to empathise with people and I think it's a welcome challenge to be able to do that with something I've never actually gone through, like abusive relationships in Dollhouse. I'm also, as a musician, inspired by the desire to be real. I don't want to sugar-coat or exaggerate things. I want my music to be just like how life is and I'm constantly motivated to evoke that feeling in whatever I do.
I'm also, of course, inspired by my ultimate goal as a musician. This is super lofty, and many people have said so, but literally everything I'm doing is working towards being one of the first contemporary Indian singers to actually break into the international scene and be really successful on the billboard charts. It's pretty daunting, given that the chances I do this are very grim, but it's strangely motivating.
Has it been difficult to balance music and academics simultaneously?
To be honest, it's been really difficult for me to juggle music and academics and it's very overwhelming a lot of the times. I am enrolled in the International Baccalaureate Diploma Programme, which is infamous for being an academically difficult course, so I'm often loaded with assignments and tests. But, of course, my real duty is to make music, which is why despite everything, I still find time to practice and make music.
The key here, for me, is scheduling but also being opportunistic and squeezing music in the moment I get a slot open. Even if I don't, a lot of times I need to prioritise and I'll leave academic work to make music. I always try to, no matter what, sing for one hour every day and find some time to write lyrics. It doesn't have to be a whole song, even a line or just a concept of what I'd write about goes a really long way. The goal is just to incorporate any amount of music in my life.
What's on your playlist?
I think you'd find a lot of Taylor Swift and Olivia Rodrigo, some Billie Eilish, a smattering of classic rock here and there and a good dose of J-pop, Disney, and musicals. I listen to a wide range of music and they're almost mood-coded in a sense. As in, I have a song for every mood I feel because music's really my coping mechanism for a lot of things.
What are you working on currently and what's next for you?
I'm actually in the process of making new music which I plan to release in a few months and it's always an interesting process, especially because I plan to have a bit of a different sound in this one. Aside from that, though, I'm always trying to learn and hone myself as an artist by writing a lot of songs that might never be realised or released, but which still might be my stepping stones to becoming a better singer and songwriter.

Music, Vocals, Composition & Lyrics by Aditi Iyer, with assistance from the Los Angeles, California based Producer Ryan Benyo.
Dollhouse artwork concept & curation: Malvika Nanda, The Big Beat
Artwork design: Anushree Chatterjee for The Big Beat
Text Devyani Verma
Date 13-09-2021