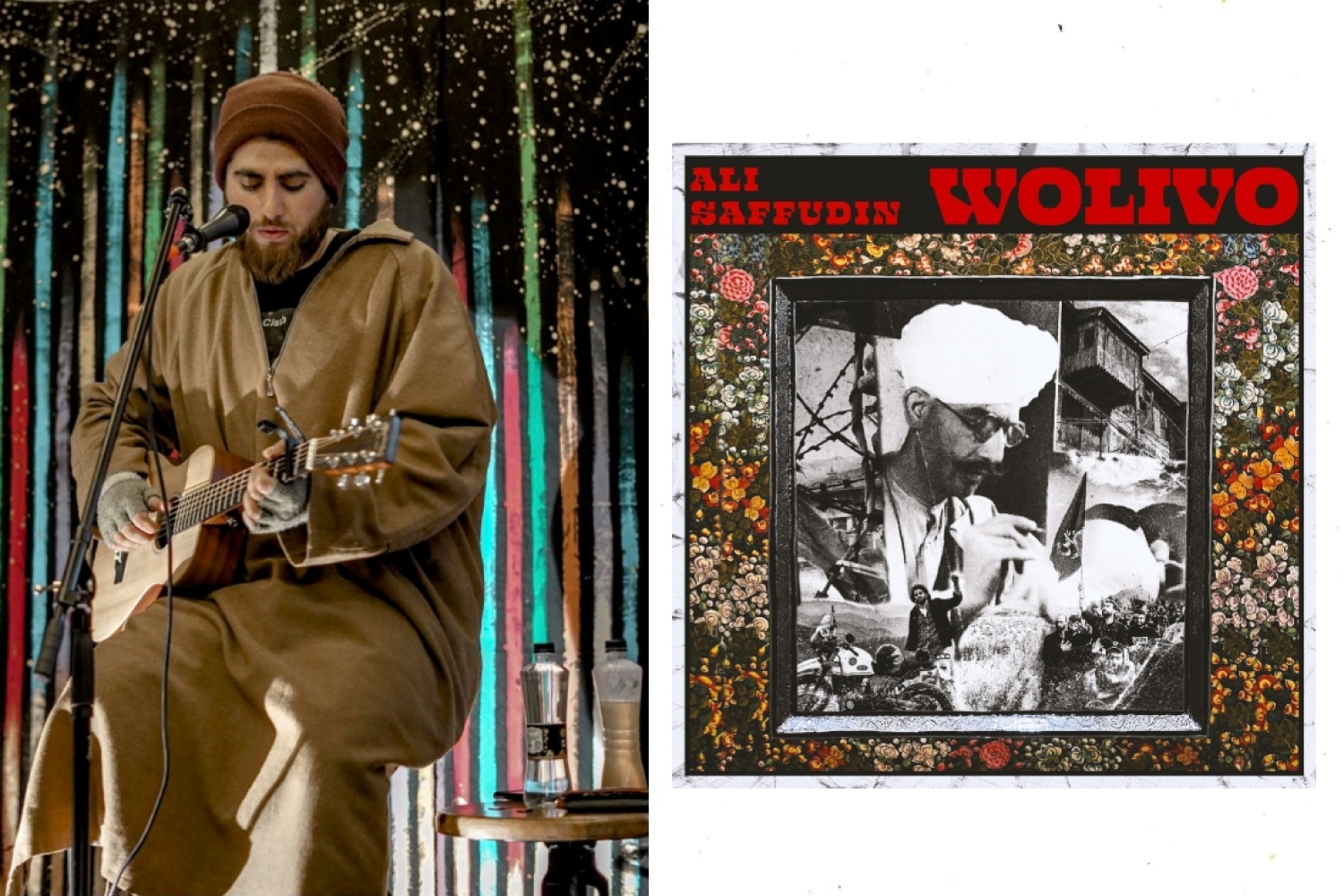 Ali Saffudin's debut album Wolivo, released in 2022 via Azadi Records, retells the story of a boy whose heartland is torn apart by conflict and oppression. Srinagar native Ali Saffudin combines catharsis and condemnation in his music. As he voices his anguish for Kashmir, he also sings to preserve the beauty of the valleys that envelope him. He cites historically unconventional heroes as his inspiration — the ones that spoke their minds against all odds, and made truth the focal point. Below, Ali tells us more about his journey and the making of Wolivo.
EARLY INSPIRATIONS
Recently, I revisited the film Into The Wild, and I realised how much that film and its soundtrack have stayed with me. The relationship Christopher McCandless shared with the wilderness resonated with me. Just as he was passionate about exploring Alaska, I realised I felt a similar passion, just in a different field. It was after this film, I made the effort to learn music and pick up the guitar. I wanted to express the emotions I felt, in all their hues and shades.
My affinity with blues music largely informed my musical sensibilities. I used to research and understand the genesis of blues as a genre. Blues originated in the USA by enslaved Black Americans, who used to sing typically gloomy songs that longed for justice, freedom from oppression and brimmed with the hope for a brighter future. The genre set a blueprint in my mind for my album Wolivo. The idea of articulating pain and injustice through music stuck with me ever since.
POLITICS IN MUSIC
There's this saying, "The art that is personal is the most effective." The first time I heard Get Up Stand Up by Bob Marley, I had goosebumps. Figures like Malcolm X, BhagatSingh, or Che Guevara stood out to me. They aren't your traditional heroes, they have a different flair about them. I used to identify with them. My grandfather used to narrate Urdu poetry by Ghalib to me, and Ghalib's wit and unconventionalism really left an impact on me. His punk rock element remained in the back of my mind. His ideas always spoke of the bigger picture. Moreover, I always aspired to be completely transparent with and through my music. My art and thoughts needed to align. If you listen to my album Wolivo, you'll find out I love nature, you'll know my politics, what pisses me off. An artist's music doesn't clearly reflect the person's ideologies now, I feel that's missing.
CREATIVE PROCESS
Wolivo is a story about a boy from a place that is torn apart and turbulent. Wolivo strayed away from being an accessible piece of work — it was meant to be deeper and went beyond numbers. I aimed at making a powerful statement and I think we achieved that. I will only assess Wolivo after five or ten years. I'll ask my grandchild how significant thestatement was as an artist.
GROWING UP IN KASHMIR
The politics of Kashmir is something that I cannot elude. It's personal to me and informs my lived experience. Recently, I was studying music theory. Minor chords always sound intense and serious, while major chords sound positive and merry. I transcribed all my music on paper for the first time and realised that all my music is in the minor key. It is melancholic and reflects my state of mind. It mirrors my experience of living in a militarised zone and the conflict around me. All of this has had an effect on how I perceive music as well. So, when I pick up the guitar, it's honest to my identity — how I see life and what I want to channelise through that.
LANGUAGE AND IDENTITY
When I sing in Kashmiri, it doesn't come with an agenda. It's human instinct for me to sing in Kashmiri. There's this false romanticisation that you're saving a language. It's also a political statement because it allows me to present an alternate opinion which contrasts the mainstream opinion the authorities try to push. I would like to be an alternate voice to that narrative.

This article is an all exclusive from our January EZ. To read more such articles, follow the link here.

Words Nandini Chand
Date 01-02-2023