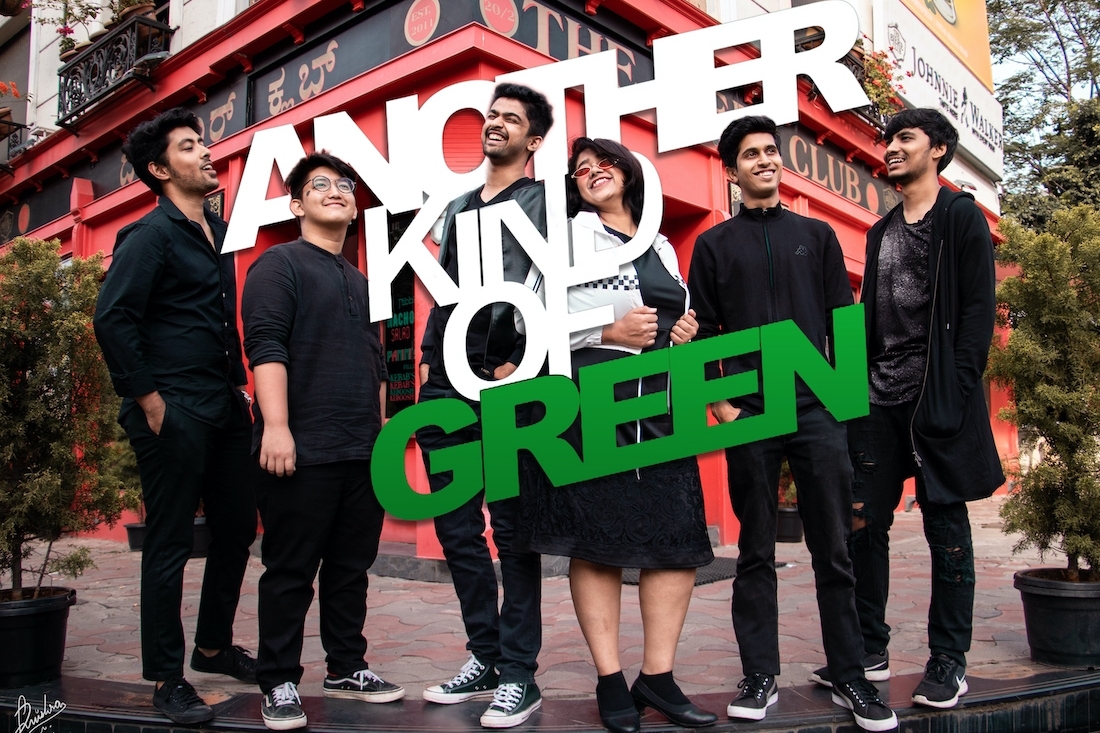 Another Kind Of Green, is another kind of experience. You're either shimmying to their single Plain Good Feeling, especially if you're a 90s music enthusiast, or head-banging to their single Captain Couch Potato — there's no other way around it. Comprising of Shikha Chandrashekhar on the vocals, Sanket Chakraborty on the drums, Vishal Varier on the bass, Anand Murali on the keyboard, and Chethan Kadoor and Ibin Rigia on the guitar, you'll find this band playing in popular venues across Bangalore, on a vivacious Saturday night.
Blending the sprightly energy of punk and the infectious zest of rock 'n' roll, the band recently released their fourth track Moonlight Swing — a celebratory ode to riding off into the night, from their upcoming debut album Plain Good Feeling, which is set to release early next year. We get in touch with the musicians, as they delve into their journey, 'FunRock', and the overall #AKOGExperience.
How did the band come together? Do you remember the first time you met?
Sanket: If I remember correctly, we met in June 2016. Our first guitarist Sam and I were in the same course and we decided to form a band. On the lookout for more members, we even held a pseudo audition for vocalists, and the moment we heard Shikha's voice, we knew she was going to be the perfect fit! From there, it was a matter of finding other people and making the band complete, which is how we met Chethan as well. While the band has gone through its lineup changes in the past, we all knew each other as musicians in our college circuit and would jam together quite often, so the current lineup just naturally came about and fit together perfectly.
Why 'Another Kind Of Green'?
Shikha: When we tried to come up with a band name that represented us and what we felt about music, we chose 'Another Kind Of Green'. In a discussion on how our perspectives and backgrounds are so different, we thought of how the colour green also had so many connotations to it — from representing nature to envy, to money, to peace. Similarly, our music is that source of happiness, source of means, source of expression for us, we felt that the name summarised it perfectly. So, our music became that Another Kind Of Green, which our fans like to call AKOG for short!
How would you describe your music sensibility to someone who is listening to your music for the first time?
Vishal: The most obvious benefit of being such a diverse group of musicians is the fact that our music ends up being a unique brand of its own. While we generally owe our sound to influences of genres like rock, punk and blues, we've often felt that our music is defined less by what these genres imply, and more by a feeling of fun and infectious energy, so we decided to go ahead and christen our sound for ourselves, with the title of 'FunRock'!
Shikha: It was the discovery of our distinctive sound, through the process of creating music, that made us stumble upon this name that we gave to it. Even though every member of the band has a different taste in music, we all are bound by our youthful zest and energy that we portray through our music, even when we perform live. This drive for just having fun and enjoying making and performing music for a loving, engaging audience is what helped us define ourselves in this genre of 'FunRock'.
What is your creative process as a band, who brings what to the table?
Vishal: I wouldn't say we have a principal songwriter in the band, one of us comes up with an initial idea and then we collectively take it from there in the jam room, adding parts and sections, and taking collective calls on what works and what doesn't. With the pandemic, things have gotten a little bit weirder with all of us so distant from each other, but we've made sure we stick to the same collective process, compensating for the lack of presence via Zoom calls and such things — thank heavens for technology! These days, it's usually Chethan (our guitarist) who writes skeletal structures for songs, but the entire band brings in their influences and perspectives to add parts and take decisions on sections.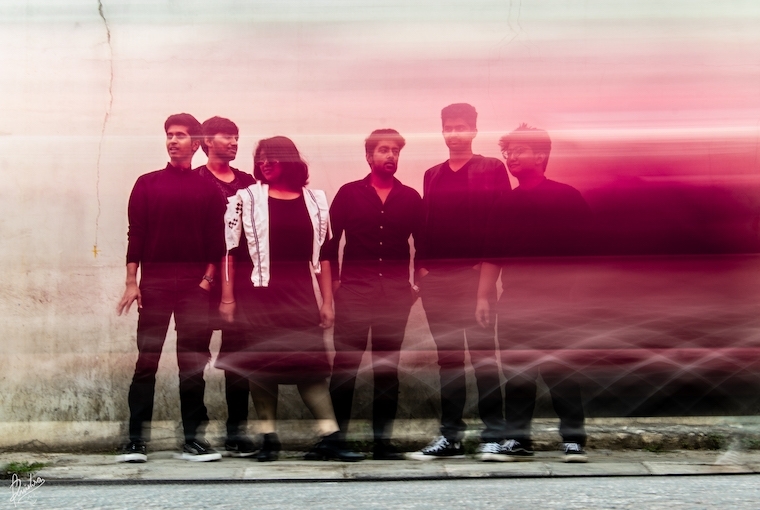 Tell us about your latest track Moonlight Swing — how did it come together?
Vishal: We wrote the song a few months before the pandemic and had performed it a few times at our shows. I think collectively, we all love Moonlight Swing to bits, so it was almost a no brainer for it to be the next release after Plain Good Feeling, especially because it got a great reception at gigs as well. Recording and making the whole product was quite a complicated process, as many of us were stuck with all our important equipment back in Bangalore, and we had to arrange for them before any headway at all could be made.
Sanket: Even with the gear in place, a major part of the recording process was engineered over video calls, including mic setup, gain staging and navigating the recording software, among many other things. But overall it was a really fun project, especially with us getting the voices of so many of our fans on record. Getting to know them a little bit better through the entire process of communicating with them is one of the things we're extremely grateful for as far as this song goes.
Speaking of fans, what was the thought and essence behind having them sing the refrain in Moonlight Swing?
Shikha: I think during the initial process of planning the recording for this song, Sanket had shared a video of us performing it at FANDOM in Bangalore a few months ago. What struck us, beyond the fact that the song had undergone many subtle structural changes since then, was the sheer force of our fans' voices singing the refrain of the song, which goes on throughout! It really lifted the song to another tangent. When we started recording and Sanket layered the various vocal tracks of me and the guys, it sounded like something was missing and we soon realised what — this song needed our fans' screaming voices to make it what it is!
Sanket: So, we came up with a plan and got in touch with so many of our fans through social media. Thanks to how far technology has made it now, our fans were able to record right at home without having to go to a studio, from all over the country. What seemed like an impossible endeavour, did become the reality of the 20-ish voices on the official track. We really didn't want the pandemic to stop us from having their voices build up this song so we did this, and I played around with it a little in the post-production, and it ended up sounding absolutely massive!
Shikha: Beyond this, we're truly grateful to have a bunch of fans who absolutely love our music and our content, and are willing to go to the deep end with us! We'd even add that such a base is crucial for any band like us, willing to traverse beyond the local and expand their reach as far as they can. This song was thus our small way to make them a crucial part of what they themselves call the #AKOGExperience.
How are things going to change for you, and the music industry, post the pandemic?
Vishal: Well, Covid has most definitely derailed many of our plans we had in place for our album release, and we imagine it has done the same for a lot of other bands, organisations, and ventures. But the nature of the pandemic is such that it really is important to realise that the situation is bigger than all of us. Plans for gigs were obviously set aside, but as far as releases go, we've worked really hard to ensure that we can continue to release songs at a decent rate. So while the releases have been delayed, they definitely haven't been entirely stopped as we already released the title track of our album, Plain Good Feeling, during the pandemic, and now have released our latest single, Moonlight Swing, with an official lyric video to follow suit!
Sanket: As far as the future goes, the plan for us is to keep at it, writing songs and creating content for our fans, and hope to return to Bangalore as soon as we can so that we can be together again — which is easily the best part of being in a band! As far as the music industry goes, I feel like the popularity of online gigs is something that will radically change the way the industry works, because I think it's here to stay. While nothing can ever replace the energy of an in-person gig — for both musicians and fans — online gigs eliminate the factor of distance and provide an unprecedented opportunity for musicians to reach a much wider audience, and for fans to hear their favourite bands regardless of whether they're in the same city or not. So in this sense, I believe the industry is in for a major reshuffle even when the pandemic ends, but of course, only time will tell.
Text
Janani Venkateswaran