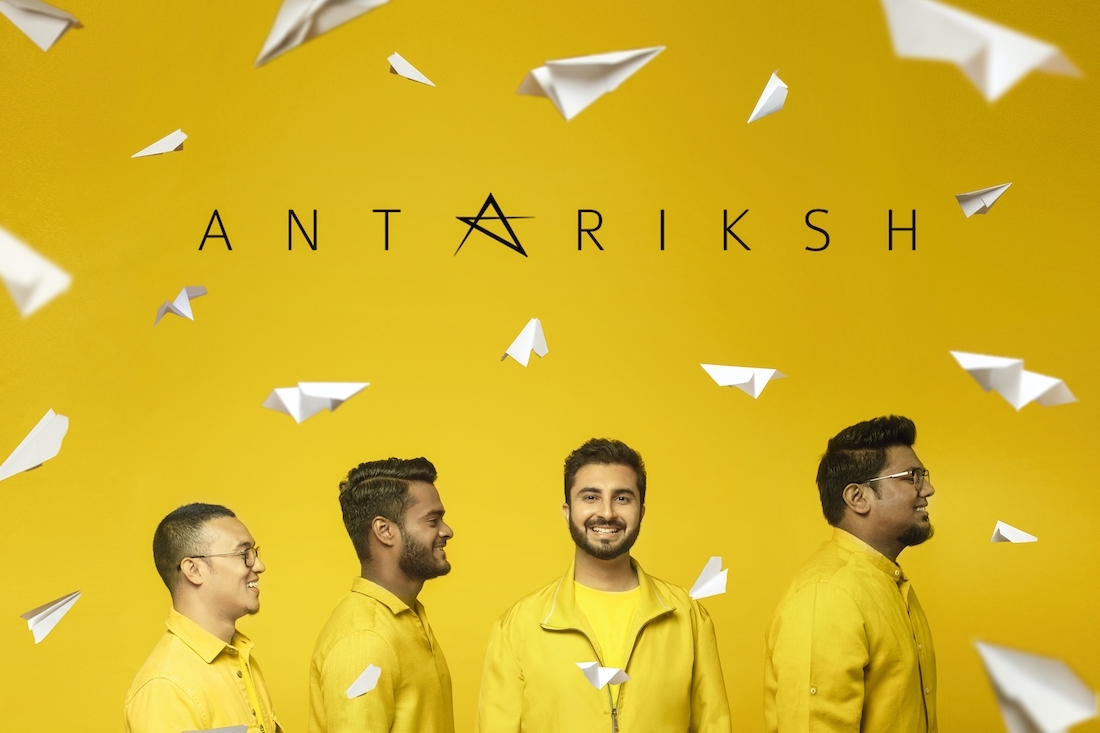 The brainchild of music composer, singer, and guitar player Varun Rajput, Antariksh is a premier Hindi-Rock act based out of New Delhi, India. Alongside Rajput, the line-up of the band includes Joshua Peter (Keyboards and Vocals), Dan Thomas (Drums) and Shrikant Biswakarma (Guitars). The band's live shows are not just your typical rock gigs, but power-packed, mesmerising experiences that distinguish a regular show from a concert. Standing at the crossroad of some stunning melodies and spicy grooves, Antariksh creates a very fresh and progressive sound, borrowing nuances from Rock, Pop, Reggae, Carnatic, and Funk music, presented in a cohesive, thematic and powerful manner. The band members have collaborated and shared the stage with some eminent personalities including Farhan Akhtar, Ehsaan Noorani, Lucky Ali, amongst others.
We connected with Varun to know more about the band and their recent releases, Jee Le Zara and Raahiya.
How did your personal journey in music begin and how was the band formed?
It all began with me falling in love with Rock and Pop music during my school days. I remember getting a glimpse of a Great Indian Rock Concert at Hamsadhwani Theatre in 2004. When I saw a band playing live to a sea of people for the very first time, I instantly that knew I wanted to be there on that stage, playing a concert someday. I picked up learning the guitar with a dream to form a band someday. When I made it to the college, it is the first thing I did. I connected with some really cool band members during early college days and I played in a couple of Progressive Rock bands from 2006 to 2009, called Feedback and Under Siege. Almost all of the band members were engineers from IIT Delhi and DTU. Both the bands did quite well in the local circuit, but unfortunately, as our college lives ended, all of us were taken in by the corporate world and music took a back seat.
After spending a few years as a management consultant, I really began to miss playing music and felt a strong urge to get back to it. I quit my job to take some time off. I wanted to work on a few startup ideas, alongside forming another band. I met a couple of my friends, Mridul Ganesh and Gurtej Singh in 2012, who were in a similar space in life at that time and we founded Antariksh as an experiment to bring together the elements from western musical styles such as Rock, Pop, Funk, and contemporary Indian Hindi music. At that point we just wanted to write a few songs for fun and had no plans to pursue it seriously. Cut to 2020, here we are, having played 700 shows across the world. We have gone through a few line-up changes, have released three albums worth material out, and have a bunch of new releases in the pipeline. I wouldn't have it any other way.
How would you define your music sensibility?
I grew up listening to a wide variety of music, which included genres as diverse as English Pop, mainstream Bollywood, Ghazals, Qawwalis, Hindustani Classical, Blues and many others. However, during my college days I developed a taste for Classic Rock, Heavy Metal, Progressive Rock, Funk, Thrash and a lot more western styles, out of which, Progressive Rock was something I enjoyed playing the most as I found it really intricate and challenging.
We played a lot of heavy metal and progressive music during the college days and it was a lot of fun, but it catered to a very niche audience and it was very difficult to make a career out of it, especially being an Indian artist playing western music back in 2010. So, while forming Antariksh, we consciously wanted to make music which was both interesting and accessible. So, I believe our music sensibilities lie in finding this delicate balance. Also, anyone who wants to dig down deeper can find a lot of interesting and intelligently done riffs, layers, chord changes and nuances.
Walk us through the making of Jee Le Zara.
Well, most of our song ideas begin musically rather than lyrically. With Jee Le Zara we wanted to write an anthemic and uptempo Pop Rock song, with a feel good vibe, and that's how the intro and main riffs/chorus were made. At the same time, I'd been wanting to include a dubstep section in one of our songs and Jee Le Zara's tempo fit perfectly. Dubstep is a really cool genre but very far from the kind of music we make, so it was a hell lot of fun to try and make it work in a Rock Music context. If you hear that section, it's typical dubstep elements but layered with heavy six string and seven string guitar lines/riffs, which I think is probably what makes it work in the song.
As for the lyrics, the music paved the way for them. I usually have a folder full of lyrics where I keep a record of different lyrical ideas that come to me from time to time. We also partner with Ankit Singh, a very talented lyricist who I've been mentoring for about five years. For this song, I knew we needed something very thoughtful and uplifting at the same time. I picked the lines from my folder which felt most apt and kept reiterating until it felt right. I'm really glad that we've got some amazing comments and feedback on the lyrics for Jee Le Zara.
What inspired the making of Raahiya? Tell us a bit about how the video was conceived and made as well.
Again, stemming from a similar approach, with Raahiya the idea was to pay a tribute to some of the 80s/90s Pop/Soft Rock music, that I loved and grew up listening to. Joshua Peter (Keyboardist) and I were revisiting and listening to a lot of Michael Learns To Rock back in 2018 and we thought it'd be really cool to write something in that zone. That's how we began composing the song. Shrikant Biswakarma (Guitarist) came up with a really cool intro line complementing some of the keyboard parts and that's when we further began making the song, Of course the standard process of going through hundreds of iterations in the lyrics, music, recording and mixing stage took place until we were happy with what we had. We got our mixing engineer, Gaurav Chintamani, to track the bass for Raahiya. There was a section in Raahiya which was literally begging for a Saxophone solo so I reached out to our friend, Abhay Sharma (Revisit Project) and he was kind enough to play on this song.
As for the video, we'd been shooting a lot of our gigs since a long time, not knowing as to when the footage would be used. To add to that, we shot a lot of behind the scenes footage from our tour of Mauritius and Madagascar in 2019. Given the current pandemic situation, it's very difficult to shoot a proper music video, so we decided to revisit that footage and make something out of it. Even though the video has come out really great and thankfully, a lot of our friends and fans are digging it, to be very honest, it was a last minute jugaad. My wife, Ishita Singh, who's an incredible photographer, was our saviour and helped us put together the video. Fun fact, my studio singing shots and the acoustic guitar scenes were literally shot two days before the release of the video, when we realised that the behind-the-scenes footage alone was not cutting it.
Lastly what's next?
Given the pandemic situation, gigs, of course, have dried up. The only good thing that's come out of it is that we've got a lot more time to focus on completing and releasing a lot of unfinished material. The agenda right now is to try and release a song a month. Also, for almost all of our upcoming songs, we've collaborated with some incredible musicians from around the world, including a bonafide legend and world's top ten guitar players. Just can't wait to bring to you all our new music!