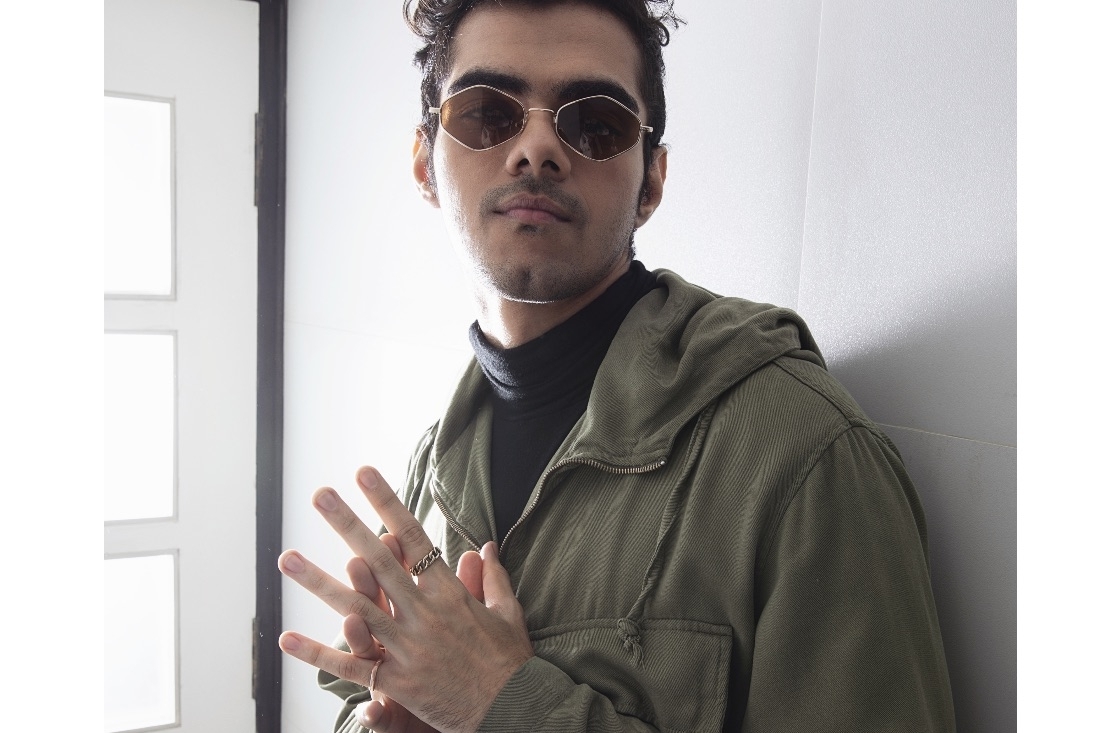 Anuraag Gawhale was born with a keen talent for finding musical tunes in the mundane. The 23-year-old guitarist, songwriter and model hails from Mumbai. Within a few months of co-founding the band Calico, he was accepting awards for 'Best Young Indie' artist at the 6th Edition of Radiocity Freedom Awards. Calico's collaboration with Bollywood composers A.R. Rahman and Clinton Cerejo for Nexa Music in 2020 and the band's second official release, Battles, amassed an amazing half a million views on YouTube. Although Calico disbanded in 2020, Anuraag has only grown, now aspiring to teach others, wanting to share his tips, tricks and insights into playing the guitar. To learn more about his journey with music, we got in touch with him for an exciting conversation.
What led you to music?
Honestly, as cheesy as this sounds, my relationship with music has been something that felt like meeting a long lost friend from the day I jumped in. It wasn't as much me being led to music than it was me being led to a more authentic version of myself! None of my parents were musicians, neither did I grow up around music, except for the late night R&B songs that I used to listen to on the radio before falling asleep. Yet, somehow back in the 3rd or 4th grade, my music teacher ended up calling my mother to school one day just to tell her that her son was the most musically gifted child in the batch and that I should be trained.
When I used to dial my father's phone number as a kid, in my head, I would identify his contact by the sound made by the numbers on the keypad. And so I could tell in case anyone else in the family was calling the same number just by hearing those notes. That right there was one of the earliest tell-tale signs! I knew music was meant for me and it took top priority by no effort of my own.
What is your earliest memory with the guitar?
My earliest memory with the guitar was when my twin brother got a guitar for his 10th birthday and I got a keyboard for mine. Shortly after, a teacher came over who knew both instruments and I was just really intrigued by the guitar, so after a while, I switched instruments. I didn't instantly fall in love with the instrument — partially because of the teacher who used to nap during my lessons. Together we spent a year or two trying to get my little fingers to sit right on the fretboard. It wasn't until I saw an older kid in my school, who really affected me on a personal level through music for the first time, and I thought to myself, 'I've got a guitar at home too and I want to be able to do exactly this' and that was how it all began.
What's your creative process as a musician?
My creative process changes pretty often. Sometimes I'll watch a movie that really touches me or I'll listen to some of my favourite songs and try breaking them down to better understand them or have fun with them. It might even be the weather that day that makes me feel like I need to pick up the instrument and rejoice. I'm always on the hunt for my next favourite song and I guess that's a really important part of being in touch with your creativity — being an authentic listener who can really savour their favourite songs. I've even had song ideas that come through as melodies in my dreams or sometimes even a full-blown arrangement!
The one constant thing that's native to my process is thinking through my guitar. I always sit down with my guitar to first begin exploring the idea. A whole lot of times, one idea leads to another, and sometimes you end up with these really cool guitar melodies and vocal melodies in your head, or maybe a groove supporting it. It could also be during a jam session with other musicians, where we're bouncing off of each other's creative ideas. It's always an interesting environment because there's potential to come up with ideas that you otherwise wouldn't.
As a founding member of Calico, what has your journey been like? Why did the band decide to part ways?
It's been really interesting, to say the least. I've seen an idea grow from nothing into this really cool band. As someone who's been through various different phases, as different members joined the band, I found it really fascinating to see different viewpoints on song ideas and different versions of the same songs. I still remember the first show we did with the nascent songs we had, and how relieved I felt after a great gig! There were definitely harder days at the beginning of the act, when things weren't too certain and the members weren't fitting right, but I'm glad to have pushed through all of that. When we found the perfect matches for the band, we were all pretty satisfied.
Calico was a band which had a lot of contrasting ideas, in fact that's what the name Calico means (based on the multicoloured fur of Calico cats), and that was the best part! 'Cause what came out of it was really beautiful music, owing to the difference in creative ideas. But on the flip-side, that also entailed us being pretty different people, and as the band matured, we all found ourselves looking towards different directions to move in. Some of us also moved cities. But we are all grateful for the journey we shared together as a band.
How would you describe your creative and musical sound? How is it a departure from the music you created with Calico?
I love painting a picture through my guitar. I'm always chasing what my musical intuition is trying to tell me, in the richest way possible, while serving the song.
The musical sound that I personally have is something very distinctive. The music we made as Calico is intertwined and built around it. If you hear me at a live gig with another artist and you've heard Calico, you would probably be able to pick up on the fact. Similar to the way you could perhaps distinguish John Mayer's guitar playing on a collaboration with a completely separate artist. I've always been a guitarist/songwriter, which is why you'll hear a lot of my signature sound over Calico's music, since I was also one of the primary songwriters. Although, since the band has parted ways I've seen a shift in my musical sound.
As a musician, what are your influences?
My personal influences range across a variety of genres. I love the style and sounds of artists like G-Eazy, Drake, J.Cole and Kendrick Lamar, but I also love the beautiful intricacies that modern jazz/funk artists like Robert Glasper, Julian Lage, Mark Lettieri hold in their music. I also listen to old jazz records from Ella Fitzgerald, Bill Evans, Dean Martin, Billie Holiday, Nancy Sinatra, Ray Charles. And I love musicals, one of my favourites is the finale piece from the Broadway Musical 42nd Street. Disclosure, Rudimental, Flume, Bob Moses are some of my favourite modern electronic/pop acts. I also adore pop artists like Ariana Grande, Anne Marie, Machine Gun Kelly, Kehlani, Ty Dolla $ign. Some of my all time favourite artists are Mac Miller, Anderson Paak, John Mayer, Tom Misch, G Eazy, Bruno Mars.
How has the pandemic changed the way you view music and your own personal work?
One of the most notable benefits is the ability to enter a songwriting/production phase with the time that I've had available. It's also given me a long-needed break. This is the first time in the last 7-8 years that I'm not actively in a band, and that itself has been a breath of fresh air. It's given my artist-self a lot of space to independently breathe, relax and explore. On the other hand, due to the pandemic, I miss playing to a crowd full of excited fans!
What are you working on currently and what's next for you?
One of the things I've currently got going on is this Artist-Exclusive Course, Guitar Essentials, that I began earlier this year. I'm closing in on a decade of playing guitar really soon and I wanted to do something to give back to other artists. Last year, I had the pleasure of being mentored by Grammy-winning musicians. In addition, I've been meaning to share some of my own insights for quite a while since I get asked about them frequently, so the course was a perfect way to do it!
I'm also working on new music and I love the direction that it's all currently headed in. There should be a new project and some new music coming from me soon!
Text Devyani Verma
Date 13-07-2021