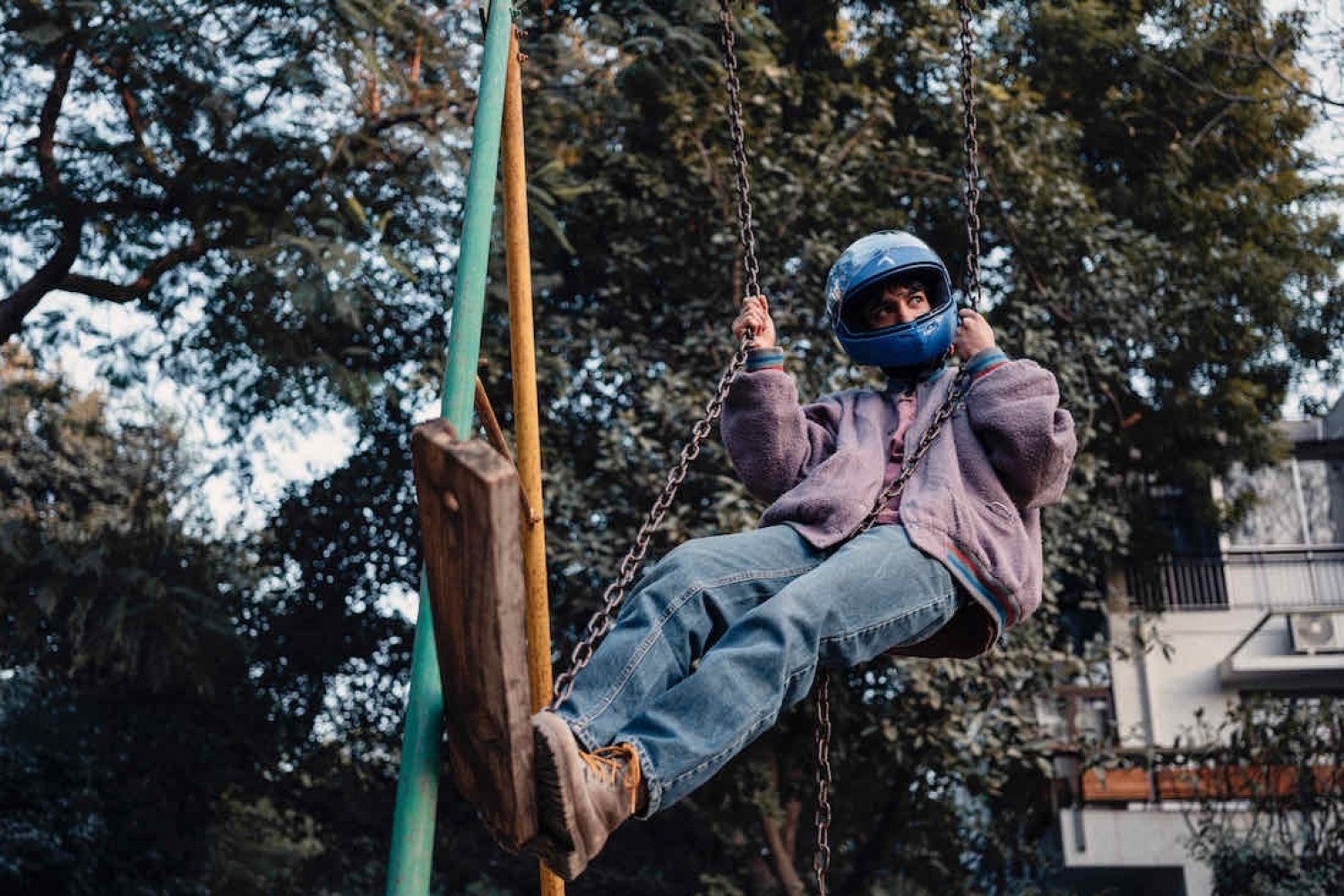 Milk Teeth/ Image: Karanjit Singh
Is it Time ot Eat the Rich Yet? By The F16s
The F16s have been prominent figures in the Indian indie music scene for over a decade. The four-piece band, featuring Abhinav Krishnaswamy, Sashank Manohar, Joshua Fernandez and Harshan Radhakrishnan, has its own unique sound — eccentric, very danceable, and somewhat alt-pop. Their music has always been lyrically and sonically rich, accompanied by an ongoing refinement of their vision. This obviously has resulted in a loyal audience
While their 2019 release, WKND FRNDS, was an extension of the world the band had meticulously cre- ated for itself, Is It Time to Eat the Rich Yet?, their new EP, is a new beat, born after the extended period of economic uncertainty, owing to the pandemic. As the band states, "... this is a joyful celebration of the human condition under duress." It's a fresh new development in their craft and visual language.
Gaya by Anyasa
Anish Sood is now Anyasa — an India-inspired sound with modern electronic music production. Throughout his career, Anish has had a very strong western identity in his music. However, when the pandemic coloured his inspirations and aspirations, Anyasa was born, the first Indian artist to release on Anjunadeep, a label that is undoubtedly one of the most well-known modern, deep house labels. So starting afresh, this year Anyasa gave us the debut EP called Gaya.
On Gaya, Anish has collaborated with four singer-songwriters, whom he discovered by chance on Instagram and Spotify. Artists Isheeta Chakravarty, Bawari Basanti, Avneet Khurmi and Amira Gill have collaborated with him to create a sound that is melodic, emotive and evocative. The first track with Isheeta, called Rasiya, has a beautiful meditative quality. Post this track, the EP gets progressively darker and the other three tracks are straight-up house techno, veering more towards dance floor material.
Ritviz
Ritviz creates beautiful music. Music that can't be put in a box. The pop sensation and electronica producer has a trademark vocal style now, one that has made him the most streamed Indian indie artist on Spotify India, and second highest on the streaming service globally. His YouTube channel has amassed two million subscribers and his videos routinely accumulate millions of views. His ability to merge Hindustani classical elements with electronic beats and breezy vocals effortlessly, has taken the country by storm, ever since he broke into the scene with his single Udd Gaye. His songs and videos have their own quirks, but that's where their beauty lies. He has an unconventional sound and for his album he has finally breaking away from what he started with. His collaboration this year with Nucleya is very upbeat, dancy but still has a lingering classical lacing to it.
Superpower 2020 by Lifafa
LIFAFA, aka Suryakant Sawhney, has transformed contemporary electronic music production, with his unique use of voice and vernacular. He is best known for his 2019 release, Jaago, which went from initially seeming innocuous, to within a matter of weeks, organically expanding at a rate that was unexpected. Now nearing canonical status, the two-year-old release has set a high benchmark for what is essentially a new genre.
Lifafa's release this year, SUPERPOWER 2020 is, as he describes it, "about that experiment called India. I feel it finishes an arc I started with Jaago [his last album], in terms of style and subject matter. It has eight songs, each with a unique palette." It's a fun and loud album and makes some sharp comment on the experiment of our country.
Milk Teeth by Shantanu Pandit
Since 2011, Shantanu Pandit has spent his time honing his craft. He has a sense of vulnerability in his music, like a fabric woven with memories, lost love, joy, nostalgia and homesickness. Having been a frontrunner amongst sing- er-songwriters, Shantanu's journey has been an interesting one — from releasing his solo EP titled Skunk in the Cellar in 2014, which received a lot of love from listeners and critics alike, to the classic self-titled debut album in 2016 by Run it›s the Kid, the moody waltz band he founded, and his melancholy-tinged sonic explorations with the side project, Morning Mourning, in 2018.
His debut album that released late this year, Milk Teeth, is a 10-song journey through various shades of melancholy and wonder. It explores themes such as betrayal, coming-of-age, mortality and permanence. Four years in the making, this body of work is an important landmark in his career and a bold statement about where he stands today as an artist.

Date 30-12-2021