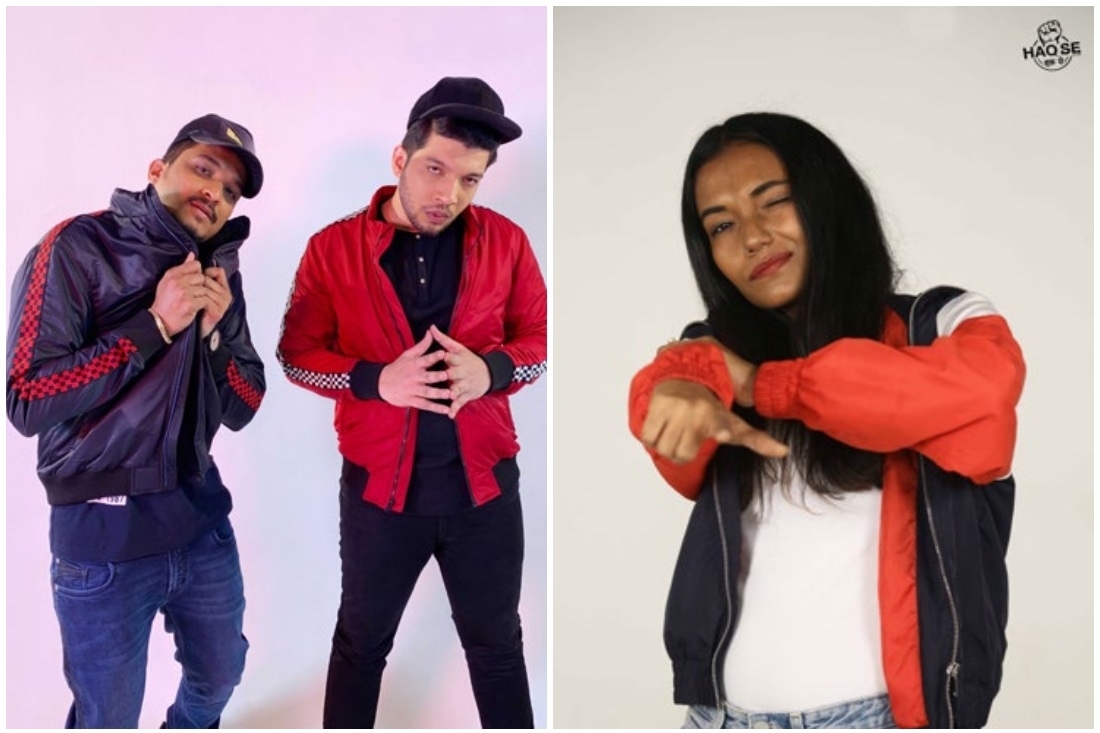 Beyond The Gully
The Changing Shape of Indian Hip Hop
The rap revolution led by Divine and Naezy has disrupted the music industry in unprecedented ways. Let's take a trip.
Last year around this time, a colloquial 'Hinglish' phrase found its way into people's conversations and onto their T-shirts. Whether it was the cool-cat optimism that Apna Time Aayega carried or the way it was stylised in an irreverent font, the fact that a hip-hop slogan had hooked a nation was a curious thing to see. The craze was all thanks to Gully Boy, the Zoya Akhtar film, loosely based on the inspiring lives of breakout Mumbai rappers, Vivian Fernandes aka Divine and Naved Shaikh aka Naezy. For the majority of India, Gully Boy served as a first brush with 'desi' hip-hop, with a noticeable rising trend of rappers, spitting verses in their mother tongue. But hip-hop 'scenesters' in Mumbai and Delhi would tell you that the film was simply a Bollywood-style chronicle of a thriving culture that had existed for at least a decade. In our many conversations since 2015, Abhishek Dhusia aka Ace, the founder of one of Mumbai's oldest hip-hop crew, Mumbai's Finest, has repeatedly said, "We have been doing this for years. It's only now that people are sitting up and taking notice." Dhusia started Mumbai's Finest with a bunch of 'homies' in 2006 and in the days of YouTube infancy, a song got viral via Bluetooth sharing. In an interview with Rolling Stone India, Dhusia had said how his group's first song 'Shake It', a homespun recording via a headphone mic and free beats, became quite the thing. "We'd go eat bhurji pao at 3 a.m. near Andheri Station and people would be bumping that shit. We were like, 'Oh, that's my song,' and they wouldn't believe us."
The Big Bang of Hip-Hop
By the time YouTube caught on, a bunch of hip-hop songs had already been doing the rounds, spawning pockets of super loyal, albeit tiny, fandoms– Divine's 2013 track Yeh Mera Bombay was the quintessential ode to the Bombay hustle while Emiway's Aur Bantai and Naezy's Aafat were local hits in 2014. But it was the release of Mere Gully Mein in 2015 that marked the official big bang of Indian hip-hop. Released on Sony Music and featuring Divine and Naezy, the song became an anthem in no time. It didn't matter if you followed the scene or not, there was no escaping this track which carried Bambaiyya lyrics that praised the peculiarities of the gully, accompanied by an addictive beat courtesy the Delhi-based producer Sajeel Kapoor aka Sez On The Beat. The backing of a big label ensured the song reached millions of fans on the emerging streaming apps as well as on YouTube, where the music video currently boasts over twenty nine million views. The same year, Sony Music signed Divine as an exclusive artist while the talent agency Only Music Louder brought on board Naezy. Hip-hop was going to only get bigger.
It might appear that the epicenter of all the action in these years was Mumbai but on the ground, mini hip-hop movements were breaking in every part of India. In Delhi, the old mecca of rap, a young artist, Krsna, was rapidly gaining fans, aided by a record deal he had signed with Universal Music. Mohali-based rapper Sikander Kahlon was a local hero, just like Brodha V (Bengaluru), MC Kash (Kashmir) and Tripura's Borkung Hrangkhawl aka BK. Most of these artists rapped in their mother tongue, broaching topics that commercially successful Bollywood biggies like Yo Yo Honey Singh and Badshah didn't care about: deep-rooted systemic corruption, secularism, women's rights and more. Unfortunately, women are largely missing from the hip-hop revolution barring a few pioneering names such as MC Manmeet Kaur and Dee MC. Linguistic diversity and 'glocal' appeal The years 2016-18 served as the foundation for the hip-hop high-rise that kept levelling up with every new artist making a debut. What made Indian hip-hop unique was its linguistic, regional diversity and the overall 'glocal' outlook; everyone looked the part in their gold chains, the Nineties'-style baggy jeans and snapbacks, an unmissable Indian expression both in the studio and on the stage. Even though Naezy, Divine and Emiway often cited Nas, Jay-Z and Eminem as big influ- ences, they owed their success entirely to the relatability that their gully-ka-bantai brought them.
A watershed moment in these formative years was the August 2016 cover of Rolling Stone India featuring five art- ists who were leading the hip-hop movement – Divine, Naezy, and Ace, along with veteran MC and curator Bobkat and rapper Stony Psyko from the Mumbai crew Dopeadelicz. The cover story chronicled the growth of the scene from the neigh- borhoods of Kurla, Andheri, and Dharavi in Mumbai and Tilak Nagar and Ashok Nagar in New Delhi.
While the coveted cover earned the five 'scenesters' bragging rights, the cover shoot itself was a 'branded' affair – the artists, all styled in the newly launched American casualwear brand Aeropostale meant that hip-hop was now becoming a fertile ground for brand investment. Unfortunately, the same could not be said about the dying rock scene in India around the time, which in the absence of loyal patronage, didn't manage to receive much brand love. Electronic dance music, on the other hand, ruled the roost on the non-Bollywood side of the industry, with Nucleya (who hit the indie jackpot with his 2015 album Bass Rani) clinching headlining spots at music festivals, endorsements andbrand-funded tours.
The month following the release of the Rolling Stone India hip-hop cover saw all the featured artists engaging in an insightful discussion in a special episode of #RollingWith, a music and conversation series hosted by Rolling Stone India and Twitter, held at the latter's Mumbai office. If there was any more doubt about hip-hop's growing addiction over people around this time, this intimate, invitation only event, quashed it immediately. Hours before the show was to commence, a serpentine queue of uninvited young fans gathered outside the Twitter office, imploring to be allowed in. Many of these were budding rappers who came to catch a glimpse of their idols. Sure enough, they were all let in and what ensued was total delight. Many of these young artists found themselves on the stage eventually, singing their original rhymes and rubbing shoulders with Divine, Naezy and the rest of the gang.
A few months prior, similar infectious energy was witnessed at the multi-artist gig, Hip Hop Homeland, held at the now-defunct in Khar. The packed concert, one of the first few big ones the genre saw, was a showcase of hip-hop's ever widening diversity. The featured artists came from different cities and rapped in Hindi, English, Marathi, Gujarati and Punjabi. It was also testament to hip-hop's immense gravitational power over the youth, a phenomenon that could be witnessed on the street outside the gig venue, where a large crowd of underage hip-hop fans hustled to secure an entry. The years 2017 and 2018 saw the scene gearing up for a full-blown rap revolution – while Divine and Naezy whipped up hits like Farak and Aane De, respectively, Prabh Deep, the feisty young rapper from Delhi, dropped the scene-shaking album Class-Sikh.
Blessed with an ever-growing new audience that drove YouTube views, hip-hop artists across India continued to release more material. Among all of them, Emiway had cracked the code to building a die- hard fandom entirely online; he released a song almost every other month, many of them themed around trending topics such as demonetisation and Valentine's Day, each gathering millions of views. Touted as hip-hop's first true 'social media artist', Emiway also took pride in his independent identity as an artist who was never backed by a label or an agency.
The golden period: Hip-hop labels, brand money and more
The past two years saw hip-hop gigs becoming the new thing with clubs, venues and music festivals, majorly featuring hip- hop artists in their programming. Brands cashed in the wave too; Puma, Jack & Jones, Bira 91 and Budweiser, among many others, released hip-hop-focused cam- paigns and sponsored local gigs and tours. Streaming platforms like Apple Music and JioSaavn betted big on rappers and pro- ducers and featured them on billboards.
The year 2019 turned out to be hip-hop's biggest year yet. Every month saw new albums dropping and new artists debuting, not to mention an impressive number of hip-hop start-ups launching too. A week before Gully Boy's worldwide release, a writer travelled with Divine to the Apple Beats1 studio in Los Angeles to take part in the rapper's exclusive interview with radio host and global hip-hop tastemaker Ebro Darden, a first such opportunity for any Indian artist. The same month, Divine made it to the Rolling Stone India cover for the second time, sharing the space with Naezy, who, having been on a creative hiatus for almost a year, was waiting to make a comeback anytime now.
The consolidation of a scattered hip-hop scene started taking place now – Divine moved on from Sony Music and turned entrepreneur by founding Gully Gang Entertainment, a record label, talent agency and production house all rolled into one. Early players like the Delhi- based urban culture-focused firm Azadi Records (founded in 2017) who enjoyed a first-mover advantage, became a leading curator of hip-hop gigs in the capital and Mumbai. Their signees, at the time, included Prabh Deep, Seedhe Maut and Sez On The Beat, among others.
Soon after the release of Gully Boy, Bollywood superstar Ranveer Singh announced his hip-hop label in partnership with filmmaker Navzar Eranee. The artist roster boasted budding rappers Kunal Pandagale aka Kaam Bhaari, Nitin Mishra aka Spitfire and actor Chaintya Sharma's rapper avatar SlowCheeta. Interestingly, Singh has discovered the three artists via a hip-hop talent hunt led by Jack & Jones a couple of years ago. They were also fea- tured on Asli Hip-Hop, a hugely popular song from the Gully Boy soundtrack.

A year full of hip-hop albums
In July last year, Redbull released a documentary on the life of Divine. In just a few months from then, the rapper launched his much-awaited debut album Kohinoor at a large concert in Mumbai's Mahalaxmi Race Course, drawing thousands of fans. The mobile giant, OnePlus sponsored the event. Somewhere around this time, Third Culture Entertainment, a talent firm started by ex-OML artist manager Tej Brar in 2017, signed Raja Kumari to its roster. The American-Indian rapper had a great run last season, presenting her distinct, often controversial, brand of East-meets-West hip-hop. Apart from headlining multiple music festivals that year, she was also one of the three judges (besides rap star Raftar and Nucleya) on MTV Hustle, a hip-hop talent hunt televised on the youth channel.
As far as music releases went, 2019 was when it all went off the roof. Post the spotlight that Gully Boy threw on urban culture, hip-hop artists made it their lives' mission to release singles, EPs and albums. Besides Kohinoor, the second half of the year saw a debut album by a whole range of renowned artists: Dee MC made her album debut with Dee=MC2, Ace closed a partnership with a major label (his album UnderGod was released under Zee Music Company), while rapper Ankur Johar aka Enkore dropped two singles. Dopeadelicz's tirade against the system Aai Shapath Saheb Me Navtho, Prabh Deep's much-hyped EP KING and Bengaluru rapper Gubbi's single Punaraagamana all did well. Mumbai collective, Swadesi's protest rap song The Warli Revolt became an anthem during the #SaveAarey initiative in Mumbai while rap crew 7Bantai'Z's hard-hitting track Kitaab proved that the Dharavi group was now prepared for the big stage. Naezy sprang up on the circuit with new management (the recently launched Big Bang Music), a new song Aafat Wapas and a host of brandendorsements.
Hip-hop artists around the country kept upping their game on many fronts, whether it concerned their social media branding, quality of song produc- tion or onstage showmanship. If there was one moment in the post-Noughties Indie music history of India where things were looking up, it was now. Even for promoters and curators, the moment was now or never.

The future of hip-hop: Disruptors, enablers, curators and entrepreneurs
It won't be wrong to say we are living in the golden period of hip-hop right now. There are more artists and promoters in hip- hop today than ever. If the recent launch of Mass Appeal India (a new label that arose out of a partnership between hip- hop legend Nas's label Mass Appeal and Universal Music) which currently boasts Divine and Raja Kumari on its roster, is anything to go by, there's a second, more business-led hip-hop revolution waiting to explode.
Here are three immediate things that the scene will need in the immediate future:

Daring disruptors: These can be artists, record labels or even platforms that fill need gaps by addressing the hip-hop scene not as a monolithic whole but by understanding its varied nuances. Artists can effectively disrupt by practicing authentic storytelling while promoters can get creative in distributing opportunities. IncInk Records managed to disrupt a crowded hip-hop creative pool by presenting their borderless blend of hip-hop and electronic music that featured Hindi poetry for lyrics. Mumbai talent/production agency 4/4's efforts in packaging events, whether it is their crowdfunded festival Control ALT Delete or local hip-hop gigs (especially those featuring their managed artist Swadesi) have been uniquely disruptive and scene-defining.
Empowering enablers: The future of Indian hip-hop depends on the enablers that fuel it. Brands and platforms can serve as excellent enablers if they look beyond ROI and social media reach and focus on building tools. Given Indian hip-hop's underprivileged roots, it needs nourishment by angel investors who can empower talent. An excellent case in point is The Dharavi Dream Project (a collaborative initiative by digital media company Qyuki and Universal Music), which runs India's only after-school of hip-hop. Located in Dharavi, the institute offers free courses in rapping, b-boying, beatboxing, DJ-ing and graffiti to over a hundred kids between the ages of 8 and 18.
Culture curators: Indian hip-hop cannot be driven solely on the star power of Divine and Naezy alone; the scene needs more heroes. The role of curators comes into play here – the booking agents, promoters, journalists and platforms that can connect new, promising talent with disruptors and enablers. Last year, Rolling Stone India and Qyuki co-launched a multi-platform hip-hop property called #HaqSeHipHop, which saw the release of a twelve-episode podcast (Haq Se Bolo) featuring India's biggest hip-hop artists and visionaries and a unique pan-India concert (Haq Se Hindustan), which hosted ten hip-hop acts from seven cities, rapping in nine languages. Curators can help start conversations around areas that can be often overlooked – whether it is gender issues (where are the women in hip-hop?) or regional representation (not all hip-hop is gully rap).
Creative entrepreneurs: The unprecedented national attention towards hip-hop has prompted the more entre- preneurial among artists to explore their business side. As is evident from the career journeys of figures like Jay Z, Kanye West and P Diddy, all of who started their own labels and music companies at some point in their lives, it often takes an artist to show business folks the way forward. With Divine and Ranveer Singh leading by example and given the impressive range of talent Indian hip-hop houses, 2020 will hopefully witness a rising breed of hip- hop entrepreneurs.

This essay was initially published in our June Bookazine of 2020. To read more grab your copy here.
Words Nirmika Singh