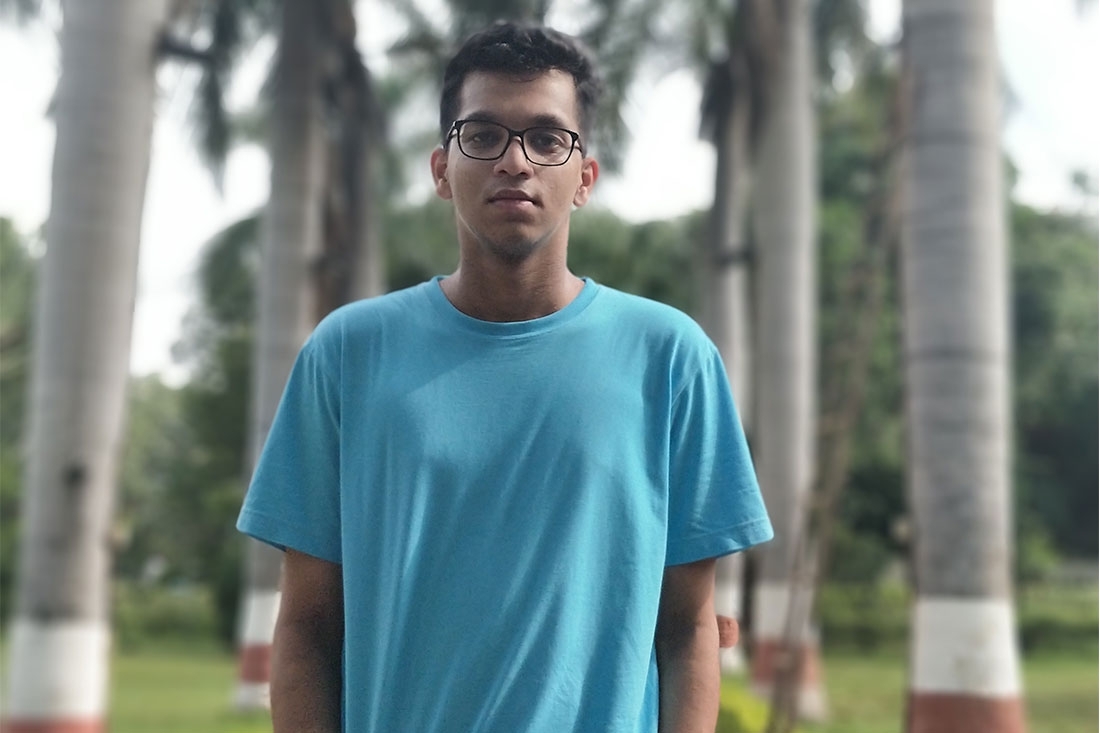 Brij Dalvi. Photography by Shreyas Desai
Working an advertising job by the day and creating music by the night—such is the life of 21-year-old Brij Dalvi who, like many others, is striving to realise his ambitions in the so-called city of dreams. Don't let his age deceive you for he has much on his plate; a brand new EP that has only recently seen the light of the day, a band called Three Oscillators and an artist collective called Jwala that is creating opportunities for other artists.
We speak to Brij about what it's like to step into an established industry as a newcomer and how he pans on taking his sound forward.

When did your romance with music begin?
It was a gradual process and my interest in making music steadily grew over time, but the seed was sown when, in 9th grade, my dance teacher in school gave me a CD with 25 music-related softwares that he thought I'd be interested in. I had a good time experimenting with that. I did a DJ-ing course after school that didn't really teach me anything, but did give me some direction as to where I was headed, musically. I think it was 2011-2012 when I made something that had "structure" and "arrangement".
Brij playing at Raasta Bombay
How did the Three Oscillators come to be?
Back in 2014, Shreyas introduced Avit to the software that I was using at that time, and being a quick learner, he picked it up in no time. He quickly sent me an original piano pattern which I turned into a song and we shared the track with all of our friends.

You're a part of an artist collective Jwala yourself. How do you think emerging artist collectives push the music industry?
I think artist collectives stem from the idea that new and deserving talent needs to emerge from the shadows, and the formation of collectives facilitates that. While members within the collectives push each other to do better, we're also on a constant hunt for new and exciting talent around the country, and we do it in the form of workshops, compilations and meetups.

Take us through a regular day in your life. Does music take up all your time?
On weekdays, I'm off to work by 11 am and am usually at my desk till 8 pm. Once I'm home, I have dinner and then work on my music projects till late in the night. Sometimes, if the day has been very hectic, then I fall asleep much earlier. I dedicate my weekends completely to my music. I either create new stuff or spend time preparing for occasional gigs. In my head, music takes up most of my time, as I'm constantly thinking about some or the other melody.
In 2017, how difficult or easy is it to navigate through the electronic music scene in India for a young musician like you?
I won't say it's easy, but it's a much smoother route now. Most people in the scene are extremely humble and easily approachable. Personally, I feel like all the groundwork I did last year really helped me. I spent close to a year writing for music websites, meeting and interviewing people and, of course, attending music festivals in 2016. All of this helped pave the way to my first gig that happened a year ago.

Post the exit of your third band member, how do you plan on taking ahead Three Oscillators?
As far as Three Oscillators goes, the plan is to make more music and put it out. Plain and simple. We might release a couple more EPs before we think of putting out an album. We also want to make a full-fledged live set, and we're going to do that over time.

Transcendence sounds like a product of successful experimentation. Is it?
I wouldn't say successful; it's more of a satisfactory feeling. This EP gave both of us a clear direction as to where our music is headed, and it's only a stepping stone to successful experimentation. People have loved the EP, but I still think we have a long way to go.

Avit is still in school—how do you both coordinate when it comes to music?
Avit's schedule has just become tighter. He's got tests every weekend and he's preparing for his engineering entrance in April. I got a day job this September, so it has become hectic for me too. Avit usually comes up with a lot of ideas and sends them to me while I try making something out of it. Sometimes it's the other way around. We exchange zip files over email, leave projects half way if we're out of ideas, stack some more layers to the project and send it back. It's messy on paper, but it works for us.

What's next for you?
As for Three Oscillators, the answers are all above. As for Jwala, we're planning some special compilations in the coming months and they're already shaping up, apart from some other plans. As for the day job, it's pretty great and I'm having fun because mobile advertising is a very interesting field. As for me, I'm happily going to be a part of making all this happen, so that when I look back at all this, I feel like I was a part of something big.


Text Pankhuri Shukla