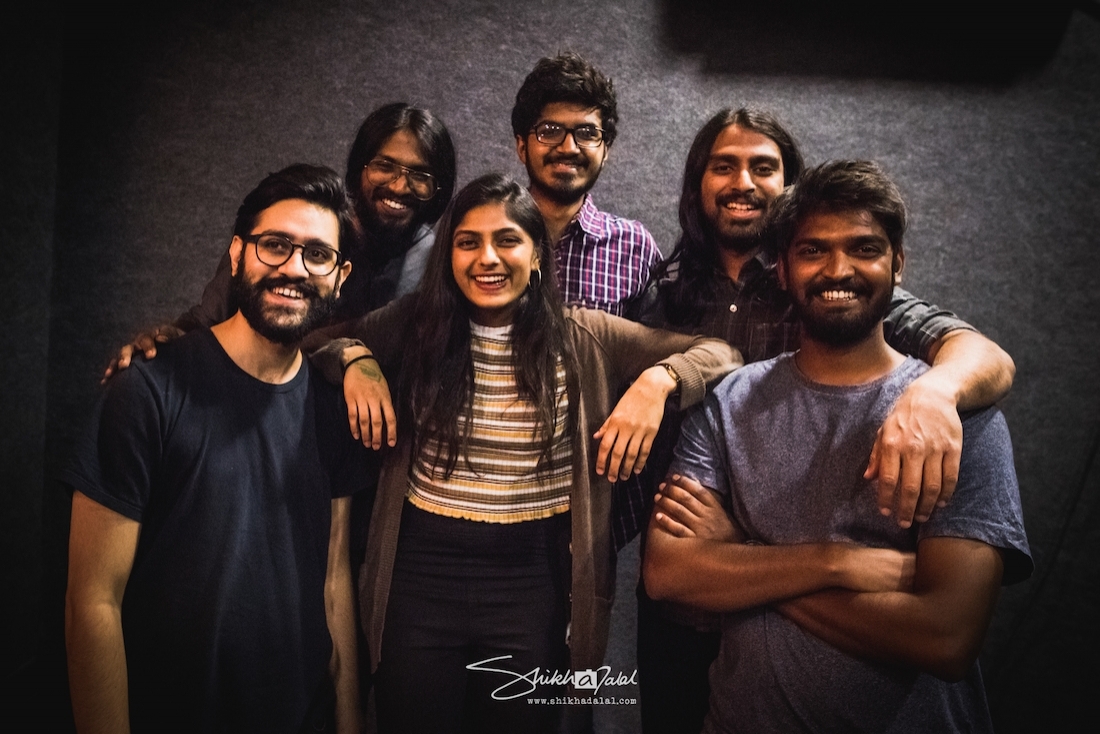 Heat Sink is an Indie band based out of Ahmedabad. They are the super-winners of the pan-India Nexa Music Contest and have collaborated with A.R. Rahman and Clinton Cerejo on new original music. Their live performances are noted for their energetic atmosphere, deftly navigating the intricate aspects of progressive rock and the improvisational flair of jazz. Their debut EP Euphony, released in 2019, has four songs, composed by Chirag Todi, their founding member and guitarist, produced by Raag Sethi, recorded at Compass Box Studio, Ahmedabad and mixed and mastered by Thomas Juth, a two-time Grammy-winning engineer.
Heat Sink has performed at multiple festivals and venues in the past, such as The Big Squat Festival and CEPT University in Ahmedabad, The Piano Man Jazz Club and The Quorum in Delhi, Humming Tree and Bflat in Bangalore. As a band, they aim to continue growing by focusing on originality, constantly developing their live act and reaching out to a plethora of platforms and audiences. Their new song, Judgement is essentially a pop song. They tell us more about them and the single.
Who are Heat Sink?
Heat Sink was the brainchild of Chirag Todi and has gone through lots of changes to be the band that it is today. From the beginning, there was always a focus on creating and playing original music. It began mostly as a progressive rock band, and changed as each member took on more roles in the songwriting process. After Meera Desai joined the band and became involved in the songwriting process, some of the writing took a turn towards jazz and RnB. However, it never strays too far from its roots, as Protyay Chakraborty and Pritul Chauhan, with their rock experience, keep it towards the heavier side.
To tie up the songwriting process, Raag Sethi brings his wide musical perspective to the arrangement, with intricate production of each song. Nayan Kapadia elevates each song to a different level with his otherworldly abilities. Each member is constantly learning and striving to reach a common ground, which adds to the unique sound of the band. A lot of our sound also develops during our recording sessions at Compass Box Studio — where they take the time to experiment with nuanced ideas.
What is your style of music?
Consisting of members from unique musical backgrounds, our eclectic sound ranges from jazz to progressive rock and entails diverse styles and themes, taking influence from a variety of artists such as Hiatus Kaiyote, Snarky Puppy, John Mayer, Haken, Porcupine Tree and more. We aim to create organic music by experimenting with our vocal melodies, harmonic ideas, and lyrics with a healthy combination of both the theoretical and emotional aspects of music.
When is your next track releasing?
We are releasing our latest single Judgement on 30th October, which was recorded before and after the lockdown, in parts, at Compass Box Studio in Ahmedabad. The song was composed and written by Chirag Todi two years ago, and went through many iterations before reaching its final form in the studio version. The song's line-up is Protyay Chakraborty on lead vocals and violin, Meera Desai on backing vocals, Nayan Kapadiya on keys, Pritul Chauhan on drums, Raag Sethi on bass and Chirag Todi on guitar. We are going to start recording our other originals soon and are planning to release our next EP in mid 2021.
Where can we find you next?
We are doing our first online gig on 31st October as a launch for the single through House Concert India, which will be followed by a full band online gig in the coming months.

Text Hansika Lohani Mehtani