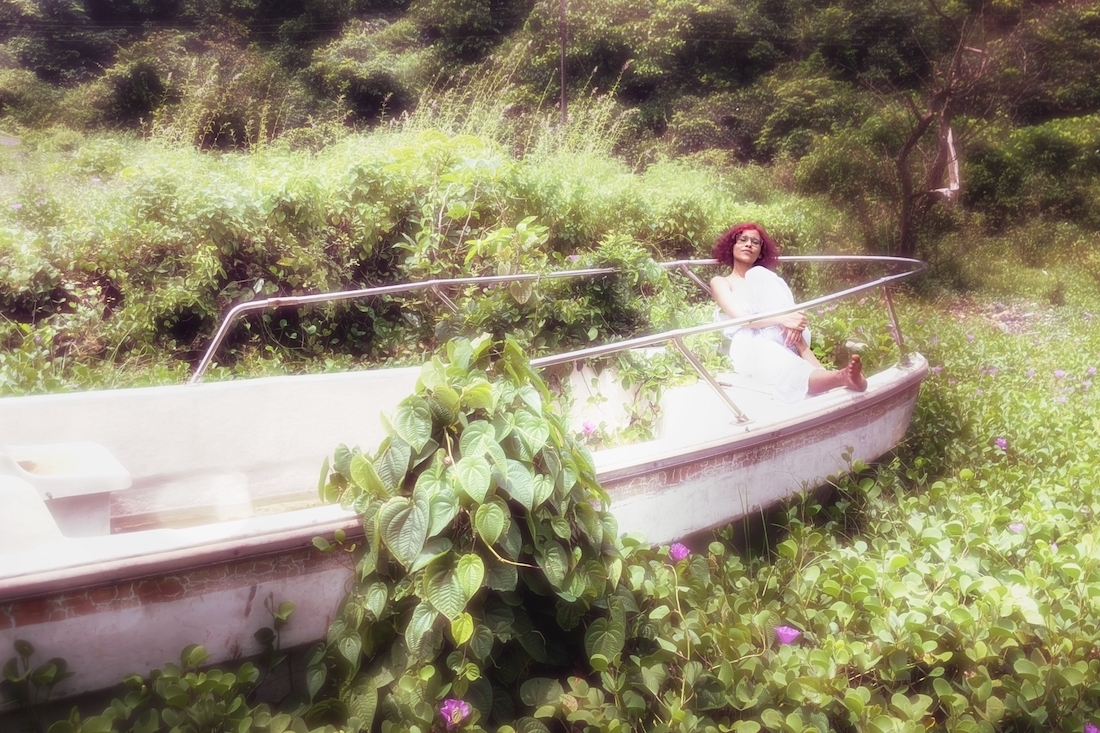 Karishma D'Lima is one of those people who listens to music and gives in. 'I often experience goosebumps and chills from master performers. Music physically moves me and always has. I remember when I was 10 years old, I wanted to sing All That Jazz from the musical Chicago for a competition, and my mum thought it was too old for me,' she recalls. However, Karishma pulled up a chair for her, sat her down and gave her a performance of a lifetime. And of course, Karishma ended up winning the first-place trophy.
Now known as k o k u m, her first ever solo project. She is still experimenting with her sound and at this point, we don't know what to expect from her. It could be a meditative electro-pop piece, a conscious art-hop anthem or a singer-songwriter pop song. 'I'm allowing myself this space and time to create freely and without restraint. The Covid crisis has enabled this free experimentation in some way, and I have to say I enjoy the liberty. It allows me and the listener to go wherever we want to go,' she explains.
We spoke to Karishma, to know more about her music and the way forward.
You lived in the States for some time then moved back to India. How would you summarise your time there and how did it help you creatively?
My time in America was extremely important. Not only did I go at a crucial time in any person's development, but I had never visited America or even been abroad prior to landing there for my first day of college. In many ways, leaving helped me realize the nuances of my identity, growing out of certain Indian cultural norms, learning to embrace and respect individuality, while nurturing aspects of our collectivist culture. My identity splits itself in more ways than just the American/Indian in me. I love science and politics, music and meditation. Moving to America was step one in decolonizing my mind, shattering the illusion of the American Dream, and recognizing that there is no prescribed path for k o k u m — I make it as I go along.
Why k o k u m?
Kokum is a sour fruit found along the Konkan coast and a primary ingredient in all of our home cooking. k o k u m came to be a connection with my roots, an examination of what home means to me, and the space I consciously occupy by choosing to be a creator and make music.
Meditation has often found a place in your music. How does it enrich you?
I am not a stickler for the chanting or sitting-by-yourself kind of meditation. Even though I practice Vipassana, which is a silent, sit-down meditation in the Buddhist tradition, meditation may appear in different forms for different people. Essentially, it is about finding something that enables your mind to simply exist in the present moment, which is surprisingly hard to do. At some point, after some practice, you may be presented with a new sense of self, perhaps one you haven't ever encountered before, that is seemingly infinite and all encompassing.
We live in constant judgement of ourselves, others, the ways things were, and the way things need to be. It is an evolutionary kink to be hyper aware of the past and future in order to survive. While important and necessary, when combined with the mind-numbing technology we're exposed to, the constant threat of environmental or socio-political disaster and the informational tsunami that comes with globalization, meditation is becoming increasingly crucial to develop. There are innumerable physical and cognitive benefits (empirically proven) of meditation, from improving memory, heart conditions, increasing pain tolerance and yes, even improving your creativity.
As a musician, what are your influences?
Everything around me. A book I'm reading, politics, death, love, a new chord progression, a talented friend.
Can you tell me a little about your collaborations?
I miss collaborations in person!! This second wave has been really hard on me mentally, and slipping into a creative space has been much harder than usual. The apathy and lack of motivation is too real and this is exactly what happens when one is left to their own devices for too long. Music is about community, interaction and sharing energy, that is what allows something bigger and larger than life to manifest.
What inspired your latest release, Back to Light and how would you describe its music?
Back to Light began as production practice for me. Joshua Singh sent me a practice drum track to work on and my friend, Mudra Kumar, recorded a couple minutes of him playing tabla. I was learning to work with audio samples, tempo manipulation and all that good stuff. Production always lends itself to a zen mode of creating for me, since I get to play with and experiment with all these cool sonic textures. The lyrics sort of reflect that ethereal, meditative space I was in when working on Back to Light. It's really a conversation with myself, that almost serves as instructional meditation. The steady and ruminating beat lends itself to some great breathwork. I found myself listening to the track a lot and really enjoying the space and energy it was giving me, so I thought I'd share that with you.
Lastly, are you working on anything new?
Yes! Lots of little things, promises of new collaborations and a big solo project lined up. You can get a sneak peak of that on Maed in India - Ladies Special, where I debuted an unreleased, live version of my track, Cheating. And especially for you, Platform, I'm going to share an unreleased, exclusive singer-songwriter piece called Call Me Baby.
I have also spent some time lately fundraising for Covid relief via a small bake sale, since we're all stuck at home in quarantine. Instead of donating money, I felt investing my time and effort would enable a much larger force for good and we ultimately raised Rs. 55,000 for oxygen supplies! I'm so grateful for my hand in life and will continue this effort for as long as possible. The free time has also allowed me to explore other creative avenues, so k o k u m will soon be putting out some handmade products for you guys to purchase and support my music very soon. Creating a stable financial situation for yourself as an independent artist is tough, I want to find unique ways to connect with my audience, so that they can support me. We all help each other grow.
Text Hansika Lohani Mehtani
Date 24-05-2021