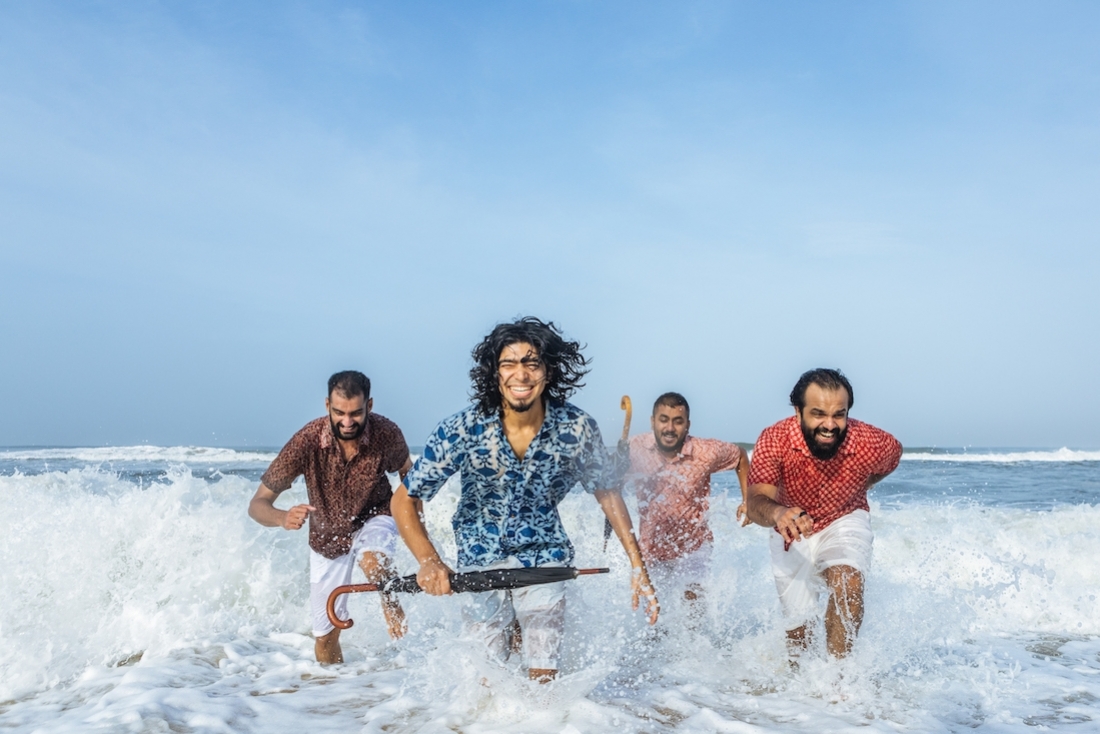 The four-piece indie-folk band from 'the land of coconuts', When Chai Met Toast has amassed fans across the country with their infectious sound — pop infused with Western folk, which is deeply rooted in Indian musical sensibilities. Made up of founding members Ashwin Gopakumar (vocals) and Achyuth Jaigopal (guitar), Banjo Palee Francis on keys and drummer Sailesh G Pai, the band's uplifting, radio-friendly songs bring together a kaleidoscope of musical styles and instruments under the wider umbrella of pop music. And their ability to convey ideas and emotions in a multitude of languages — English, Malayalam, Hindi and even Tamil — sets them apart from their contemporaries in the independent music landscape. Kahaani, their new single, is sure to put a smile on your face.
Packed with characteristic When Chai Met Toast sonic flourishes — gentle guitar plucking and the sounds of banjo — Kahaani is a lovely song that explores the emotion of acceptance and the love that slipped away. Kahaani is also the band's first full-Hindi single, and they approached popular singer Ankur Tewari to write the lyrics for it since the band members are not native Hindi speakers. The single is a part of their upcoming album, When We Feel Young, which they are working on right now. We spoke with the band to know more about their new single and the way forward.
When we first interviewed you guys, you defined your genre of music as 'happy'. Do you still relate to that? How has your music evolved since then?
We feel that our genre has evolved from purely 'happy', though we retain that element of positivity in most of our songs. The new album talks about love, nostalgia, belief and celebration — a wider palette of emotions. Musically too, we try to experiment and grow with every release. The album features electric guitars, synths and a pop flourish, while retaining some of our previous folk-indebted sound.
Walk us through the making of your first ever Hindi track, Kahaani — the ideation, music, story.
We keep a bank of song ideas, consisting of voice notes that we record when we get inspiration for a melody or lyric. Kahaani was one such voice note, which we had recorded sometime last year. We returned to this melody when we were working on the album, and felt that Hindi words would suit it perfectly. Being non-native Hindi speakers, we approached Ankur Tewari, a good friend from the indie music circles, to pen the words for the song, after giving him the gist of the idea we had. Once the lyrics were written, it was simply a matter of arranging it in the best way possible. We tried to keep it simple, minimal and heartfelt.
Your music has this wonderful power to convey ideas and emotions in a multitude of languages. How challenging is it though to make language transitions?
The advantage we had was that Ashwin, our vocalist, could speak and sing in multiple languages. So, during our song-writing process, we wouldn't restrict ourselves to a single language. We found that different languages open up different ideas for melodies, and would sometimes bring a new flavour to a song. It isn't too challenging when the language transitions happen naturally.
Deconstruct Kahaani in a sentence.
Kahaani is an incomplete love story, about two people meant for each other meeting, at the wrong time.
When Chai Met Toast at a performance - Pranav Phogat
You've now released three tracks from your upcoming album, When We Feel Young. All of them convey messages of hope, love, and reminiscence. What can we expect from the remaining songs of the album?
While the three that we have released have set a tone for the album, the remaining songs complete the larger emotion of When We Feel Young. The probable next release, Ocean Tide, is a light-hearted take on a confused relationship, whereas another song deals with overcoming loss. Each song is also an experiment for us sonically, and we are excited about how everything is coming together.
Does the band collectively have a creative process?
There's no particular process we follow. We are a touring band, and most of our songs stem from our experiences on the road. A few originate from jam sessions and sound-checks. We take these rudimentary ideas and develop them at Palee's home studio in Kochi.
What do you think will be the new normal for the music industry post the pandemic?
There will definitely be more emphasis on health and sanitisation when live music returns. We feel that the industry will come back stronger, as more people are longing for such experiences.

Text Hansika Lohani Mehtani