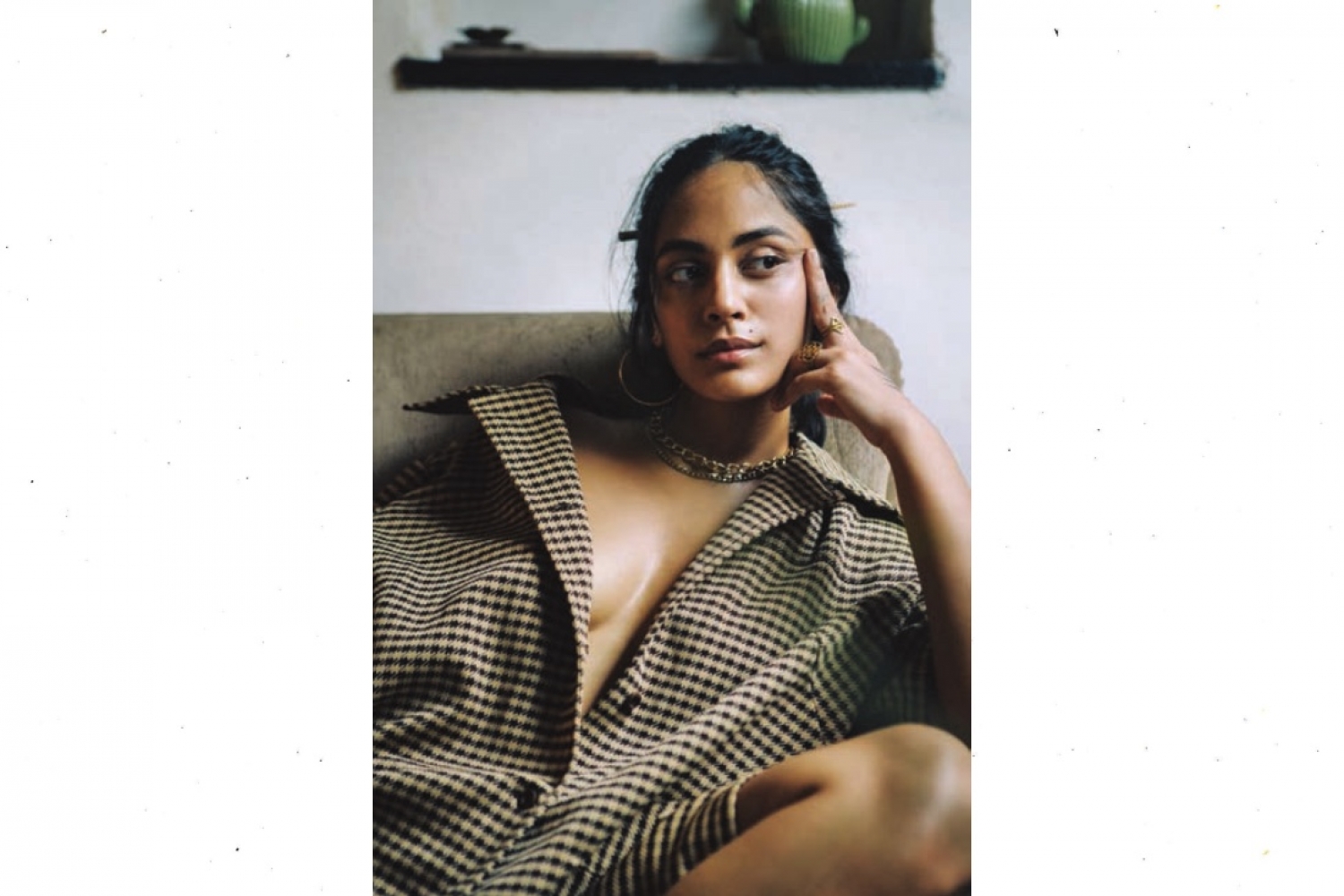 The coolest kid in town, Ambika Nayak aka Kayan is no stranger to the music scene. Best known for her act with Kimchi Youkai as the vocalist and one half of Nothing Anonymous, Ambika now makes music and deejays under the moniker, Kayan. As a creator, her music is immersive and inimitable, making her inadvertently stand out. Ambika's journey with music started young. She grew up in a house with family as immersed in music as the artist herself. Her mother was an Indian classical singer and her father got her classic cassette collections which was followed with singing in bands through college. Ambika pursued Western classic music and began her first act with Kimchi Youkai right out of music school.
The burgeoning electronic music community in India is seeing artists like Ambika engage in a way that's unprecedented. There is, in fact, a protracted globalism to her sound. Kayan's music is something that stays with you long after you have listened to it. We connected with the Mumbai-based artist who is deejaying at back-to-back shows right now to know more about her journey, sensibility and creative process.
CHILDHOOD STORIES
I have been born and brought up in Bombay. I grew up in a family that was very connected to the arts—my mom is a Hindustan classical singer and my grandmother was an Indian classical dancer, so my mother's side of the family were very particular about keeping me connected to the arts. I remember attending my mother's shows because she used to perform a lot back then. I don't think I realised what kind of an impact this would have on me or in my life... But growing up, these experiences help shape how you see the world. I studied in Bombay and naturally later picked arts in college. And soon after I joined a music school where I studied Western contemporary vocals. I met so many like-minded people there, got familiar with the music scene, started meeting more people and eventually started performing. I started off with two bands that I used to perform with and gradually, over time, just got more familiar with everything and eventually did my own thing as Kayan.
INFLUENCES
Even though I did listen to a lot of classical music because of my mom, it's not something that has had an impact on the way I write today. I'm not very connected to that sound.The first time I heard any other kind of music that was when my dad used to play from cool cassette collections of bands like Red Hot Chilli Peppers, Bob Marley and Pearl Jam.There was a lot of different music that used to play at home. Even through channels like Vh1, I got introduced to new genres of music. I've had my phases, from being a pop punk princess to other pop music. I still find inspiration from different musical artists but what really inspires me the most is the people I meet, the places I go to and the feelings I feel that because all my music comes from my experiences. And obviously then I add to it and either I make it a story that I want to talk about or something a little more fictional. All these experiences come from the people I meet and the places I go to. I'm expressive and I like communicating but still sometimes I feel like the best way for me to speak is through music. There are some things that I feel like I can only write and sing better than I can say.
AS KIMCHI YOUKAI...
A bunch of us were putting together something for an open mic in our music school and the founder of our school was at that time judging that gig. He loved our sounds and suggested that we should do something together. Then we started covering more songs, started rehearsing more and eventually started Kimchi Youkai. I think it happened very organically that I met these boys at school and we all decided that this is the kind of music we like listening to. And we made that happen.
AS NOTHING ANONYMOUS...
Nirmit from Nothing Anonymous, my other half, initially used to play in Kimchi Youkai. I knew him from before and he used to play the keys in Kimchi Youkai. At some point, we were collaborating on one song and I had to put up a show somewhere and my guitarist wasn't available. That song worked out quite well which is why we decided to do more things which ended up becoming Nothing Anonymous.
TRYING SOMETHING NEW AS KAYAN
The journey did help me become a better musician and experiencing and creating different kind of music also helps your ultimate sound and get you where you want to go. It did have an impact in a way that I got experience from working with people and listening to more music and understanding everybody's sounds. And helped me reach and create Kayan. As an artist I always looked up to Sandunes and she was doing a DJ residency. She hit me up to make me join it and I had seen so many DJs perform, so I obviously took a lot of interest in that. I realised I wanted, to play my own stuff. I want to learn how to do this. Sandunes taught me the bass, she let me open for her too once. I really sucked at my first gig but with all the support, it was just so much fun. From then on, I just kept practicing a lot. With my friends even, we'll just be playing all day. It just turned out to be such a fun experience. 'Cause everyone was bringing music. I had so many friends who helped me through this process, who shared the music with me. I'm still learning and there's always new stuff that you can get better at. Eventually the gigs started getting better and now I think I've understood my vibe as a DJ. And now I've fallen in love with it. Deejaying is like a show, it's so exciting and it's just so much fun. It's exhilarating.
MUSIC SENSIBILITY
To make it easy, I would probably tell someone that my music is a little pop and R&B and still there's soul in it. I always say a word that describes my music is that it is a mood, a vibe—that's my favourite way of describing it.
CHOOSING PATHS
Both the processes as a creator or as a DJ are so different. I don't think you can really compare both. It's like asking me if I like cats or dogs; it's difficult. I love them both. They both add so much to my life in different ways. That's a pick that I would never be able to make.
CREATIVE PROCESS
For me, it's simple. If I feel like writing something, I will just sit down and write it. If I don't, then I don't force myself. So, I can't help it. I will go days without writing.Everybody has a different process of doing it. It comes in the flow and if I have a lot to say, I'll just be at it. And the moment I know that I have something I want to say, or I have the song idea, I sit down and just finish it. Then a while later, I come back to it and I make it better. I could be sitting in a taxi going somewhere and suddenly, I'll have two lines playing in my head, so I just record it that very moment. I have like so many recordings on my phone. People also ask me, what do you do when you feel stuck? I just take a break. I listen to other music I take a break, I step back and I just do my own thing and then I come back to what I'm doing.

This article is an all exclusive from our Bookazine. To read more such articles, grab your copy here.

Text Hansika Lohani Mehtani
Date 02-07-2022