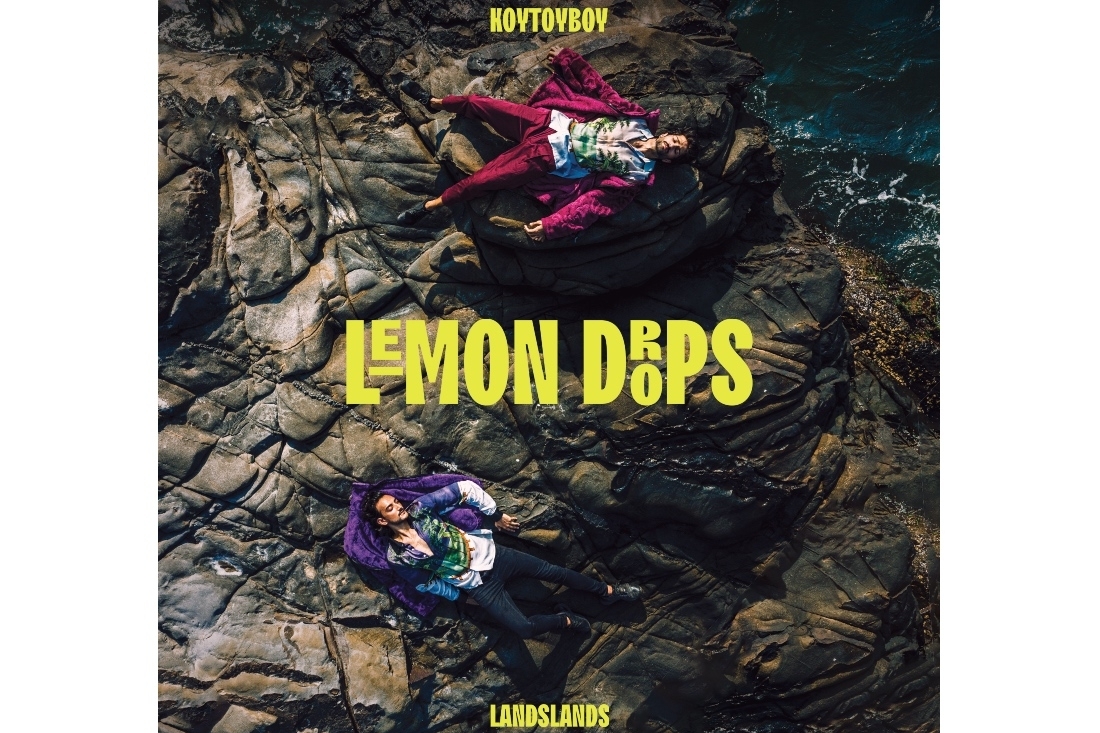 The slow and sultry opening tunes of the track 'Lemon Drops' set the mood for the entirety of the musical piece. A brainchild of design maverick Kunaal Kyhaan Seolekar and singer-songwriter and film composer Sohrab Nicholson, who have known each other all their lives, this song marks their first independently released EP single. "We shared a communal love for creative expression from an early age which simply transcended into this," Sohrab tells us. 'Lemon Drops' delves into the secret intimacies of a night shared with a lover. "We were focused on the verbs, how to resonate with what one experiences in a canopy of passion. Simplistic yet impactful," says Sohrab.
Landslands being the moniker of Sohrab Nicholson, launched his first project "Nicholson", in collaboration with other artists, at the National Centre for Performing Arts in 2020, in addition to already having won a Filmfare Award for 'Best Background Score', for his work alongside Karsh Kale and Salvage Audio Collective on Gully Boy. KOYTOYBOY aka Kunaal Kyhaan Seolekar is an award-winning multidisciplinary designer based out of Pune. "My career has been a melting pot of varied artistic mediums, from Bollywood to Architecture followed by Product Design and Fashion. Musically inclined from an early age and having Sohrab around amplified my efforts in the direction," says Kunaal. 'Lemon Drops' marks his debut into the world of music, where, wrapped within the alluring vocals of Sohrab, he showcases his rap skills. "Lemon Drops is a string of words that are dear to me, like the names of my dogs, scenes from my memory, and such, which I put down and together we discussed a scenario that was then brought to life," adds Kunaal.
The music video for Lemon Drops presents a visually stunning narrative, featuring bold and playful designs, along with breathtaking cinematography. It is a visual collage of aesthetically framed moments capturing the artistic expression of the creative director Kunaal Kyhaan. Aiming at pleasing all the senses, Kunaal explains, "I am a visual person, for me, combining the strong and emotive vocal delivery with visually charged storytelling, completes the sound." In a surreal dream world of beauty and mysticism, adorned in exotic fashion and magical sets, the video adds to the sensuousness of the track. In Kunaal's words, "It was designed to transport one into this world of mysticism that journeys through a montage of raw emotions, sexual connotations and refined symbolisms. A carousel of colour popping footage that Jehaan Noble seamlessly stitched together using raw reels from a range of shoots done over the course of a year. The interaction of characters narrates a subtle tale of a safe space, celebrating different kinds of relationships with an intentional move to cast varied individuals from daily lives rather than hired models. There are elusive details within each frame that connect with the lyrics and offer an insight into the narrative."
Collaborating together has always been on the cards for Kunaal, having been enthralled by Sohrab's voice and talent for as long as he can remember. Breaking the tedium of music production attempted single handedly, Kyhaan and Nicholson navigated through the process without taking things too seriously, in the process finding their companionship to be most fulfilling. "Collaborating with Kyhaan, a debutant in the music industry taught me that creativity knows no bound," says Sohrab. Sohrab with his patience and extensive knowledge of the field allowed Kunaal to learn new skills and musical values, which resulted in this track where talent is so pervasive, it almost becomes tangible.
The duo's bold yet playful sound dares to be unabashedly original, and even goes to question the status quo. "Creativity is free flowing, it doesn't discriminate on the medium," exclaims Sohrab. "As long as the foundation is strong and true to expression it enables one to impart a dialogue that crosses barriers. Hence, both of us simply delivered upon what we know best, in process, creating something that is original, fresh and rich in emotion."
Ultimately, the song becomes an anthem for the creation of a self, devoid of internal and external censorship. "Overlaid with a message that aims to normalise sexual fantasies and encounters at a basic primal level," as explained by Kunaal, the artist duo constantly strive to break out of their comfort zones and reconstruct new boundaries. Kunaal has always been one to challenge established heteronormative norms, and the song with its due diligence becomes instrumental in re-narrativising codes of conduct. And so, "one ought to believe in themselves, with the right team and resilience, you can do anything. At the same time, the visual narrative is extremely important when normalising redefined gender roles and altered preferences like in our case."
Currently spending some time in the hills where they grew up, Kunaal and Sohrab hope to tap into some creativity soon. While Sohrab has already been working on a new single which is particularly personal for him, Kunaal is keen on finding some more explosive collaborations with artists, to add to the profile of KOYTOYBOY. Meanwhile, as founder of studioHAUS, KOY and KOYTOY, Kunaal keeps himself busy with a multitude of parallel assignments.

Text Devyani Verma
Date 29-04-2021
Artists: KOYTOYBOY x Landslandsmusic
Composition & Lyrics: Sohrab Nicholson | Divya Lewis | Kunaal Kyhaan
Track Producers: Ishaan Gandhi | Sanaya Adeshir
Mix and Master : Krishna Jhaveri
Videography: Sachin Pillai | Jay Charola
Video Production: Poulomi Roy & Nathan Gonzalvez
Aerial Photography: Neville Sukhia
Editor: Jahaan Noble
Colourist: Michele Ricossa
H&M: Laila Dalal
Thanks-: @sumaiapapaia @rohanjog @theprodro @valentinag_o @siddheshwarimeghe @mollyxas @studiohaus @utkarishkumar @anuragsharma91