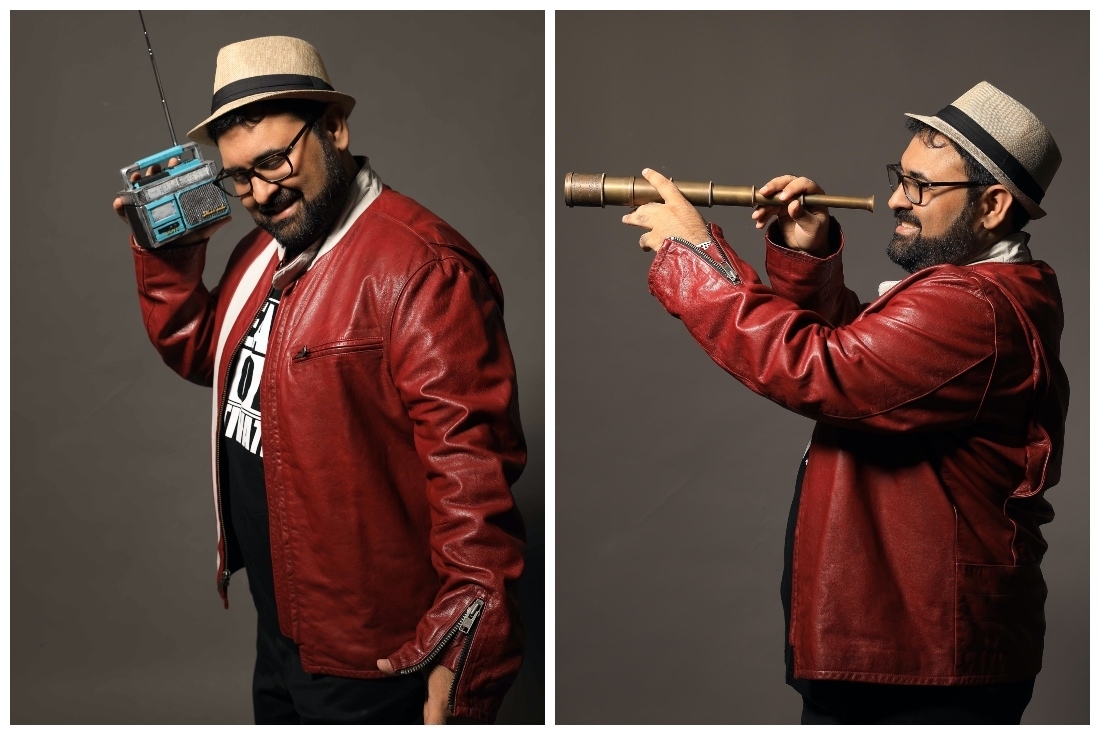 What do you get when you marry a stand-up comedy set with a kickass DJ beat? The answer is India's first comedy rapper, MC SID! Quick-witted jokes, funny quirks and more, MC SID's superpower lies in reading the room to get the best jokes. Add to this his musical chops — he has a self-titled album with over two lakh plays on Saavn and a video called Maa — and MC SID's versatile comedy rapping evokes laughs in any event. But it wasn't always easy for him. He started rapping/creating music and comedy when it wasn't considered cool. Back in the early 2000s, as a singer who only raps at weddings, he has had night club owners shut their doors on him. He remembers being paid a pittance, but he has come a long way. We spoke to him to know more about his journey and to unravel his method-to-madness.
Over 700 shows in 27 countries! Let's relive your journey.
Strangely, I have never studied music, and all I've done is basically listen very carefully to music over many years. The free style rapping also happened purely by chance. Way back when I was in school, I used to download and learn all the lyrics of the rap songs and learn them by heart. Once, while trying to impress a girl, I did a short performance, trying to show how cool I was. However her friend figured that I had gotten the lyrics wrong and seemed to have made up some of them. This was a very basic version of free styling that I had discovered and have stuck to it ever since.
The technique at weddings is that I observe the audience, and then during my performance, I make up my freestyle rap on them. It's very engaging and interactive at the same time. The first time I perform, people are usually surprised — they can't believe a real Indian person is rapping. The second time I do my set they seem to figure it out and ask me to pick on their friends or family and by the third set, they usually want me to pick on themselves. It's pretty awesome!
How challenging was it in the earlier days to gets gigs and survive as a wedding rapper?
The wedding industry was very different back then. It's only very recently that the Indian audience has begun appreciating this style of music. It was extremely difficult as Facebook and Instagram did not exist, and Youtube was at its very latent stage. So I had to personally courier DVDs and CDs of my performances, shot on a Handycam, to prospective clients. And after that, most would still ask, 'who the hell hires a rapper at a wedding? What an unconventional concept.' Slowly I had to convince them that my performance would go very well at an after party. Luckily, somebody who saw me at an after party asked if I would perform at their sangeet. Then after one sangeet somebody asked me if I would perform at a mehendi, and eventually, I started performing at pool parties as well. And as things got bigger and bolder than the wedding scene, I also evolved and picked up a couple of Punjabi verses, which I started using for fun. I also do that along with my raps. So it's been an interesting journey.
Can you pen down your last outing for us. What was the mood of the people like?
The last outing was at the Fairmont hotel in Jaipur and the people there thoroughly enjoyed the wedding. People could not get over the fact that they were finally out after a lockdown. I think there's some revenge excitement in the wedding scene right now. People were totally excited to get back to being social.
What has been your most memorable performance?
Once I was performing for this epic destination wedding and after it ended, I was on the flight back that was booked for all the Baratis. The minute I got on the flight, everyone wanted me to rap. So I found the intercom on the aircraft and rapped. It was Insane rapping in mid-air, truly unbelievable!
And your worst?
There have been plenty of performances that I wouldn't call my worst, but that have not got the best response from audiences. Every time that happens, I sort of reflect and think hard about what I did not do correctly to connect with my audience. I am an entertainer and a professional. So my job is to go out there and put up the best show I can for my audience. Whether I like it or not isn't consequential. And yes, there are good days and bad days, and there are days when you have a very difficult crowd. My job as a professional is to be able to make it work, make sure people have a great time with my interactive act. So a lot of times it has not worked.
There has to be a method to the madness. Do you have a writing process?
Yes, there is a very interesting method to my madness and it is called freestyle. Freestyle is an art where everything that I perform in my rap is made up on the spot. There is no writing, no rehearsal. It's all impromptu and this is the beauty of what I do. I am definitely one of the oldest freestyle rap artists of India who has brought this unique American art form to the forefront in an Indian entertainment setting, and what could be more entertaining than the big fat Indian wedding.
How do you keep yourself inspired?
Eminem is my biggest inspiration as a rapper, primarily because he broke the stereotype that rap was associated with only African American people, and was a pioneer in making it mainstream. Similarly, I have a lot of respect for Honey Singh in the Indian scene as he brought rap to the Indian audiences and truly made it mainstream. I'm also a huge follower of Russell Peters. But my biggest motivation is to engage with the audience and entertain bigger and bigger crowds.
Finally, what lies ahead for you?
A lot of dieting. I have spent the last 15 years drinking loads of free whiskey at weddings, consuming copious amounts of butter chicken, which has led me to put on a lot of weight. So yes, what lies ahead is a regimental diet. And hopefully work more on social media platforms, video platforms and get to even better and bigger weddings. I am a very content man, god has been kind. What I really look forward to is entertaining bigger audiences in all formats and platforms.
Text Hansika Lohani Mehtani
Date 26-01-2021