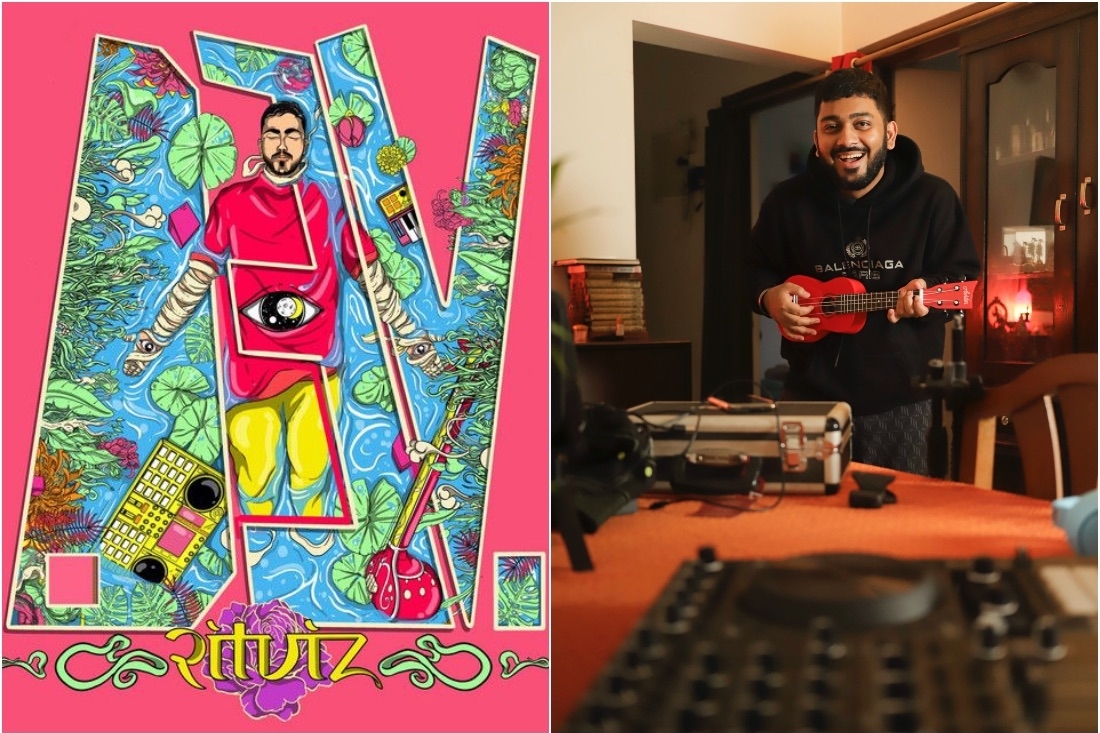 Photography: Sahil Shikalgar
'My music can't be structured'
Ritviz creates beautiful music. Music that can't be put in a box. The pop sensation and electronica producer has a trademark vocal style now, one that has made him the most streamed Indian indie artist on Spotify India, and second highest on the streaming service globally. His YouTube channel has amassed two million subscribers and his videos routinely accumulate millions of views. His ability to merge Hindustani classical elements with electronic beats and breezy vocals effortlessly, has taken the country by storm, ever since he broke into the scene with his single Udd Gaye. His songs and videos have their own quirks, but that's where their beauty lies. 'The lines are very blurred in my case,' he tells me. 'I think my main agenda behind making art is that I'm trying to deliver a feeling to the consumer. I'm not trying to deliver a thesis, so I request the audience not to do the math behind it. My videos are different worlds but when they come together, they're like this amazing bittersweet feeling.'
We had a long conversation about his beginnings, background in classical music, his unconventional sound and how he is finally breaking away from it for his new work. Rolling out in the next six months are his two new albums in collaboration with Nucleya and Seedhe Maut. More information below.
The Beginning
I have a background in classical music. My mom is an Indian classical singer and my dad plays the tabla. Growing up, music surrounded the house. So for me, walking into music was very easy. I was four-five years old when looking at my mom doing her riyaaz. Music was introduced to me was very effortless because my mom never pushed me to learn music. It was something I really wanted to pursue, I wasn't asked to join. As I grew up learning Indian classical music, I was obviously also exposed to the West and VH1 and all of that, which pulled me closer to other styles of music. By the time I was 14-15, I found myself producing music and wanting to sing songs.
Obviously, because of my background in Indian classical, I didn't really realise how it was already infused with my expression. I was just finding something exciting and I wanted to express it. I didn't plan that my sound is going to be a mix of Hindustani and electronic. It happened very seamlessly, and when it did, when people started to tell me, in the post analysis I understood that okay maybe there is this fusion which influenced me. That was more or less my musical journey.
The Big Break
Udd Gaye is a very special song. Let me give you a little context. When I was in 10th standard, I reached a place where I wanted to produce and create music of my own. But I wanted complete creative control. So I started learning production. At that point, I had only learnt vocals, but I had no training in the production side of things. For the next two-three years, I spent time learning how to produce a complete song. After that, I spent close to another five years learning electronic music. And while all of this was going on, there were a lot of fresh and innocent ideas that were marinating in my head, and Udd Gaye was one of those songs.
It took me almost 10 years to express the feelings I probably had for a friend of mine in fifth standard through the song. And this is purely because I was still figuring out how to express and how do I put it across. The song has these very simple and pure emotions about the feelings I had for this girl, and that was the inspiration. There is no context I've built for the people. When you listen to it, the song is whatever you interpret it as, whatever you think Udd Gaye means to you.
Unconventional Process
Conventionally, you break the song into a couple of pieces — there's lyrics, there's composition et cetera. There's four-five breakdowns. The lines are very blurred in my case. When I look at lyrics, it's part of delivering the melody. Say I have a tune in my head and to make sure that that tune translates in the purest form, probably would not require it to follow the rules. For me, the lyrics should make the person feel something, rather than make them think about it. And this is the biggest criticism I've received, that we don't understand the lyrics, but my only explanation for that is to ask people to listen to the song and feel it. I think people spend too much time trying to understand my music, which is counterproductive. I feel like you're missing the point the minute you start trying to figure the song out. It is supposed to make you feel a certain thing and that's the whole point.
Every song has its own secret. And because it's presented in a new way, it's also very exciting. When people try to understand something, they put it in a box, but my music can't be structured. If I have written the song and left it a certain way, your job as a listener is to just listen. Listening is the most important thing because you are now understanding it in your own manner. If I write something in a conventional way, I can make sense of it, but that's not exciting to me. If I write four lines and formulate it, that's not how I feel music. For me, music is a reaction. I piece together four words but it's not the four words that are important — the reason why I've pieced together those four words is my music.
A New Sound
There are two albums coming up very soon. The song that I just put out, Khamoshi, was part of my solo album, and six songs are out. But after this, the music that I'm going to start putting out is going to be from the album with Nucleya and another one with Seedhe Maut. I'll keep releasing music from them over the course of six months. Starting August, every week, I'm going to release out a song. It's me stepping out my own comfort zone, and the collaborators I'm working with are also stepping out of their comfort zones. I want to ask my audience not to expect anything, because it's a new realm for everybody. I'm excited and it's going to be a lot of fun!
The Creative Process
Honestly, this is my dream, to build a routine. If I can do this, that'll change everything. When I started off, music was a way to imagine a life that I probably am living today. When I wrote Liggi, I hadn't been in a relationship. But I'm literally apologising to my partner in the song. So it was very imaginative in nature. Today, when I've walked into some relationships, walked into personal realms, and built my personal self, I'm writing music as a reflection of what is going on in my life. My process is basically a reaction to it. If I go through something, I'll have a song related to that. So, it is very inconsistent and all over the place. But, like I said, the goal is to wake up every day, write something and train my creative self. Now, there is no structure to this. I just go about living as a 24-year-old self and that is how music comes to me, effortlessly. I don't have to plan this. When I go through something major, my first reaction is not to react with my emotions. I sit with my music and express them as melodies. I channel myself through music, almost as therapy.
Text Hansika Lohani Mehtani
Date 23-07-2021