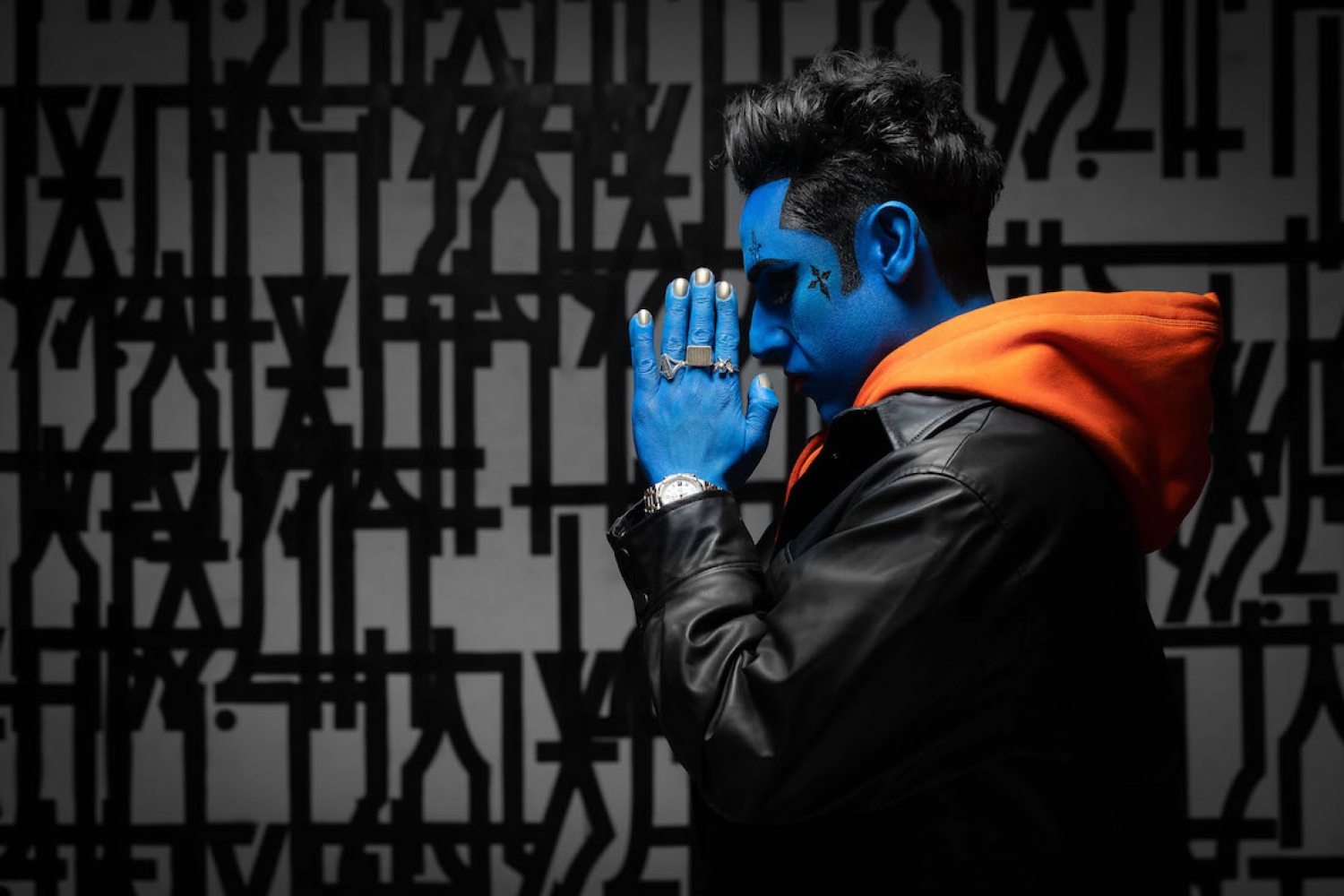 PAV4N's journey started in Dubai, where he was born. Although both his parents are Sindhis, they were born in Lebanon and moved to the UK later in life. Early years were interesting as it was a different time before the internet. His parents', and especially his mother's infectious love for music, set him and his brothers off on explorations from an early age. 'She introduced us to Prince, Michael Jackson, Motley Crue, Ratt, Van Halen, AC/DC, even Anthrax, and the early hip-hop stuff that was coming out in the late '80s, so that really shaped our ambitions and aspirations. My brothers and I have wanted to be in a band since we were in school,' PAV4N tells us.
As Foreign Beggars founding member, PAV4N, has been at the forefront of the hip-hop scene in UK and as PAV4N, he brings all that experience and charisma together in a markedly different and creatively gratifying avatar, that ties his cultural roots with his love for hip-hop. Produced by Hong Kong mastermind Silverstrike, his new track, MAXIMISE, energetically combines PAV4N's poetic dexterity and usual brand of swagger-fuelled rap, with explosive hip-hop beats to create a track that's hard-hitting and catchy at the same time. We got in touch to know more.
What is your earliest memory of music?
My earliest memories are from '82, I was about two years old. My mum was only 23, she used to take me everywhere with her. She had a Mazda Rx7, a two-door sports car with a flat area in the back. I used to sleep between the speakers as we'd take road trips. My earliest experience of music taking over my being and understanding it was probably back in 1984. We'd just got into my uncle's Mustang, they lived high up on one of the hills in San Fransisco and Beat It by Michael Jackson came on loud just as the car started. Those bells and drums and anticipation of the electric guitar riff raised all the hairs on the back of my neck and I was IN.
What emotion does music evoke in you?
All of them — promise, freedom, self belief, purpose, nostalgia, melancholy, memories of what I believed falling in love would feel like when I was a child.
How would you describe your sensibility to someone who is new to your music?
Punk, Hip Hop, Underground, Thought Provoking, Competitive, Humourous, Passionate, Experience, Youthful.
How do your multiple identities inspire your music?
Everything. All the music I have ever listened to, every experience I have ever had, every painting, every book and my experiences as a third culture Indian boy navigating this very interesting and accelerated point in our human evolution.
How do you think you have evolved as a musician over the years?
Experience. You don't have the same blind faith, hunger and drive as when you are younger, forging into the unknown. But it's important to be able to access that and find a balance between your cynicism and pure love for the artform.
What stands at the core of your label? And why that name?
Making the world a smaller place through music, bringing scenes from around the world together and giving artists access beyond borders through elevating their music.
​​It all started with me looking for a name for my new solo venture. I wanted to use my own name but Pavan is a relatively common Indian name so it isn't searchable. After much deliberation I settled on PAV4N with a '4N'. The 4N is phonetically 'foreign', so it throws back to Foreign Beggars. 4NC¥, pronounced 'Foreign Currency', was an evolution of that. With a heavy focus on bringing the world closer through music and international collaboration, and the fact that so many artists aren't getting a proper look-in due to their geographic positioning and Immigration laws — their music is essentially their currency to take them and their art worldwide.
Your latest track MAXIMISE has a lot of explosive hip-hop beats…what was the starting point for it?
Silverstrike sent me the track and I loved it. Been listening to a lot of Juicy J for a while, that coupled with a lot of the recent style of rappers rapping on trap style production at more hip-hop tempos was the perfect opportunity for me to flex as an MC and hammer the point home. We keep it moving.
Text Hansika Lohani Mehtani
Date 17-09-2021