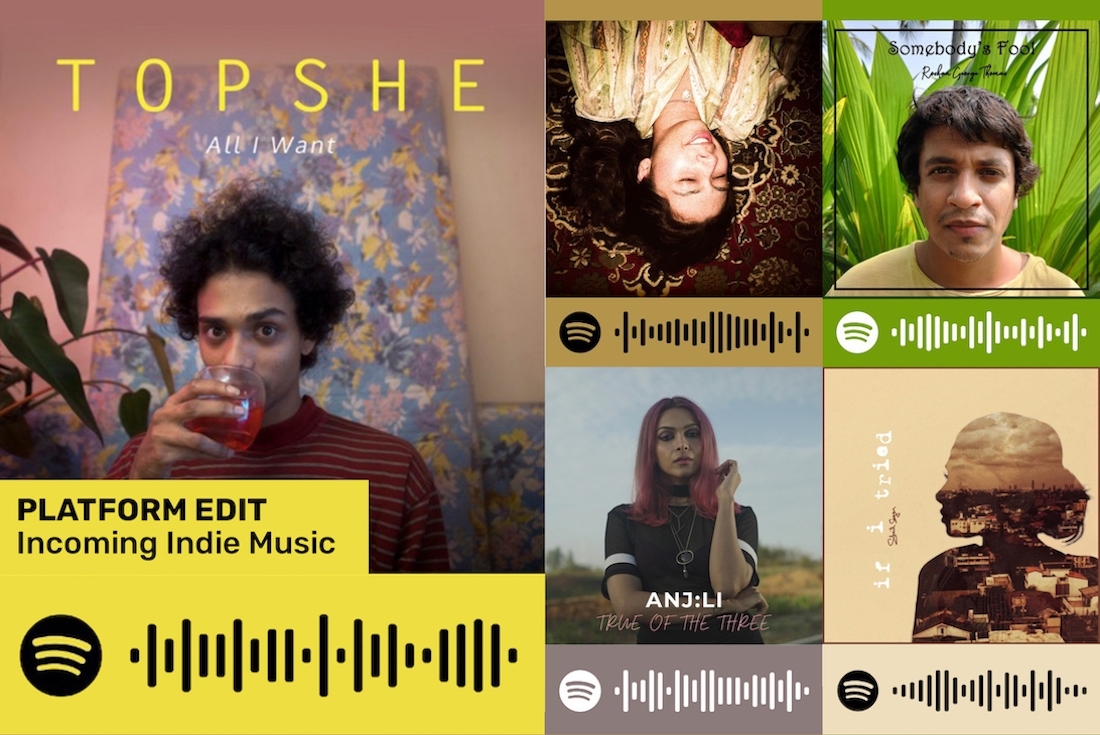 Platform Edit: Incoming Indie Music
Whether it is about discovering promising talent or simply sinking into an unexplored sonic-scape, the world of indie music is surely a territory worth exploring. In the last few years, countless names, that began their musical journeys independently, have found mainstream success and become household names. But we know the thrill of having gotten to them first and the joy of introducing their music to the world. In case you're looking for a place to find home-grown artists and songs you want to keep catching an earworm from, we've curated a list for you to explore below.

Gurl by Babiecino
Singer-songwriter Karshni Nair's debut under the moniker babiecinno, explores what it means to be queer, alone, and constantly playing hide-and-seek with the male gaze. When Karshni's stirring vocal capability and poignant lyricism meet the song's production, this indie track becomes a celebration of young, queer sensuality, which is almost always marked by a dose of transgression and trepidation. Much like her new moniker (which means a small, baby-sized cappuccino), this song is over sooner than you'd want it to be. That's why we're playing it on repeat.
You can find babiecinno's profile here.
If I Tried by Sheil Sagar
A cinematic experience through sound if there ever was one, Delhi based singer-songwriter Sheil Sagar's debut single speaks about the burden of heartache, yearning and goodbyes. His rich, indulgent vocals paired with soothing piano, violin and stripped-back acoustic guitar convey fear and desire in equal measure, and are feature film soundtrack ready.
You can find Sheil's profile here.
Somebody's Fool by Roshan George Thomas
While the travesty of being so consumed by a love that it makes a fool out of you has been treated with heavy seriousness before, it takes a life of its own in Roshan's crisp, fun and, frisky song. We've all been there, we've all been somebody's fool, and this song is here for us to dance through it all.
You can find Roshan's profile here.
All I Want by Topshe, Philtersoup
The best songwriting occurs when you catch yourself cruelly stuck in the story a song is trying to tell you, and unfortunately for us, Topshe's newest song subjects us to exactly that unkindness. Lyrically, the song is playful and impeccably woven, but it is the spirited production that makes this song the very friend Topshe seems to want.
You can find Topshe's profile here
True of the Three by Anjli
Dark, fantastical and unapologetically cheeky, Anjli's track True of the Three is inspired by an ancient curse for book thieves that she read as a child. We can't tell if it's the brooding fairytale-esque production or the perfect pop vocals, but Anjli's second single leaves a lot to be explored. So we'll leave you to it.
You can find Anjli's profile here.



Text Parth Rahatekar
Date 12-02-2021