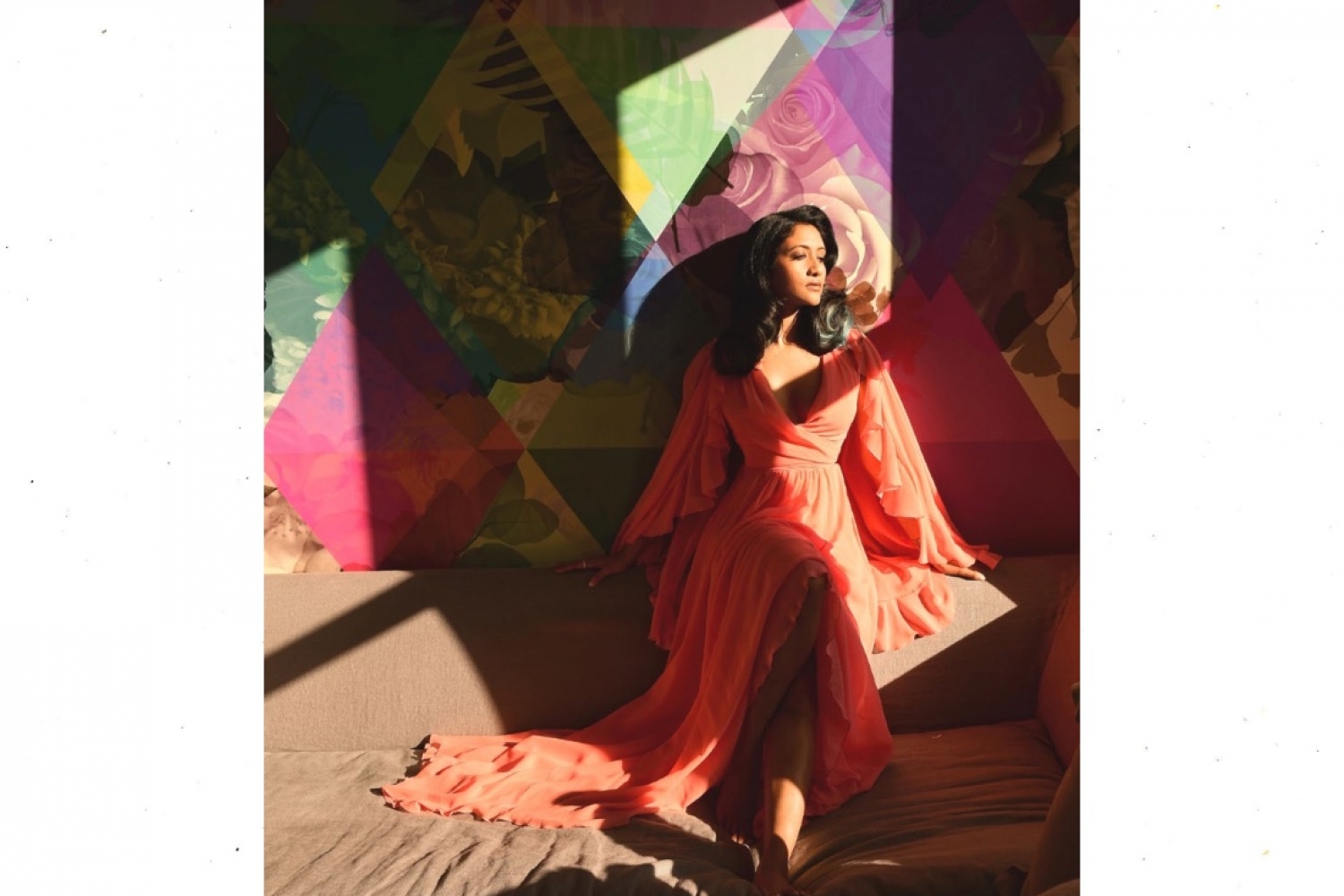 Priya Darshini grew up in the suburbs of Mumbai. And like most musicians, she grew up with music all around her. Professional training however was given first by her mother Kala, grandmother Chandrika Krishnan and then a few different teachers until Priya found her guru in Sunil Borgaonkarji whom she still studies with. Growing up, Priya was always living on the periphery of a mix of cultures; having lived in a primarily Maharāshtrian and Gujarāti neighbourhood in a multicultural Bombay and raised in a South-Indian (Tamilian) household.
"I always dreamed of living in a place that was culturally diverse. I was especially attracted to the music scene in New York which is what inspired me to move here." Now based out of Brooklyn, Priya continues to be passionate about "many things". This includes her work for a non-profit spearheaded by her parents, work (in wild-life conservation) and of course, music. Also on the resume is some work in film, theatre, advertising, communications and as an Ultramarathon Race Director. "I was an ambitious, quirky kid always dreaming and functioning outside of the soci- etal norm. Sports and fitness were a big part of my life. As a child I wanted to be an Olympic swimmer. I worked very hard at it, but only got as far as state level competitions and had to stop due to injuries and lack of access to training facilities." Inspired by her roots of Indian Classical music, Priya sings in a voice that has a fresh, imaginative and fascinating new sound. She also has an exciting combination of range, technique with non-confirming compositions. Priya has collaborated with a wide range of artists from Pearl Jam; Grammy Award winners Roy Futureman Wooten; Jeff Coffin, Philip Lassiter, Silk Road Ensemble's Shane Shanahan; virtuoso ukulele player Jake Shimabukuro, Dave Eggar, Karsh Kale, House of Waters and many more. In 2020, Priya released her sophomore solo album—'Periphery'—on Chesky Records, and was nomi- nated for the '63rd Annual Grammy Award for Best New Age Album'. "A text message on the morning of the announcement said "Congratulations". I knew they were announcing nominations that day, but being nominated was such a far-fetched thought that I wasn't really following it," recalls Priya. More about her album, creative process and future below.
PERIPHERY: SOLITUDE & FINDING SELF
Moving to a new country as an adult immigrant can be very challenging. The integration into a new culture can be exciting, but it also left me feeling isolated, disillusioned and feeling on the periphery. It was a complexed time and it led me to do a deep dive into myself as I grappled with the idea of my identity, my purpose in life and the silence I found myself in. The periphery, the album, offers unique and important perspectives and became the impetus for so much of my critical thought, and the music for 'Periphery'. It brings me great joy to be able to offer my music as a means to process what so many of us feel, but sometimes can't put in words.
TWELVE DAYS
The album was written in the twelve days leading up to the recording. The whole album was recorded live on one microphone, in one twelve hour session in a beautiful vacant church in Greenpoint, Brooklyn. The recording process was daunting, yet beautiful. We structured the compositions in a way that allowed for improvisational moments. We didn't use any headphones, so we had to be very present in how we interacted, listened and held space for each other. Chesky's recording technology documents a moment in time, and aims to bring the beauty of that moment and the architecture of the space into the recording itself. Considering the nature of the recording, very little post production was possible. No compression or EQ was added. The whole process was incredibly cathartic.
A DREAM, A GRAMMY
I don't know about other artists seeking a Grammy-nomination validation.I dream to fit when I was growing up, but as an adult I have actively been trying to move away from seeking and needing validation from others. I've learned that I am my harshest critic. That said, it definitely felt good, especially after years and years of working hard, and never really knowing if I was doing the right thing. To know that there is room for voices like mine, means a lot.
COLLABORATIONS
All of the musicians on the record are incredibly talented, and inspiring - Dave Eggar, Max ZT, Chuck Palmer and the legendary Will Calhoun. I've known Dave for a decade now, and he's been family, roommate, close friend and confidante, and collaborating with felt like the most natural progression. Dave is an exceptionally gifted, hardworking and intuitive musician. But more importantly, he's a solid A+ human. That's more important to me than anything else. We're working on more music together and I'm thrilled to bitsfor what's to come.
CREATIVE PROCESS
I try to practice, study and learn something every day. I follow a schedule, so I can get all my work done for the day and still have enough time to write or explore the other things I do. I'm still working on trying to stay consistent and show up without any excuses. That said, every day in the studio looks different - and it depends on the project at hand. You'll definitely see me taking breaks to workout. Recently I've been feeling the need to sit in silence and experience the things I do fully, without needing to constantly put something out into the world or on social media.
NEXT TURN
New studio record /EP in the works. I'm also working on a couple of special projects with 'The International WildLife Co-existence Network' an organisation that I'm on the board of.

This article is an all exclusive from our November Bookazine. To read more such articles, grab your copy now.

Text Hansika Lohani Mehtani
Designer Giambattista Valli
Photographer Shervin Lainez
Date 30-06-2022