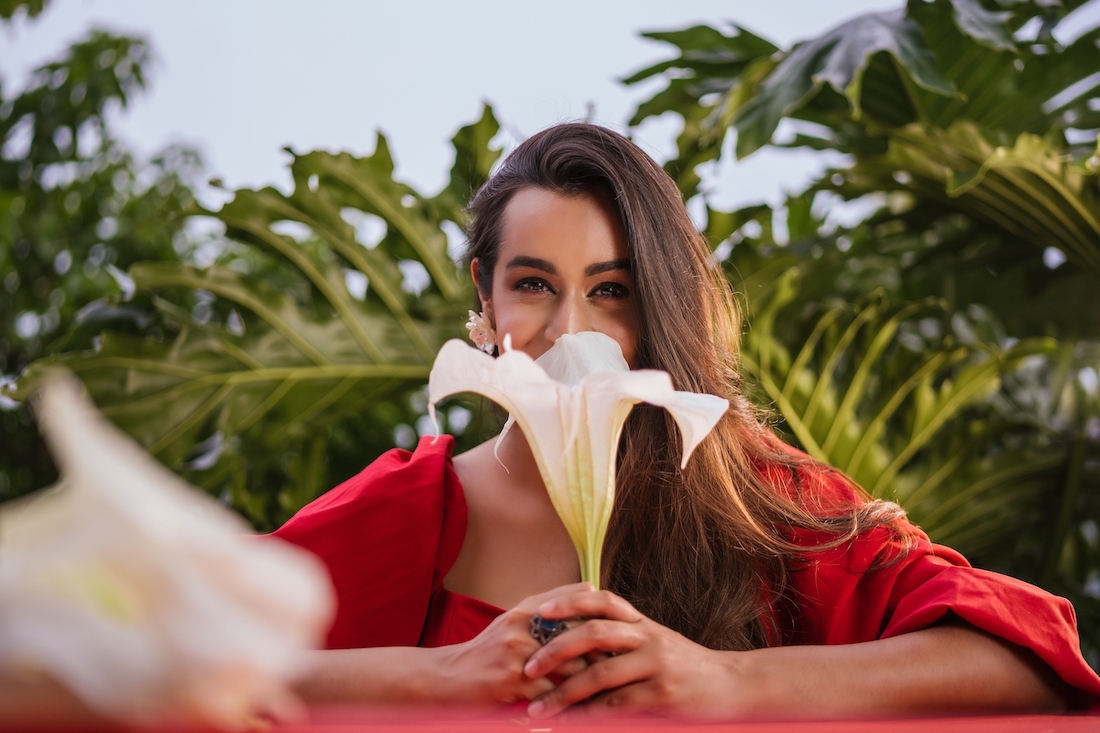 Photo by Nishant Singhani
In the past three years, Delhi-based singer-songwriter Kamakshi Khanna has moved to Mumbai to boost her musical career, added teacher to her list of accomplishments, and wrote her first Hindi song. The Cakewalk singer, carries forth her vulnerable yet poised style to her new track, Qareeb — a song that celebrates self-love. For Kamakshi, this new track is special in many ways. It is her first-ever attempt at writing a Hindi song, and her first release since her debut album Cakewalk released in 2017.
The track is also inherently personal. From her first EP, Much Mellow, to her latest single, Kamakshi has looked towards her life and lived experiences for inspiration, and woven them into musical motifs that are relatable and authentic. Inspired equally by jazz and R&B, as well as by pop and Hindustani classical, Kamakshi's journey since her debut in 2015 has been one of innovation and reinvention, culminating in Qareeb. The song also has a charming animated video, created by Arsh Grewal, who connected with Kamakshi on social media and the two ideated and conceptualised the video over Whatsapp, Zoom calls and Google Doc chats during lockdown.
We got in touch with Kamakshi to know more about her journey and the new track.
How do you think you have evolved as a musician?
Until now, all the music that I've released was in English. Qareeb is the first song that I have written and sung in Hindi. My music has been described by audiences and critics as calming, healing and melodic, which is something I intend to maintain. However, the music that I've been writing over the past few years is all about growth and represents emotional strength and self-empowerment, which is definitely a new and exciting direction for me. The melodies are more approachable, and I am enjoying keeping things even simpler than I did before. The theme of all my new music is self-love, introspection, acceptance, rebellion, mental health and gratitude.
Qareeb is the most happy, positive and uplifting song in my repertoire. What makes it unique, according to me, is that even though the arrangement, production and vocal ideas are very relevant to what's going on internationally in the R&B world, the lyrics and melody are reminiscent of the 90s indie pop.
What are your best memories of performing with the now defunct band, River?
Writing and performing with River undoubtedly constituted some of the best days of my life. My best memory is performing at NH7 Shillong in 2016 — which I count as one the best concerts of my life — and celebrating that with our favourite food, pork bamboo shoot, rice and momos. Abhilasha and Tarana are both a huge part of why I do what I do. They are friends who have been there through all the highs and lows. I'm incredibly proud of them and they'll always be inspirations that keep me grounded, and on my toes, at the same time.
Do you still create music for your collective?
The Kamakshi Khanna Collective was how I got a chance to play alongside some of the best musicians that I know. Much Mellow and Cakewalk were both written with my band in Delhi. Since I moved to Mumbai two years ago, I have been working on a lot of music with Apurv Isaac on guitars, Karun Kannampilly on drums and Adil Kurwa on bass. In fact, a lot of the to-be released music was made with the new Mumbai group of musicians. Over the past couple of years, I have been focusing on digging deeper and making music as a solo artist, while still playing with a band as I find collaborative projects the most creatively satisfying. It's been a great experience navigating through the process of arranging my music in a way that's more fluid, and more about what the song needs. This fluidity seeps into the performance aspect as well, when I will play with different musicians in different cities. So now I perform as just Kamakshi Khanna.
Qareeb is your first release in over three years, what has kept you busy all this while?
The year Cakewalk was released was around the same time I began growing interest in teaching music. I taught at One World College of Music, Gurgaon for a year. In 2018, I moved to Mumbai to pursue a full time teaching job at True School of Music. However, writing and performing were never on a pause. I decided to not release the first song I wrote, and instead made a bank of songs. I focused on feeling inspired, watching live concerts, travelling, collaborating with other songwriters, observing how people react to my new music live, and studying and researching songwriting intensively. In the past couple of years, I have managed to write two album's worth of material, and a few more singles and collaborations that I cannot wait to share!
What inspired Qareeb?
The true inspiration for the song was the giddy, head-over-heels feeling you get when you're in love. However, I wrote this song when I was in a relationship where I thought I was happy, but on a deeper level, was constantly neglecting my needs and the things that I stand for. I wanted to take the same emotion to pay gratitude for how much love teaches us about the world, and how the letting go of it helps us rediscover ourselves in new ways each time. The song is a celebration of self-love and how each relationship and the occasional heartbreak that comes along the way, changes us, teaches us to have our own back and pay attention to the most important relationship — the one that you have with yourself.
This is your first-ever attempt at writing a Hindi song, what made you do that?
Writing my first Hindi song was surprisingly spontaneous and easy, and didn't feel very different from writing in English. It all happened because a friend called me about this great opportunity for female singer-songwriters who write in Hindi, and I had a day to put a whole song together. I remember waking up on the right side of the bed that day and being in a happy and positive state of mind. I managed to complete the song in a matter of hours. Thankfully, it got rejected so I got to own my narrative in the song, and work with the most brilliant minds and talents, including one of my closest friends and confidante, Pranav Pahwa, who plays the guitar on the track. The riff that he wrote made the song very exciting for me and ever since, there has been no looking back.
How did the language help create this song? Would it have been the same if you wrote it in English?
To be honest, on a normal day I struggle to write in Hindi. I just don't think in Hindi, especially poetically. However, with this particular song, the process of writing didn't feel any different than how I write in English. It felt spontaneous and natural, and stylistically the song is still R&B, from where a huge part of the inspiration for my English music comes from. I feel like this song has been a really interesting amalgamation of my influences.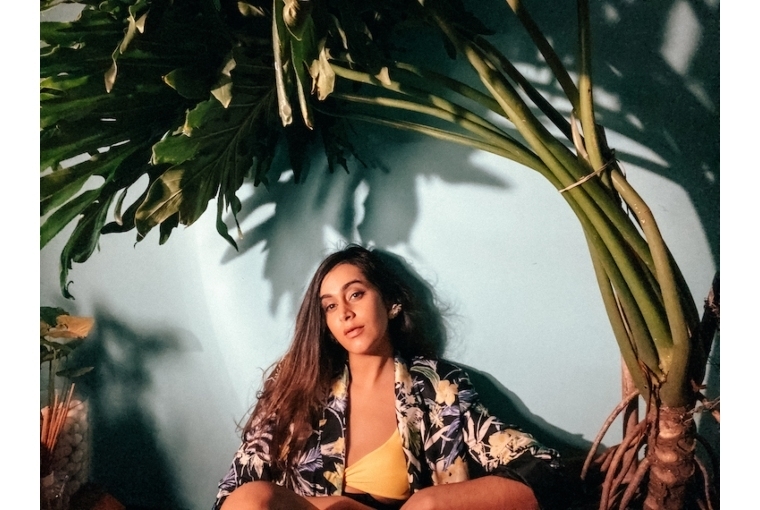 Tell me how it is different or same from the music you have created in the past?
I think Qareeb is very different from anything I've put out in the past, and I owe a huge part of it to my collaborators Pranav Pahwa and Anhad + Tanner. They took a song I wrote using four chords on the Ukulele, and brought their own vision and perspective to the song which is fresh, and has truly brought the song alive in a way that I would never have envisioned alone.

Tell us about the conversations you had with Arsh (the animator) regarding the video and what you wanted from it? How did you find her?
Qareeb was actually scheduled to be shot in March 2020, with a concept that featured me in the video. Unfortunately, the pandemic and the lockdown happened exactly at the same time and we had to cancel the whole plan. Me and my managers, Deepika and Anirudh reached out to a bunch of people and explored all kinds of approaches — crowdsourcing videos, animation, shooting with lesser people, et cetera. In May, we stumbled upon Arsh Grewal's Instagram page and instantly fell in love with her quarantine stop motion experiments, and how unique and innovative she is as an artist. We reached out to her to explore making a stop motion music video that narrates a story about a girl, who grows and learns to love herself. She was immediately on board and up for the challenge.
Every detail and character you see in the video is handmade and cut out using felt cloth, a technique that's rather rare in the world of animation. The video takes you through a girl's journey, full of changes, and how the romantic partners that she encounters along the way help her transform into finally being her own person. Arsh, being the one woman army and visionary that she is, translated the narrative single-handedly in the most seamless and beautiful way into a visual space, that is unexplored and exciting for me as an artist.
What else are you working on at the moment?
We're currently in the process of choosing the single we should put out next, but there are three singles, several collaborations and an album in the pipeline! With Cakewalk and Much Mellow, I was so used to just putting out whatever I wrote but I have been really enjoying the exercise of creating a bank of songs, taking some space from them, and listening to them objectively before putting anything out in the world. It definitely demands a lot of my patience and resilience, but I think it's the way I'd like to move forward.

Text Hansika Lohani Mehtani