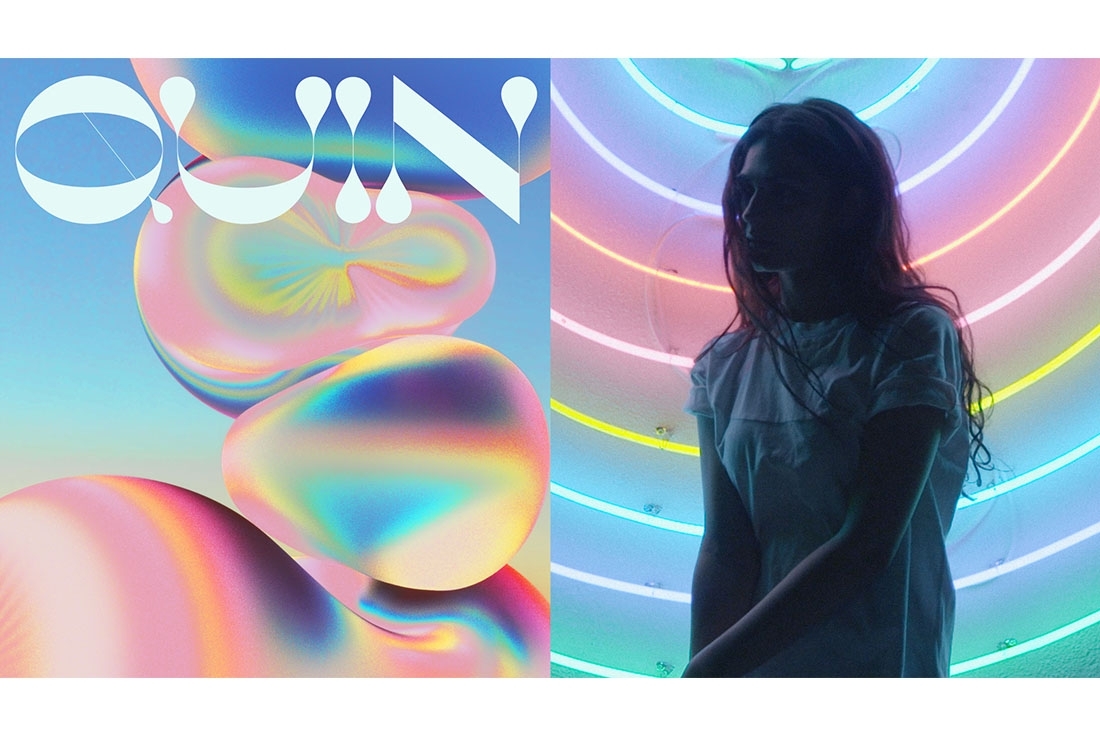 Magic can be found in the smallest and most unlikely of places — to find it, one must know where, and how, to look. Kavya Trehan tells us that the magic lies within. Her new single called QUIN, is a celebration of the self, and is conceptualised around the importance of self-love and nurturing oneself. It's a mixture of deep feelings and internal joys. QUIN is a powerful piece of music. The song is also accompanied by a video, shot by a team that came together globally. It is shot in Los Angeles, by an Egyptian director, and produced in Jeddah.
A 27 year old singer songwriter from New Delhi, Kavya has been performing since the age of 14. She's collaborated with some of the leading producers in India and toured with her band, MOSKO. Her solo project, KAVYA is a celebration of raw emotion and her roots. In order to constantly evolve as an artist, in 2016 she started writing music using Ableton. Since then, Kavya has been on a relentless spree of releasing her own material, which has an R&B, electronic and indie-pop feel. QUIN is the first track from her upcoming EP, Know Me Better.
We spoke with the millennial musician to know more about her solo project, and the new single that premieres today exclusively on Platform.
You've been creating music for six years now. First with MOSKO and now for your solo project. Tell me how have you evolved as an artist since then and how the new you is a departure from the music you made for MOSKO?
Actually, I have been making music since I was 14 years old and it's almost like I have grown with my music. Music will always be my partner in crime. It started with four chords, rhyming games and train journeys, which evolved into something bigger, when I was able to channel my influences of manga, tea ceremonies and dance music. I think I found a way to honour the rebel inside me with incredible musicians by my side, to create the energy-hungry-monster we all saw on stage, MOSKO.
If I were to be candid here, MOSKO was a reflection of our shared chaos. It was the schooling that I needed, to get to where I am right now. It was just a sweaty box, four musicians, jamming together, with no particular agenda than to just create tunes. Most times we left that hot and experimental space feeling pleasantly spent. We all fit as pieces from different puzzles, and the motivation was to carry that spontaneity on stage.
I think my experiences, and what I want to talk about has changed over the years. The method is still the same — explorative. I have become a little more enthusiastic about creating on my own, in my own time, developing my skills slowly and surely. This isolated system that I have created for myself has brought about heaps of learning, which has been rather addictive. I have also made room to find sombre sides of myself, shy traits that were outshined by my extroverted personality, which I have been able to express with my new solo project, KAVYA. And even after so many years, it still feels like the beginning of owning my juju.
What inspires you as a musician?
I use music and lyrics as a form of communication. Sometimes I feel it is better for me to share my thoughts and feelings via a song, than just mere talking. Hence I am always inspired because there are so many people that I am constantly engaging with and always have something I wish to communicate. What better way to do that than write a song? Being inspired by my environment, whilst I am in the thick of it, is the greatest inspiration as I am not trying to escape or run away from anything, and write down my emotions on a piece of a paper as each day passes by.
Oh, and the rain really inspires me too. It gets me very emotional and always puts me in such a mood to write some music!
What does music mean to you?
I've chosen to make music my sole blanket of comfort, source of discipline and my true expression. I believe with all my heart that music is the universal language and personally, it's where I can shed all my layers and communicate what I feel. I don't know who I would have been if not a musician. All the things I have learned, all the lessons and experiences — I can't imagine a world without music, no-can-do!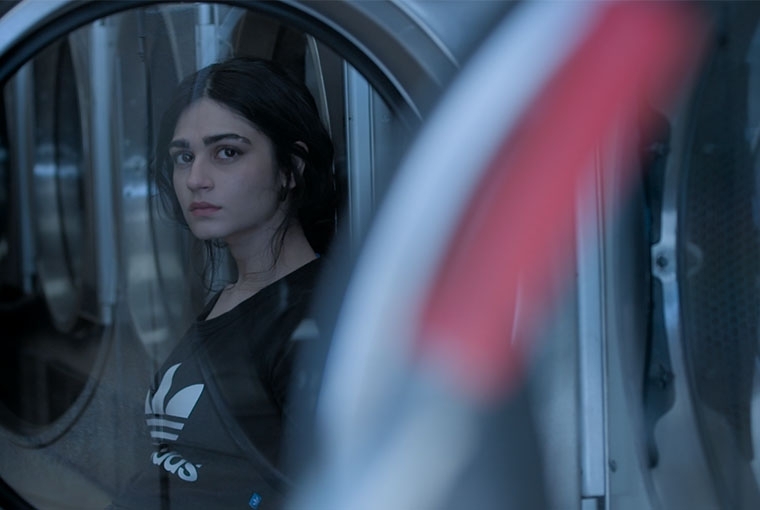 Still from the track, QUIN
Let's talk about QUIN. What does it mean?
KAVYA: I think, the elusive nature of confidence and self-doubt is a feeling many of us can relate to first hand. QUIN is about imbibing the learned behaviour of accepting yourself just as you are. I have studied psychology so I have a deeper understanding of human behaviour, and this also leads me to explore my own vulnerabilities. This track is basically an apology to myself for all the times I have been too tough and analytical while growing up. This track is motivation and encouragement to myself to develop a strong sense of self and live my happiest life. I often turn to singing when it comes to expressing my feelings and emotions, QUIN conveys the message of creating hope and cultivating acceptance and care in my life, and I only wish for people to resonate with this so that they can also look after themselves too!

I also have Abdallah Elday and Mridul Sen, the director and cinematographer of the video, who share what QUIN means to them:
Abdallah Eldaly: QUIN is an intimate song about a mixture of deep feelings and internal thoughts, where we tend to be stuck in a time loop with the memories of pain and regret, joy and childhood, and we are floating in circles inside the labyrinth, dreaming that one day we can find a way to navigate through.
Mridul Sen: QUIN is a powerful piece of music. The track has a lot of disconnects, but at the same time, it connects eventually (You will understand what I am talking about when you hear the track). There is a lot of static, yet at the same time, there is a lot of motion. I am of course talking more from a musical perspective on what grabbed Abdallah and my attention when it came down to selecting which of Kavya's track would we like to shoot a music video for. Electronic music coupled with emotions just did the trick for us!
KAVYA: So take care of yourselves everyone, self-love is important and something we often give a miss, hence QUIN can serve as a great reminder!
Musically, how is it different from Underscore and Golden?
KAVYA: It would be fair to say that the writing process of QUIN was one void of a filter, both lyrically and arrangement wise. While recording, I was focused on capturing exactly how I felt in that moment. And eventually, we chose to honour that emotive spontaneity because I would never be able to feel the same way, if I did another take. This way, the track will always remind me how I felt when I recorded it, and that same feeling is now shared with all my listeners. With QUIN, my listeners have an integral piece of me with them. The song also has a melancholic and sombre feel to it, while Underscore and Golden have very different soundscapes.
I'm now going to pass the mic to the team that produced the track — Rohan Ramanna and Rohan Rajadhyaksha.
Rohan Ramanna: Everything is different. Emotionally it might be more introspective than the other two. I think it feels new because it's against the standard form of writing a song.
Rohan Rajadhyaksha: The experience of working on the songs with KAVYA and Ro (Ramanna) was natural and wonderfully collaborative. Each of the three songs has a clear and distinct emotional core, all we had to do was go searching in the right direction! With Underscore, some of the core elements like the arpeggio that begins the song, were already in place. So as soon as we played some new chords over it, the context kind of flipped and the rest was inevitable.
In Golden, KAVYA performs her vocals with a wonderful nostalgia, which we wanted to retain, while elaborating on some of the rhythm that was being implied by her guitar. The result was an arrangement that (to me) feels like you're in a never-ending tunnel, tossing and turning but always moving forward. QUIN feels like the most personal of the three and the slow, repetitive nature of the vocals helped build this vast expanse of negative space that we could slowly fill, to help tell the story. It was an exciting experiment, from making synthesisers mimic a cello and processing the drums with analog filters, to Ro mixing it beautifully and bringing different sounds into focus as the song progresses.

QUIN at the core stands for self-love. It asks some deep questions about forgiveness, about compassion and love. Did the song stem from a personal space?
KAVYA: Yes. The song does stem from a personal space. As a creative professional, I just feel I am always on the move and sometimes I just don't know when to stop. QUIN is about pausing the breaks and taking the time out to just sit back and take a breather. QUIN is about telling myself that it is OK if I haven't been productive one day and to not be hard on my self. QUIN is about the daily reminders to take care of myself - it could be the simple things - eating your favourite food, keeping your phone away without feeling guilty even if you are inundated with work messages, making time for yourself in the 24 hours that we have. And from the simple and smaller things it also connects to the bigger things - respecting yourself, being aware and mindful in the present moment, accepting where you are in life and being grateful. I do have really big goals for myself as a musician and artist but to not to end up losing the joy and enjoy the process. I hope that a lot of people can connect with this song because it encapsulates emotions that are extremely common and known to all human beings.

What can the audience expect from the EP, Know Me Better?
KAVYA: Know Me Better is a compilation of tracks that I have written 2016 onwards. While the tunes were written on the guitar and the piano, I have had the fortune of developing it with an exceptional young artist and producer, Anhad Khanna. They touch topics about childlike dreaming, longing affection and losing perspective on things after feeling bruised and battered (figuratively).

Text Hansika Lohani Mehtani