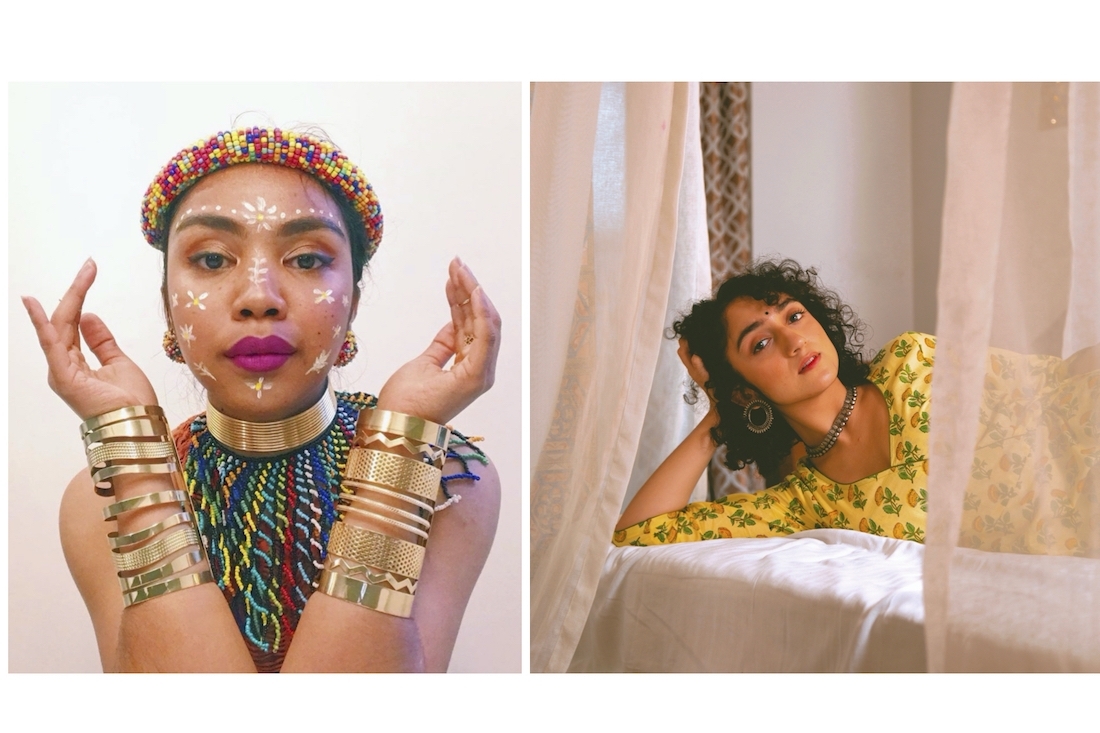 L: Niu Raza ; R: Sanjeeta Bhattacharya
The new track by Sanjeeta Bhattacharya is a remotely produced, international collaboration with musicians based in three countries — Madagascar, U.S.A and India. The track features Malagasy singer-songwriter Niu Raza, and Boston based guitarist and producer Aman Sagar. Both of them met Sanjeeta while studying at Berklee College of Music. It also features Delhi based producer Pranay Parti, who plays keys for Pakshee.
The song has lyrics in both English and Malagasy, which address how it's easy to lose perspective of what really matters, in pursuit of conventional success. The song reiterates that when we lose our roots in this pursuit, music plants us firmly to the ground and helps us 'reclaim our own red'. This is the first time when Sanjeeta has experimented with neo-soul and hip-hop! For the unknown, Sanjeeta's voice is spellbinding. Her serenades will take you to a promised land, where you could wrap yourself in a blanket, sit by a fire and wander within. Wide-eyed with thick lush curls and the voice of a soulful vocalist, the 20-something grew up speaking Hindi, Bangla and English, but can sing in Spanish as well. Adept at Indian classical music, Sanjeeta also moonlights as a Broadway, Jazz and RnB musician. She has experimented with a Latin music band from Kolkata, and jammed with Them Clones for a couple videos.
Sanjeeta tells us more about the new track.
The Inspiration
Red was a lot of ideas put together in one track. I went through an emotionally tumultuous few months last summer. That's when I wrote the rap verse, which speaks about staying in touch with your heart, acknowledging the intent behind the art you create and not losing your ground in pursuit of the conventional idea of success. The Malagasy verse written by Niu Raza, translates to 'when the road gets dark, music will enlighten me.' Sonically the song is very different from anything I have released before, so I wanted the visuals to match that aspect. The video has choreography and extravagant visuals, that compliment the energy of the song. I wanted to explore a completely new dimension of my personality.
The Sensibility
My friend Prabhtoj Singh and I were just jamming, trying to come up with a beat on his drum machine, and we had been listening to a lot of Tom Misch and Jacob Collier. We just wanted to create something which was groovy and laid-back, and the hook and rap verse swiftly fell into place. Though the transition was quite organic, I was extremely nervous before the release. It was me stepping way out of my comfort zone, albeit it was very satisfying.
The Collaboration
Red was created remotely during the worldwide lockdown, in four bedrooms, across three countries — India, U.S.A and Madagascar. It features Malagasy singer-songwriter, Niu Raza on vocals, Aman Sagar on guitar and Pranay Parti on keys. The track was also produced by Aman and Pranay. The artwork, created by Ishita Thawait, depicts two women with face paint. It draws parallels between Niu's Malagasy and my Bengali culture, since both of them use face paint in their traditional rituals.
Text Hansika Lohani Mehtani