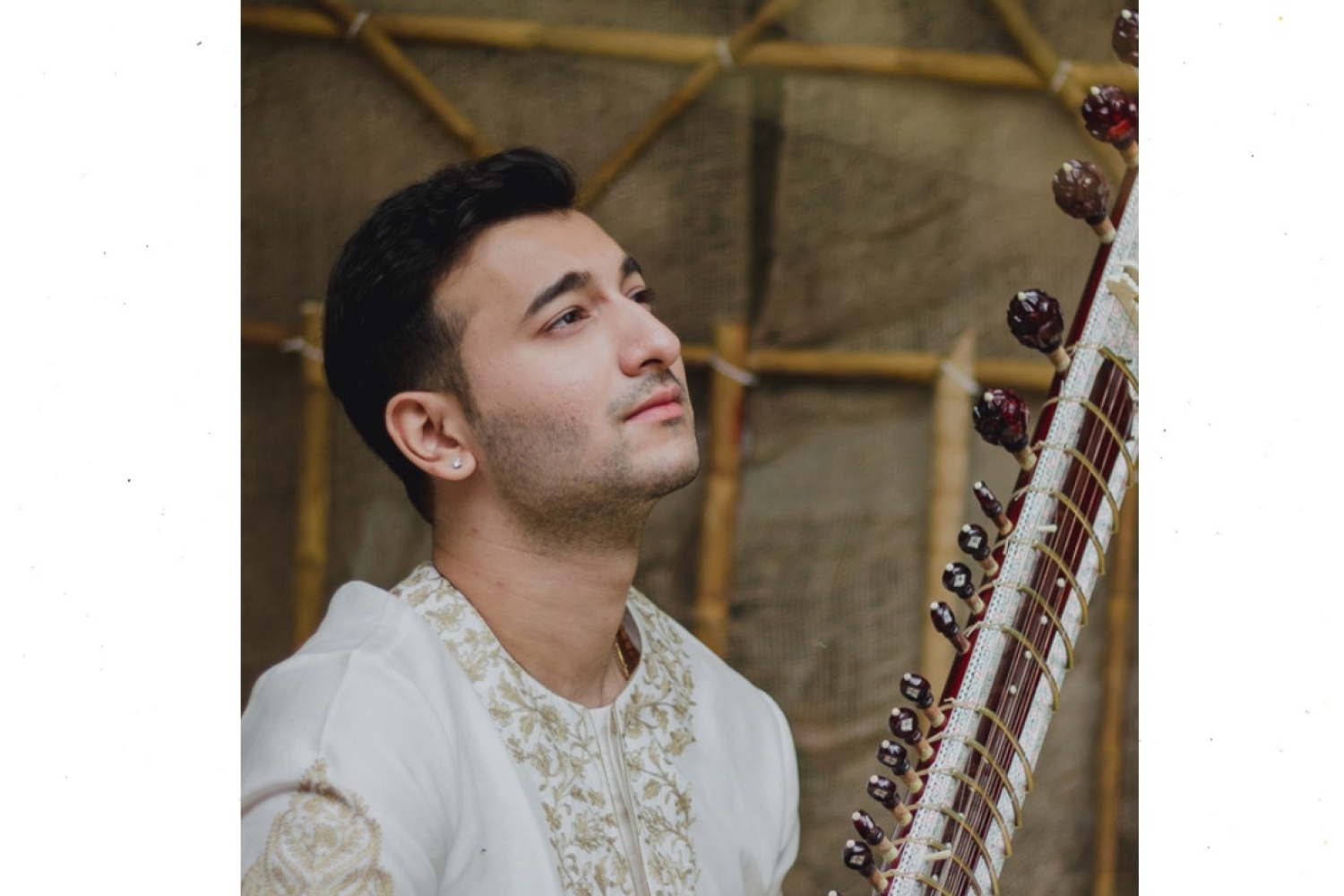 Twenty-four-year-old sitarist Rishab Sharma picked up the sitar at the tender age of ten, under the mentorship of Shri Pandit Ravi Shankar. With his otherworldly tunes that alleviated his own loss, he has now built an entire community that orbits around mental health awareness via Instagram Live sessions. We speak to him to know more about Sitar for Mental Health, playing at the White House, and upcoming original compositions.
Being from a family that has a significant background in music, did you feel primed to take up music as well, or was it instinctual to you?
My family have been manufacturers of musical instruments since the 1920s. My great grandfather started the business in pre-partition Lahore, and it was carried forward by the succeeding generations. I'm actually the first musician from our family to grace the stage and play one of our own instruments. Growing up, I was always fooling around with music, playing the guitar here and there. At the age of twelve, after I was taken under the wing of Shri Pandit Ravi Shankar, I started taking my journey with the sitar seriously.
Your original compositions have both contemporary and classical sounds. Have you ever feared that newer sounds could take away the focus from the classical elements?
Fusion music has always evolved with time to create new sounds through instrumental innovation. I never intend to distort classical music, rather I intend to make it my friend on my tracks. I've seen people add classical elements into their music without the sensibilities that go along with this genre of music, and it ends up sounding out of place. Keeping this at the back of my mind, I always take into consideration how my Guruji, who trained me, would feel about the music I'm making. If through these internal dialogues I feel he would be proud of me, I go ahead with these amalgamations, and so far, it's worked out well.
Your initiative, Sitar for Mental Health, bolsters mental health awareness and healing through music. What has playing the sitar done for your own mental health?
I was going through anxiety and depression from 2020 through 2021 after I lost my grandfather, to whom I was very close. I stopped playing the sitar and started becoming aloof. When I started therapy, I realised that my main coping mechanisms include the sitar and cooking. I began practising the sitar again and would go live on Instagram and Clubhouse, since it was the peak of the pandemic.
My intention while going live wasn't to show off my skills or to be flamboyant. I played slower pieces and ragas that had a calming effect since it was a heavy time for all of us. Those live sessions had people talking about their own demons, the losses they suffered, and built a sense of solidarity. I received DMs on Instagram from people who told me my music would bring them some semblance of peace. Sitar for Mental Health took off from there and grew to become a community and a safe space. We started at four thousand followers, and are now at two hundred thousand, so it's been extremely fulfilling.
You held a Sitar for Mental Health session at the White House this Diwali. How was the experience?
Even reading this sentence is so unreal. Certain dreams and manifestations are always within realistic expectations and boundaries. Playing at the White House was never a conceivable reality to me. When I was invited to play is when I realised a lot of us underestimate ourselves and sell ourselves short.
The funny thing is the first time the White House invited us to play, I declined due to logistical problems like a proper panel to sit, mics and stuff like that. I don't blame them for it since they lacked the knowledge of what it took to host something like this, and as an ambassador of Indian classical music in another part of the world, I have to do right by the longstanding community behind it, and represent the culture well. It had to be done respectfully for me to accept the invitation. When they invited us for the second time, they were really willing to work it out for me and wanted to be accommodating for the session. They did the best they could to host our session with warmth and hospitality, and for that I am so grateful.
The White House that day felt like India. There were Indians in our company and the place was adorned with genda phool, along with the whole array of colours and diyas, which made it all feel so homely. The recital was well received and I got to meet the president, the first lady and the VP, Kamala Aunty, as we call her. It was such a proud and flattering moment for our community, country and culture. I was the first sitarist to play there and it was the first time Diwali was recognised and represented with such grace at the White House.
Do you see your representation helping with more people reviving classical music in real time?
Yes, absolutely. I have been receiving numerous DMs from people who are either learning to play the sitar from scratch or are relearning after years of not playing. Also, to spread the message that sitar as an art form is alive and well, I have also been running a school here since 2019 with around twelve students who play regularly. I introduced them onstage when we did a show in New York as well.
Finally, what's next for your career? When can we expect an album?
Everytime I go back to India I realise that my journey has just started. I will not be able to rest till I make more people aware about mental health, and the sitar's healing characteristics too. So, for now I plan on maintaining my tunnel vision focus for mental health awareness. I have been working on an album that is releasing early next year. It's called Sitar & Chill. It's got a very chill and romantic vibe to it. My first album, Navras, will also be fully out in December. Music is on the way, so I'm very excited.

Text Nandini Chand
Date 23-11-2022