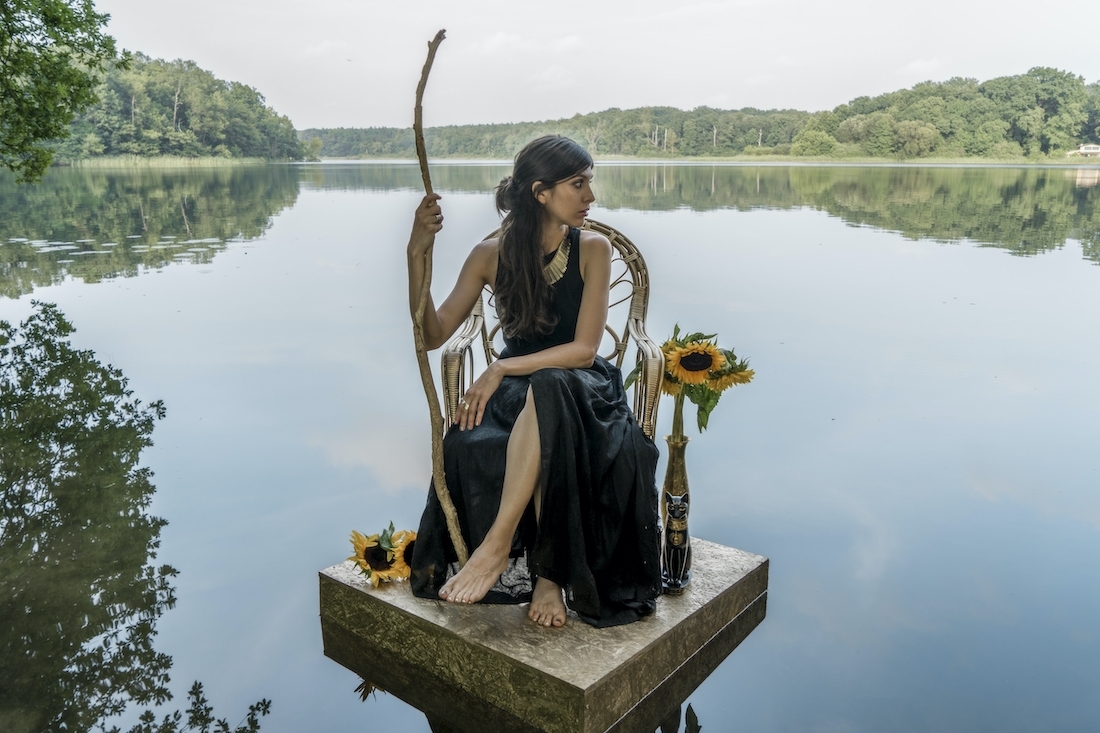 Photography: Brenda Alamilla
Paving the way for Indian independent artists who are represented globally, composer, producer and beat-smith Sanaya Ardeshir, has carved a niche for herself as Sandunes. Best known for her blend of electronica with glitch, IDM and other progressive electronic elements, Sandunes' music is immersive and inimitable, making her inadvertently stand out. Her journey with music started young. Having grown up between Jamshedpur and Pune, Sanaya's family was as much into music as the artist herself. She learnt how to improvise and collaborate through three-hand piano blues jams with her father, and that was followed with playing keyboards in bands through college. Once she graduated, she pursued music production and began working with sound as an artist, producer and performer full-time.
The burgeoning electronic music community in India is seeing artists like Sanaya engage in a way that's unprecedented. There is, in fact, a protracted globalism to her sound. Inspired by the likes of Yazmin Lacey, Akiko Busch, Twyla Tharp and Brene Brown, Sandunes' music is something that stays with you long after you have listened to it. We connected with the Mumbai-based artist who is currently working on a collaborative album with Richard Spaven, to know more about her journey, sensibility and the latest EP in her discography, Spare Some Time.
When did your romance with music begin?
I was always keenly taken by music and have memories of trying to pick up jazz tunes on the piano by running across the living room from piano to CD players and back, hitting pause while trying to figure out riffs and chords. There's an aspect of childlike curiosity, experimentation, and play that is so intrinsic to the music making process that it's had me coming back to it from different vantage points, year after year.
How would you describe your music sensibility?
The older I get, the more I try and break down my preferences to stay open to newer styles/sounds and themes, which might have previously made me cringe or scratch my head. There's something to appreciate in every corner of the sound spectrum, and I'm currently moving towards more vocal driven pop music.
Let us in on what your creative process is like.
My creative process is messy and exploratory when it's additive and centered around new beginnings. It's more subtractive and disciplined when it's focused on finishing work. I'm inspired by things I read, hear, and watch. From my music, I want people to take away peace, hope, stillness, freedom, a good cry, a good sweat, whatever they're looking for.
Tell us a little about your recent EP, Spare Some Time.
Spare Some Time was centred around the theme of making room in our lives for love. The EP is a body of work that traces the map, from heartbreak to finding new love, and leaning in to all the vulnerable corners along the way. This was a personal endeavour to express my emotions as authentically as possible, through the music making process and I found it very cathartic and even healing. The songs feature vocalists LandsLands, Iami, Ramya Pothuri, and JBabe. All the music was recorded and produced between Mumbai and London.
What was the inspiration behind your podcast, A Sound Approach?
I started my podcast with the intent to create a space for conversations that focus on the underbelly of the creative process. The burnout, self-doubt, fatigue and often injustice that fetters the path of an independent creative. I believe that by sharing our experiences, we can strengthen the creative community and heal the wounds which may otherwise impede our ability to stay creative. The podcast focuses on conversations which aim to reveal the various mechanisms artists lean on to stay balanced, and maintain a creatively fulfilling and wholesome life.
Last year, I underwent a tiring spell that resembled burnout, but I still had commitments that I needed to keep. In the process of navigating that, I found hope and epiphanies through other people's stories. With the podcast, it is my hope that other creators find some of the themes useful and some of the information enabling.
How did the producer collective DASTA come about?
DASTA was co-founded by six music-makers and creative entrepreneurs from different parts of the country, to workshop ideas and initiatives that enabled DIY projects in the Indian electronic music space. The other co-founders are Tarqeeb (Ashish Jose), OX7GEN (Aditya Ashok), Oceantied (Ketan Bahirat), Zokhuma (Arman Menzes), and Kumail Hamid.
DASTA would host producer circles and artist meet-ups, and aims to create safe spaces for conversations around music making and to share learnings on how best to navigate the music industry as an independent artist.
The pandemic has brought about a big change in all our lives. What does the new normal look like for your industry?
This is a really good question, especially since 'normal' was never really uniform or conventional for members of the music industry in the first place. Artists/ producers/ event planners/ promoters/ DJs always had to have their fingers in several different pies, and create a multiplicity of projects to stay afloat and continue to nourish a culture of inclusive and accessible music consumption. Now that live shows and gigs are off the cards for a while, I think many are re-imagining their work and are having to hone in on specific skills that are applicable in the post-pandemic normal.

Text
Samadrita Khasnabis