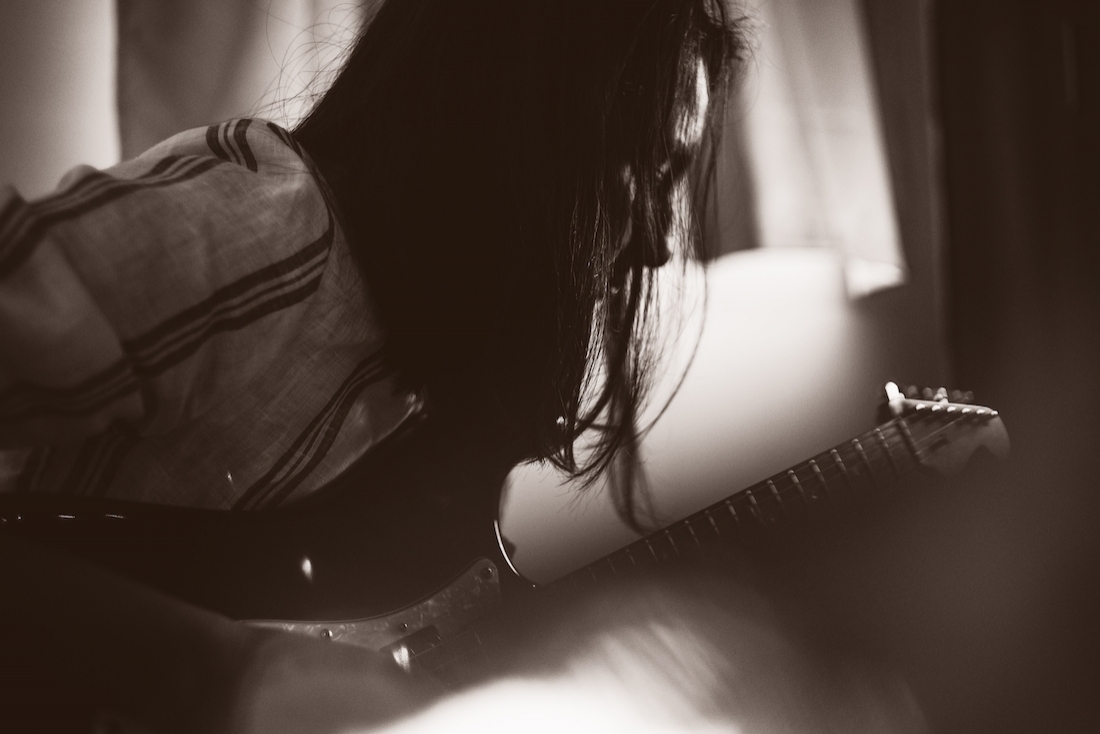 Bangalore based singer-songwriter Sanoli Chowdhury grew up listening to a lot of blues, jazz, psychedelic rock and other fond genres. Being a recent triple-major graduate from Christ University, she is a vocalist, guitarist, producer, and an aspiring mixer. Sanoli's debut EP The Futile Search for Elegance and her second EP It's All a Monotonous Game, are resonant of her classic ambient undertones, accompanied by raw but silvery vocals which produce an overarching Indie vibe. Her latest playlist, Mellow Appetite on a Sweltering Indian Summer, however, is a break from her usual projects. Soaking in sonic textures accompanied by hip-hop beats, this lo-fi compilation of 17 tracks is all kinds of earthy, rustic and refreshing.
She tells us more about her journey and new playlist below.
The Artist
I started playing the guitar when I was about 7 years old. I played a jazz piece when I was about 12 years old, hardly knowing much about the genre then. But I think over the years, especially after I found my love for producing and making music, I started to drift away from the guitar. Growing up, I always thought being a musician meant being a guitarist, but now, here I am. My relationship with the guitar has always been on and off, but there's something very emotional and personal about the instrument — those are my roots and I can't ever let go. So, I may not have played it as honestly in a while, but I'll be back. I started dabbling with production/making music around my first year of college. I think all this while, even now actually, I'm still experimenting, trying to see what sounds I like, what interests me and learn more and more each day.
I started listening to a ton of Lo-fi playlists on YouTube about a year and a half ago. Apparently, I was a bit late to the scene, but I just loved it, and I knew I had to make something similar. The minute I like the way a song/elements in a song sound, I immediately try my best to do something of my own within the same lines. Lo-fi is something that one can listen to, without necessarily being invested in it, but also something you can really take in to feel a connection with. For its simplistic nature, it has a very diverse effect. Making Lo-fi is just a very casual part of my production life, it's a side project of sorts. It's relatively simple and fun to make and is sometimes a necessary break from my other projects.
The Artistry
I think music, apart from sports, is something that comes much more naturally to me and I have so much love and passion for it. The entire process of being able to create something new, sonically, is very intriguing. It's a way to express certain emotions and feelings that one need not even know about. There have been many times I have written a song and then realised what I may have been thinking. It's a lot of my subconscious that plays a vital role in my music making process and I really enjoy every bit of this experience.
I don't expect people who listen to my music to understand this or even agree with it. I'm hopefully going to grow as a musician, but my audience does not have to grow with me, and that is one hundred percent alright. I'm glad I have been able to evoke a feeling or two among some individuals and I'm thankful for the ones who take their time out to hear my work.
The Sensibility
I have started to appreciate 'sounds' a lot lately and ambient music is what drives me now. I mean, I love blues. It's one of my favourite genres. But I guess the music I make on my own is much different. Hopefully, my upcoming EP will shine a light on this. There are plenty of new sonic elements I discover every day that make me more and more curious about the entire process of making music and manipulating sounds.
I think over the past few months I've really come to enjoy sounds as their own natural elements. I am trying to take what I can from simple and complicated sound sculptures. Nature is one of the purest and natural sounding elements there is. While listening, hopefully one can be transported with it.
Mellow Appetite on a Sweltering Indian Summer
The playlist is just my first shot at making good old Lo-fi. As I said, I listen to a ton of Lo-fi playlists on YouTube and I absolutely love it. So, I decided to make some of my own! It's a fun little side project. I made all these songs (in a hurry unfortunately) in April or May, before my finals began in June. But it took this long to come out since my management wanted it to be a release on all platforms through Believe India. Initially the idea was just to have it as a casual YouTube and SoundCloud release. Music has always been a passion for me, something I loved to do on the side while life would continue as usual. Little did I know that it would eventually become my entire life. Now, where do I go when I need a break from life when my break always consists of music? So, I just make Lo-fi.
According to most streaming platforms such as Apple Music, Spotify, et cetera, an album is 30 minutes or longer. I just look at it as something more perspective driven. An album to me is a big deal, it's a record you know? It's a journey — a very emotional, personal and confident journey expressed sonically. I don't think I'm in the position where I feel ready to put out an album. So, this is just a compilation of many Lo-fi songs I made – a playlist!
The Creative Process
It's hard to describe as it's something that flows very naturally. There is never an intent while making music, that it must stem from a certain expectation, emotion, experience — whatever you like to call it and express only that. It's always 'as and when it comes'. If I feel a certain way and am able to express it with a song that I have made one fine evening, all is well and good. Not all days are such. Some days I'll make something and it'll be utter nonsense, so I'll immediately scrap it out. And at one point this used to bother me — the feeling that I couldn't produce something today. Every day I had to make something new. If I didn't, I would begin feeling very low. I've learnt to calm myself down and not pressurise myself into being creative all the time, and give songs more time and patience. By that I mean — revisit them, change them, help build them and so on. But I sit with production every evening. I enjoy the process and I love to experiment.
The Future
I just want to help make good sounding material. I'm currently working towards becoming a mixer and that's a very new path that suddenly dawned upon me and made me realise how much I genuinely enjoy the process of it. I soon want to head into sound design and more such elements, that'll help me be more independent and produce everything from start to finish. And because of this rather experimental nature, my sounds have also just been drifting, although I don't mind it at all. I'm not easy to please. I am very critical about what I create and so I have to push myself to make new things that I can hopefully like.

Text Janani Venkateswaran