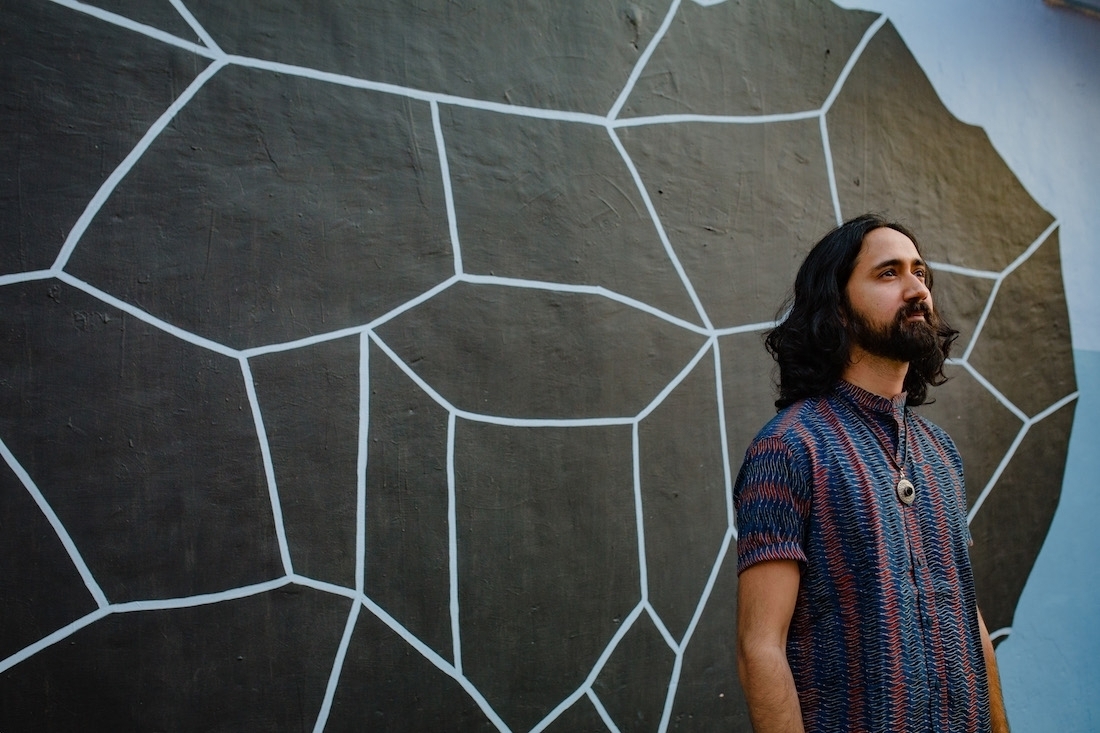 Photograph: Rishabah Sood
Anglo-Indian musician Sarathy Korwar, was recently awarded the Best Independent Album at the Independent Music Awards for his most recent album, More Arriving. The London-based artist grew up in Ahmedabad and lived there until he was 12, and then moved to Chennai for high school. Being a single child, he spent quite a lot of time keeping himself company and getting into music, amongst other things, which would be the beginning of a long journey. 'I didn't have any aspirations regarding music as a career, until much later. Music was just one of the things I was really into. I was really into The Doors, Jimi Hendrix, Janis Joplin, The Beatles and then started checking out the likes of Miles Davis, John Coltrane, Cannonball Adderley et cetera.'
What followed, was the making of a terrific musician. Growing up in an Indian classical musical household, it was imperative for Sarathy to pick up an instrument at a young age. It happened to be the tabla. 'My parents both sing Hindustani classical music and there was always music in the house. I've been very lucky to be surrounded by music from a very young age and have always been encouraged by my family to pursue it. I can't remember what it was that drew me to the instrument, but I found it was fun to play. I didn't enjoy singing much at the time so it felt like a good option,' explains Sarathy.
Life moved on and for higher studies, Sarathy moved base to Pune to study Environmental Science, but ended up dedicating all his time to music, practising under the tutelage of Rajeev Devasthali. 'I had begun thinking about what I really wanted to do with my life and it so happened that I found a great teacher/mentor in Rajeev. My interest in music took priority over everything else. Also Pune was a great place to be at as a budding musician, I got to meet people from all over the country, who had come to study and also make music. My mentor really broadened my understanding of rhythm and perspective on how I could take some fundamental ideas from Indian classical music and apply them to whatever kind of music I wanted to make myself. I remember this felt really inspiring and exciting at the time.'
It was Sarathy's love for percussion which then took him to the United Kingdom. 'I really wanted to push my drum-kit playing abilities and focus on jazz for a while. I thought studying jazz at a conservatory style institution would be beneficial, so I decided to move to London to do that. I wanted to be in a big city and not a far-removed campus somewhere as I wanted to check out music first hand.' Being a first generation Indian immigrant in the U.K. has its own pros and cons but Sarathy has always stayed true to his roots and knows how to control his narrative. 'I don't try to use my Indianness as a calling card, rather I make music and want people to see it for what it is. The biggest thing is breaking people's expectations of what they think my music should look and sound like, given my background and influences. I can only do that by paying attention to how I put my music out,' says Sarathy.
His debut album, Day to Day, fused traditional folk music recorded with the Siddi community in India, thus combining East African, Sufi and Indian influences with contemporary jazz and electronics. The community's history fascinated him. Apart from that, Sarathy has also lead the Upaj Collective — a band of South Asian jazz and Indian classical musicians, who bring together a love for collaboration and improvisation. His more recent work, More Arriving, that has put him on the map is a record 'born of confrontation; one for our confrontational times,' he tells me. 'We live in a very divisive time across the world. There is a growing conservatism at the cost of open-mindedness. My record deals directly with migration and movement of people, and says 'there are more arriving and that's fine.''
Text
Hansika Lohani Mehtani