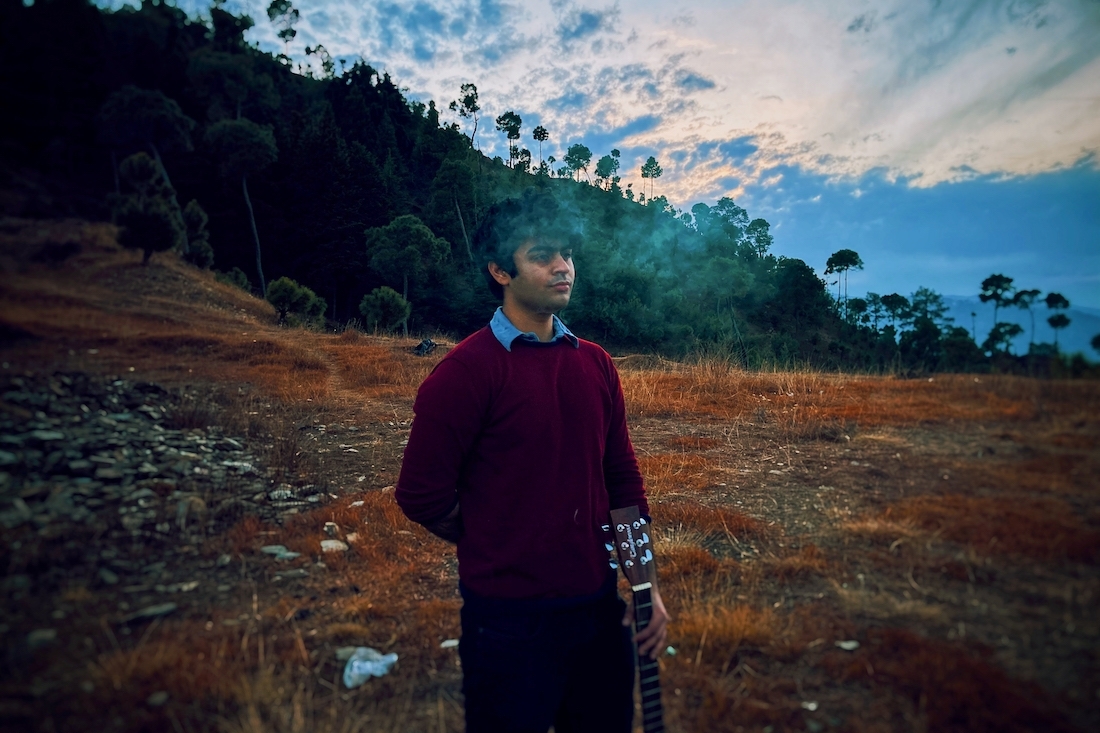 2021 has been a big year for Delhi based singer-songwriter Sheil Sagar. He has released not only his debut track, but also three other singles. In addition to being a vocalist, Sheil is also a pianist and a saxophonist, and it's fair to say that he manages to capture visceral moments in his lyrical ballads. His deep and powerful vocals, set against the melodic sounds of the piano, make for some beautifully compelling songs. Sheil's quality lies in his ability to make each song highly personal and yet entirely relatable because of his honest songwriting.
With the release of If I Tried, Before It Goes and Still, all within three months, Sheil is thoroughly establishing himself as an artist to be reckoned with. Each song carries within it so much character that it is sure to give you goosebumps. Packing together humour and depth, he gets candid with us as we talk about his childhood, the drive behind his songs, as well as his plans ahead.
Let's go back a bit and talk about your growing up years.
I'd say I had a decent childhood. My parents had me pick up an instrument and a sport. Tennis took up a major chunk of my time. Right after school, which happened to be The Mother's International School, my mother would take my brother and I to Siri Fort, where we would spend the next few hours running under the sun. I'd also have piano lessons on the weekends, which left me very little time to develop proper friendships at school. This changed as I got older, however, and I genuinely made the most (or quite a bit at least) of my time at school, and romanticised it to an unhealthy extent by writing a song about it! For as long as I can remember, I never had a driving passion for any particular field. I always thought I'd figure it out when I got older. Apparently I was incorrect.
What is your earliest memory of music?
I think my earliest memory of listening to music is having Akashvani play in the background while my father got ready for office, and I for school. God knows I must have heard Aane Wala Pal a million times. I also began learning the classical piano when I was around six, but I mostly remember my teacher being unsatisfied with my commitment to the practice regimen. My childhood did involve a fair amount of music in the living room, thanks to my father's collection of CDs, ranging all the way from Louis Armstrong and Chopin, to M. S. Subbulakshmi and R. D. Burman.
How would you describe your musical style and sensibility?
I've had people describe my music as 'broadway-ish' and even fitting of movie soundtracks. I like to think of my music as highly melodic and intimate. I've grown up listening to a wide variety of music — classical, jazz standards, film scores, classic rock, and of course, pop — which, I think, has in its own way, informed my own music. Lately however, I've been inspired heavily by Bruno Major and Damien Rice.
If I Tried, Before It Goes and Still, where did each song find its inspiration?
Before It Goes is a token break-up song about a relationship that ended prematurely — according to one party at least. The lyrics clearly express longing for a possible reunion that is far-fetched, a longing for the love that was once felt and shared. For me, the song is more about missing the overpowering affection, than the actual person it was shared with. It's a reminder to appreciate things while you have them; a real novel idea, I know.
Still is mostly about missing the sheltered life of school/college, when faced with the uncertainty of the future. It is a collection of thoughts and feelings we have all had at some point in our lives. The intense rush of nostalgia, the sudden realisation that moments passed will never come back and the following somber sadness. There's a wish to escape to the routine and comfort these spaces offered in the past, and slow down the passage of time.
If I Tried is the hardest to summarise into a few words. In its most basic sense, it talks about hesitating before being able to commit wholly to someone due to a variety of reasons — could be past trauma, fears about the future, doubting whether someone is 'the one'. This song dwells on the amalgamation of confusion, fear, desire and hope.
Your singles are heavily dominated by themes of love, longing, and nostalgia. Would you say that your music stems from a personal space?
Everything I write does come from a personal space. Yes, the music I've released has been influenced by themes of love and nostalgia, as for a long time, my headspace was dominated by those emotions. I have written quite a few songs that touch on other themes, and I hope I'll be able to put them out soon. I do believe that there's a sense of authenticity that accompanies any work that is derived from personal experience, and people can often see through it when it's not. Having said that, I would want to explore writing from different points of view in the future as well and see how that turns out.
While creating, does music come to you first or the lyrics?
I almost always start by composing a melody, or at least figuring out the harmonic movement to the song. I actively try to put more emphasis on having a strong, memorable melodic component to the song. I've never considered myself to be a great lyricist and so I find it easier to work in certain constraints of phrasing and mood that come along with a predetermined melody. If at all I have a new lyrical theme in mind, I search for chord progressions I've noted down earlier that could carry the theme well. Often it's a laborious task to figure out the proper arrangement for a song, and so I'm grateful for the extremely talented and knowledgeable team at Compass Box Studio for their work on Still. Timing-wise my process is quite scattered though. Still was composed and written in less than an hour, whereas If I Tried took a few months.
For you, as a pianist, vocalist and saxophonist, do you think one instrument gains precedence over the others?
I picked up the piano way earlier than the saxophone, so quite naturally I'm much more comfortable with it. I'm guilty of not giving the saxophone the time it deserves, and hopefully I'll work on that. You do however write differently on different instruments. Recently I've been trying to write more on the guitar, it obviously lends itself to the genre quite well.
What are you working on currently and what's in line for the future?
Right now I'm just trying to stay safe, take some time out and figure out what to do next, given our current situation. I've written quite a few songs and am writing more. I'll probably take a while to release them, but hopefully they'll be in the form of an EP/album.
Text Devyani Verma
Date 18-05-2021