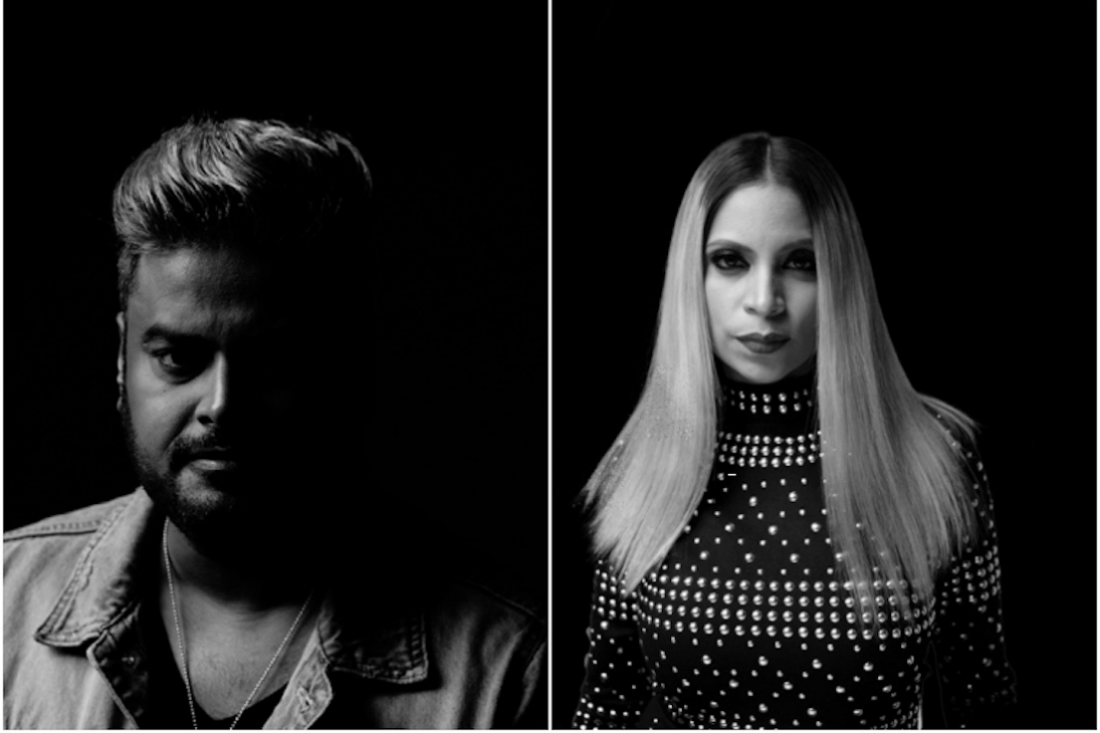 Pushing the boundaries of pop, the new duo, Shor Police, sees maverick composer, producer, Clinton Cerejo join forces with edgy singer songwriter, Bianca Gomes. Together they create edgy pop originals, laced with sizzling Bollywood covers and blended seamlessly with international hits. Multiple award-winning composer and producer, who has worked in the advertising, film and music industry in Mumbai for over twenty years, Clinton Cerejo's body of work includes composing for some of the biggest global brands such as Google, Audi, Pepsi, Vodafone to name a few. He has further worked on some iconic film scores as a composer, which include Kahaani, Teen, Jugni, Badla, Dedh Ishqiya, and as a music producer/arranger on some blockbusters like Lagaan, Dil Chahta Hai, Omkaara, Kaminey. A current favourite in the thriving advertising and jingle scenario in Mumbai, Bianca Gomes has numerous jingles to her credit. Influenced by Jazz, Funk and R&B, she creates a sound altogether her own. We're in conversation with the duo about their journey in music, their influences and much more.
How did music find its way into your life and eventually lead you to releasing music under the moniker of Shor Police?
Clinton: I think I was always meant to be creative, whether it be music or anything else. In fact I feel like when I was young, I had so many varied interests that music wasn't the most obvious choice. However, I knew that I didn't see myself in a corporate set up and it seemed like relying on my musical talent was easier and would hopefully give me some success.
Bianca: I come from a musical background, so I've always been exposed to things like live concerts from a very young age. But I didn't realise the extent of my hunger and drive for music till I reached my teens. That's when I knew that I would not be happy doing anything else in life.
Which musicians have influenced your work so far?
Clinton: I think I have too many influences to list. As a music producer one cannot afford to have a favourite genre. I have always been influenced by the game changers in every genre like Massive Attack, Peter Gabriel, Nine Inch Nails, Nusrat Fateh Ali Khan, Rod Temperton, Quincy Jones, Trevor Horn, the list is endless.
Bianca: As a singer, I was strongly influenced by a lot of R&B vocalists like Mariah Carey and Whitney Houston, but later on, as I began to evolve as a songwriter, they became only a part of my musical palette. Some of the newer artists that I love are Charlie Puth, Sara Bareilles and Zedd.
How would you describe your music, style and identity?
Bianca: I would probably describe it as hard-hitting electro-pop, which is relatable. Stylistically speaking, since pop is a broad term, it opens the door to collaborations and I suppose that would best define our identity. It's the fact that, besides making our own artistic statement, we also enjoy composing for other artists who may have varied styles.
Clinton: Yes, I couldn't agree more. I think Shor Police definitely brings out the fun side of me, yet the serious musician too. It opens up a whole range of collaborative possibilities.
Tell us about some of your upcoming music projects?
Clinton: It's great to mention that as a duo we're composing for two films at this point. More on those later, as right now we can't reveal too much, but they are exciting soundtracks. Although as a solo composer, I'm no newbie to Bollywood films, and right now it is an interesting time. The industry is at a great place where big labels are actually open and welcoming to indie bands and artists making their presence felt in Bollywood.
Bianca: We're also featuring alongside Anushka Manchanda on a brand new song composed by A.R. Rahman Sir for Nexa Music. Watch out for the video when it drops online! We've also been busy composing ads all through the lockdown for brands like Amazon, Tata Salt and others. And finally as a holiday gift to all our fans, we released a brand new single. We've seen so many people say that the year 2020 was a write off. I would rather say that 2020 was not a year to fulfill all your dreams, but to count your blessings and appreciate all that you have. The song reflects that emotion and it's called We Took It All For Granted.
Where do you go from here, what's next?
Bianca: We're currently working on finishing our English album. A market has emerged for good English music. I think it's time we made pop in India that came from a truly international and global perspective, and we'd like to be at the forefront of that movement.
Clinton: As part of that project, we're also looking at reaching out to collaborate with a couple of international producers and mix engineers that have been on my secret wish list for a very long time. Looking forward to the coming year.