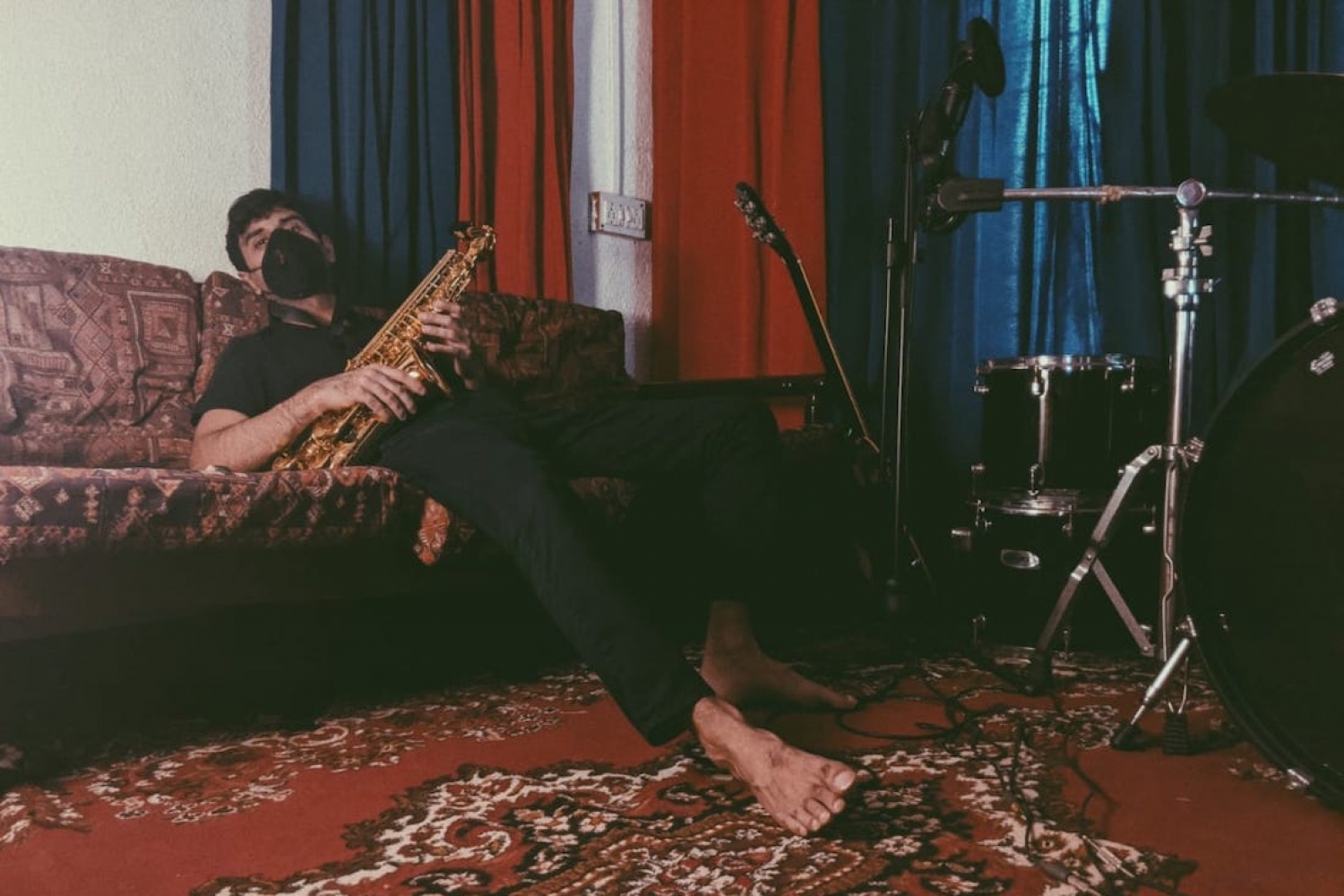 For the multi-instrumentalist musician, fluent in the saxophone, guitar, keyboards and drums, Shreyas Iyengar, music has always been present in his life. At the age of seven, he began taking Carnatic vocal lessons, post which he progressed to other instruments in his teens. 'Since then, music has been a constant companion, providing the soundtrack to events of my life — good, bad and everything in between,' Shreyas tells me. Hailing from Pune, the composer and musician has played drums for cover bands before joining, or founding, bands like Drawing Short Straws, Smokestack and more. Adding to his impressive list of accomplishments, he shares, 'I've drummed for artists as varied as Luke Kenny and Vasundhara Das, Dutch trumpet player Saskia Laroo, guitarist Xander Naylor, Funkatrix, as well as recorded for film scores, TV commercials, et cetera. As a composer, I've been fortunate enough to work on films, for singers like Kailash Kher, score documentaries, ads, short films and more before turning my attention towards writing and recording my own music.'
With his debut album Tough Times, Shreyas explores the vulnerability of human condition, caught within times most unsettled. His brilliantly contemplative album is complex, yet flows so simply that it's no wonder it charted as number one on Apple Music's Jazz charts in India. Here I am in conversation with him to learn more about the genre and his own journey.
What is it about jazz that draws you in?
Jazz entered my life as a musician a decade ago, although not as a listener at first. I was underwhelmed by the simplicity of most forms of popular music and couldn't see myself playing the same drum part on loop for four minutes, night after night. I was already listening to and learning how to play prog music (Tool, Dream Theater, Porcupine Tree) when the opportunity to play for blues and jazz bands in the city arose. I never really learned or played my way through jazz standards, instead preferring to develop my own style — a culmination of my heavier musical influences, reworked for quieter genres, resulting in a very unique sound.
What does jazz mean to you?
Jazz means freedom. Freedom of expression as a musician, freedom from restrictions as a composer, the freedom to push musical boundaries.
What does your practice routine look like? While creating, which instrument are you most drawn towards?
My practice routine can be challenging at times, switching between instruments. I like to devote a couple of hours daily to practice at least one instrument, and stick to that instrument for a few days. It also depends on recording schedules and commitments, whether I need to record or play live as a drummer, saxophonist, or if I'm composing music et cetera. More important is the time spent working on ear training, harmony, learning concepts I can use, as well as finding ways to translate concepts across multiple instruments.
Every song starts out differently, there isn't a particular instrument that I favour as a place to begin composing. Some songs start life as a sax melody, a guitar or piano part or a drum groove. I'm most drawn towards whatever translates best for the sounds I'm hearing in my head.
Do you have a creative process?
My creative process stems from having a routine where I can dedicate most of my time to music making, with no distractions or breaks like socialising, et cetera. Focusing on quality of sleep, waking up early, exercising and eating well puts my mind and body in its most productive state. I usually do my best work when I spend my days walking, thinking and feeling emotions, that then translate into music when I play different instruments and put down ideas.
What was the inspiration behind your debut album Tough Times?
The inspiration for it was quite literally the tough times that many people around the world were going through during the pandemic, which gave us the chance to observe and experience the full spectrum of human emotions on display. Unfortunately, the brunt of the disaster was borne by those less fortunate than ourselves — we were tough times adjacent at worst. But it really showed us the stark dichotomy within humanity, whether it applies to life and death, the haves and the have nots, opportunistic/altruistic actions of the people affected and much more. I wanted to channel this feeling, along with my own personal experiences to create something vulnerable, relatable but still unique. The oft repeated human tale of hardship and futility, interspersed with small moments of hope and victory.
What are you trying to say through your contemplative instrumental ballads?
Different songs in the album are about different things, but the song title and the emotion of each song makes its message discernible. For example, Homage is my way of acknowledging all the people, places, experiences, good or bad, that have made me the person, and musician, that I am today.
Quarrel Times explores the common lockdown story of people forced to share spaces with their loved ones, unable to leave home or find some privacy or alone time. This led to frequent and petty conflicts, as people once again had to really engage in meaningful conversation to learn how to share space, communicate, be respectful and empathetic of one another. Death March is a funeral march for those who lost their lives in the first wave of the pandemic. Never Leaving Home Again is about the new status quo in a post pandemic world where nothing should be taken for granted.
Tough Times 1 is an acknowledgement of humanity's fight and accomplishment in surviving the pandemic, while Tough Times 2 is a warning to change our ways drastically before global warming presents us a challenge that we will be powerless against.
Is the Indian music industry conducive to jazz music and musicians?
The Indian music industry is conducive to whatever is profitable, and slowly all independent music is becoming profitable. While the traditional industry might be left out in the cold, the internet has given more control over music to creators, who can hopefully bypass the middlemen and directly reach and sell to their audience. No one needs a label to distribute music anymore.
Is the Indian population receptive to jazz music?
The number of listeners who have an interest in local contemporary jazz music is steadily on the rise, which points towards an exciting and sustainable scene for jazz music and musicians in the country.
What has been the greatest challenge while trying to gain traction for your music?
The limited attention span of the average listener has been a challenge. Music today is largely written and consumed in single format, with songs needing to get to the hook within seconds, and then continue to be simple and repetitive throughout. Streaming services also push forward songs that fit this template, because they're a profit-making business as well. But music written in album format has so much more scope to tell a coherent and complex story, and albums written like that should be listened to with context as well, not as disjointed singles.
Another challenge for me, personally, has been to overcome my reluctance to allow listeners a glimpse into my personal life via social media. I largely like to keep my content music-related, while keeping the rest of my life private. But that doesn't work in today's day and age with fans looking for a deeper dive into the lives of their favourite artists. For my music to reach the widest possible audience, I need to consider sharing more of my life with strangers on the internet.
What are you working on currently and what does the future look like?
I'm currently working on a four-track EP which is due for release later this year, tentatively titled OST. It is the soundtrack to the last six months of my life. We've finished recording drums and bass. I'll jump into the studio soon to record saxophone, some vocals with Pratika Gopinath from Easy Wanderlings, who is singing on two songs, then add all the other parts and finish up.
The future for now holds the promise of being able to get back on the road and do what I love, which is present the music from Tough Times and this next release to audiences live from a stage. I also want to see contemporary jazz from India get some recognition worldwide. Composers are starting to do some interesting things here and there's finally more to Indian jazz than amateurishly cobbled together fusion or bebop covers and standards.
Text Devyani Verma
Date 21-09-2021