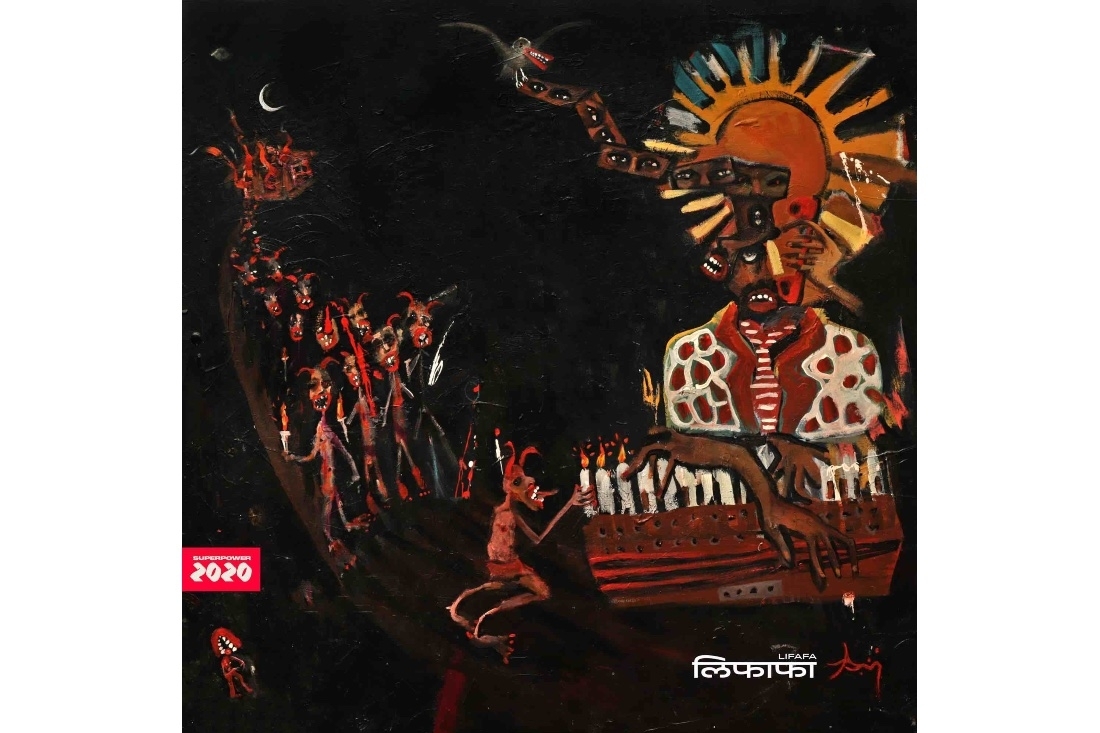 LIFAFA, aka Suryakant Sawhney, has transformed contemporary electronic music production, with his unique use of voice and vernacular. He is best known for his 2019 release, Jaago, which went from initially seeming innocuous, to within a matter of weeks, organically expanding at a rate that was unexpected. Now nearing canonical status, the two-year-old release has set a high benchmark for what is essentially a new genre.
His latest release, SUPERPOWER 2020 is, as he describes it, 'about that experiment called India'. We got in touch to know more.

How would you summarize your journey so far?
I'd have to say that I'm right back where I started, realising I still know nothing about music. At the end of it all, you realise that music doesn't change, only the people do.
What is your source of inspiration?
I enjoy reading the history of humanity in general and often find many different figures to be inspiring. These days it's Saladin.
Tell us about your new album, Superpower 2020.
I feel it finishes an arc I started with Jaago, in terms of style and subject matter. It has eight songs, each with a unique palette.
How would you describe Superpower to someone who is new to your music?
It's a significantly dirtier sound in comparison to Jaago and challenges the listener to re-examine their relationship with my music. It's fun and loud!
What conversation did you have with Aditiya for the artwork of the album?
I asked him to depict a violent, cultish scenario. He obliged.

Did the last year impact this record?
Of course, not necessarily for the better I'm afraid. Too much time spent tasting one's own food tends to end badly for one's psyche.
And, did it [last year] change you in any way?
Well, the impact of being unemployed for a year or so will definitely change you. It's certainly ensured I will analyse my decisions more thoughtfully. I did educate myself a lot through the internet in various fields, which was nice.
Do you believe context is important when making a record and when listening to it?
I do not believe it's particularly important. I think context can distract you from what you're trying to do. Sometimes, ignorance is bliss and in the field of art, I think the most important thing is having a free-flowing tap of ideas, untempered by politics and other nonsense. That said, if it's a part of how you approach life, then you're going to go for it anyway. My point is, let's first judge it for what it is, not why it is. That happens later anyway.
What according to you is the future of music?
I see music splitting into various forms for different types of consumption. Pop music will always give that three-minute kick, but I've seen the steady rise of interest in ambient music, which I could describe as long-form music. There are no rules anymore, the gatekeepers are out of jobs (for now). Sadly, the musician is an endangered creature. It will need to learn how to write, produce and even market in order to survive. The future belongs to those who can do all of them.

For more work, follow the artist here.
Text
Hansika Lohani Mehtani
Date
10-06-2021