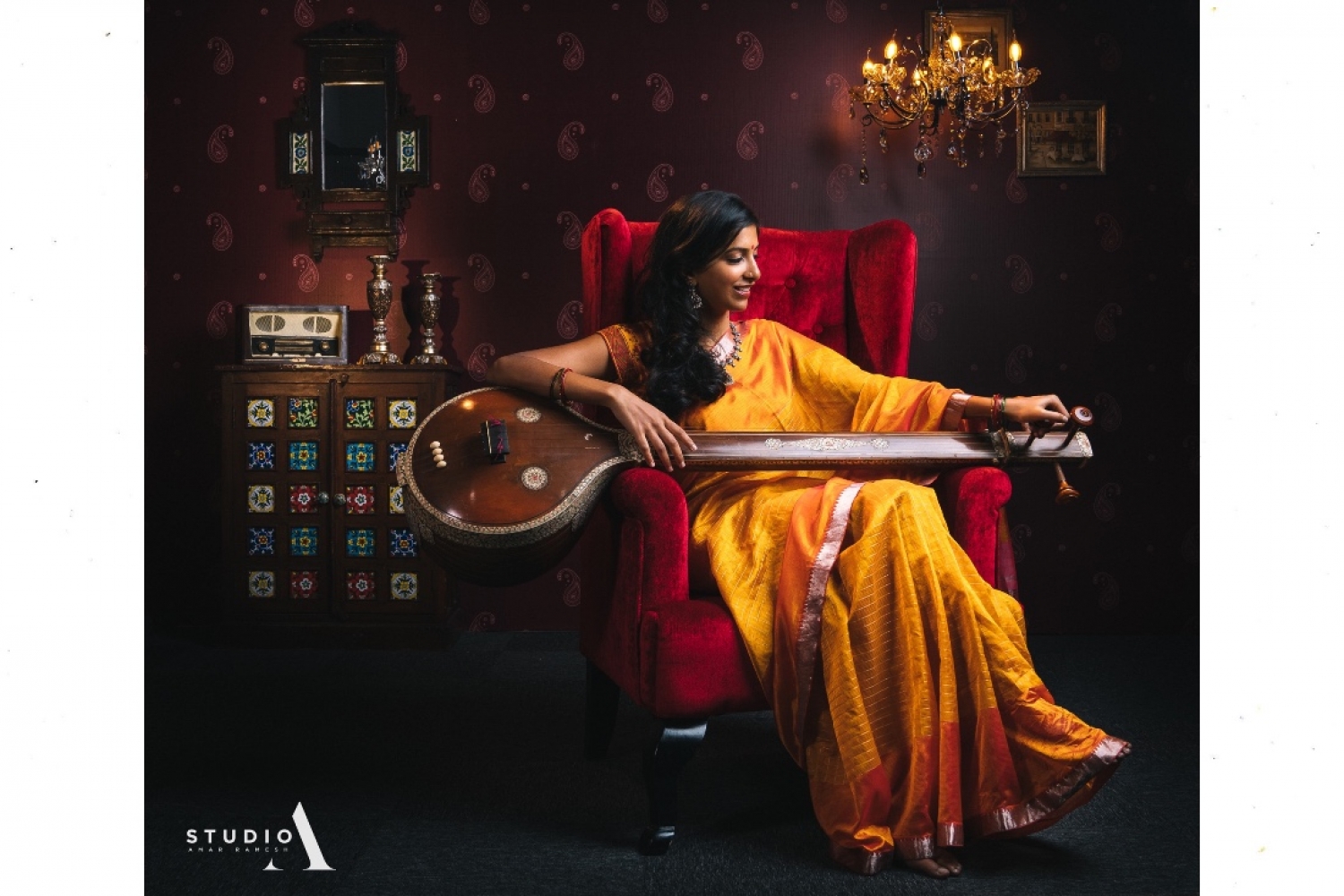 A sensitive musician in a far-off land creates music which is informed, subtle and classical, with a global impact. Meet Sushma Soma, an Indian vocalist who grew up in Singapore with a family of artists. Naturally, Sushma was enrolled at a music school when she was just four, with the intention of keeping her rooted to her Indian heritage through the arts. Sushma Soma is now an award-winning Carnatic classical vocalist who has recently released her second album called HOME — a reflection on her relationship with nature and the environment, and her response to the events around the world that impact her. We connected with her to know more about her journey in music and the new album.
Can you tell me a little about your early days?
I am a Carnatic vocalist based in Singapore and Chennai. I started learning Carnatic music at the age of four, and am currently under the mentorship of RK Shriramkumar, a musician and musicologist.
I grew up in Singapore and did all my education — from kindergarten to university — there. In my growing up years, I had aspirations to be a doctor. In high school, I realised science was not quite my cup of tea and studied Accountancy in college. I don't think I ever thought about becoming a professional musician, although what remained constant throughout my schooling journey was Carnatic music. I went for classes regularly, I attended concerts regularly and it remained a regular topic of conversation at home.
When and how did your romance with music begin?
My earliest memory of music is my grandfather. Whenever I'd visit Chennai from Singapore, he'd be sitting on his bench, listening to All India Radio on his old transistor radio. He'd ask me to come and sit beside him and listen to whatever was being played. Both my grandmothers sing too. One is eight-five and the other is ninety-two now, and both can sing so impeccably well at their age. They were undoubtedly strong voices of music at home. It seemed only natural for my parents to enrol me in Carnatik music in Singapore. The Tanpura is one of the most (if not the most) important instruments in Carnatic music. It holds the sruti (key/pitch). It was the first sound I was exposed to when I started learning music, and I was taught to play the instrument and sing.
What are your music influences?
My biggest music influence today is my mentor RK Shriramkumar, whose music is so rooted in Carnatic sound as we understand it today, yet pushes the conventions of how an idea of raga (melody) is developed. The other artist whom I am so inspired by is T.M. Krishna, who challenges the listener to find beauty in the familiar, the unfamiliar and the spaces in between. I find their explorations so inspiring and intriguing. I want to be able to experience and create the old and the new (sounds) at the same time. They inspired the approach to melody that was explored in HOME.
Akram Khan, one of the leading contemporary Kathak choreographers and dancers, is also a huge influence in shaping my conviction that art is a powerful tool to share stories. Watching his work and observing that every element in the production is intentional, inspired me to create HOME with the same intent.
Lastly, my two music influences, on an almost everyday basis, are my dear friends and collaborators Aditya Prakash and Mythili Prakash, who engage with me on all topics musical. The discussions and arguments we have allow us to shape our own convictions and find a common ground wherein we want to push within the forms we have been training in respectively.
You transcend boundaries with your music, taking Carnatic music to places.
As a Singaporean who holds her Indian heritage close to her heart, I believe I have found a healthy balance between what is perceived to be traditional Indian heritage with multi-racial modern Singapore. The exposure and experience that I get from living in Singapore and travelling around the world as a Carnati musician finds its way into my work. But most importantly, through HOME, I have learnt that what transcends boundaries for me is not the music alone, it is also the emotion that the music carries. Be it awe, wonderment, rage, devastation, joy, grief — the entire spectrum of emotions that all of us experience in our lives can be explored and expressed through Carnatic music. And through the ability to feel these emotions together, we build connections. And through connections, we build communities. And through communities, we learn that all our lives are intertwined, even if we are in opposite parts of the world.
What was the starting point for your new album?
My debut album Sa was released in March 2020 and it was an anthology of four songs — songs that were close to my heart for various reasons. I also wanted to work with some of my close musician friends outside the ambit of a Carnatic concert format. But HOME was different. HOME began as an introspection of my relationship with nature and the environment. I was gutted as I witnessed and read about events unfolding around the world — from the pregnant elephant in India who fed on a pineapple loaded with firecrackers when she was caught in the human versus wildlife habitat conflict, to gorillas scrambling for their safety amidst armed militia violence, forest logging and poaching in the Congo, the loss of indigenous plant and wildlife in the Amazon and Indonesian forest fires. I was also becoming increasingly bothered by the happenings in my own world — from the careless consumption of single use plastic to blatant wastage of resources, the list goes on. As impacted as I was by all of these, I found myself struggling to reconcile my love for the natural world with my own everyday choices that seemed to contradict just that.
How would you describe the sensibility of music you have created for HOME?
HOME uses Carnatic music as the foundation and explores sounds from our everyday lives that impact our environmental landscapes, attempting to aurally paint a picture of Man, Nature and the interconnectedness between them.
Do you have a creative process?
What comes to me first is research. Especially if I am to weave a narrative through music, I want to know what the facts/stories around it are. For example, when I wanted to create HOME, I started watching documentaries and reading articles on sustainability and environment even more obsessively. I wanted to be able to reflect on actual facts so that the music would not be based on my emotions alone but be married with actual happenings around the world. As to whether melody or lyrics come first, I think it could be either. For example, in the track Nature in HOME, the melody came first before I thought of the lyrics. Whereas, for Grief, we had the lyrics before I composed the melody.
What do you think of the music coming from India? Any collaborators with whom you would like to create music?
India is in an incredible pool of talent. I am inspired and challenged by the musicians in India. I collaborated with Praveen Sparsh on percussion arrangement for HOME, and he is an artist who is a dear friend, whose artistry made The Elephant's Funeral and Ivory Game the tracks that they are today. I respect him, am inspired by him and at the same time, watch his artistry in awe. I was also so lucky to work with artists N Deepan, N Rajan and M Vijay on Parai music for The Elephant's Funeral and Ivory Game. I would love to work with artist Bindhumalini, whose voice carries so much emotion and has moved me many times. I also want to learn from and perform with folk artists in Tamil Nadu.
Text Hansika Lohani Mehtani
Date 26-04-2022