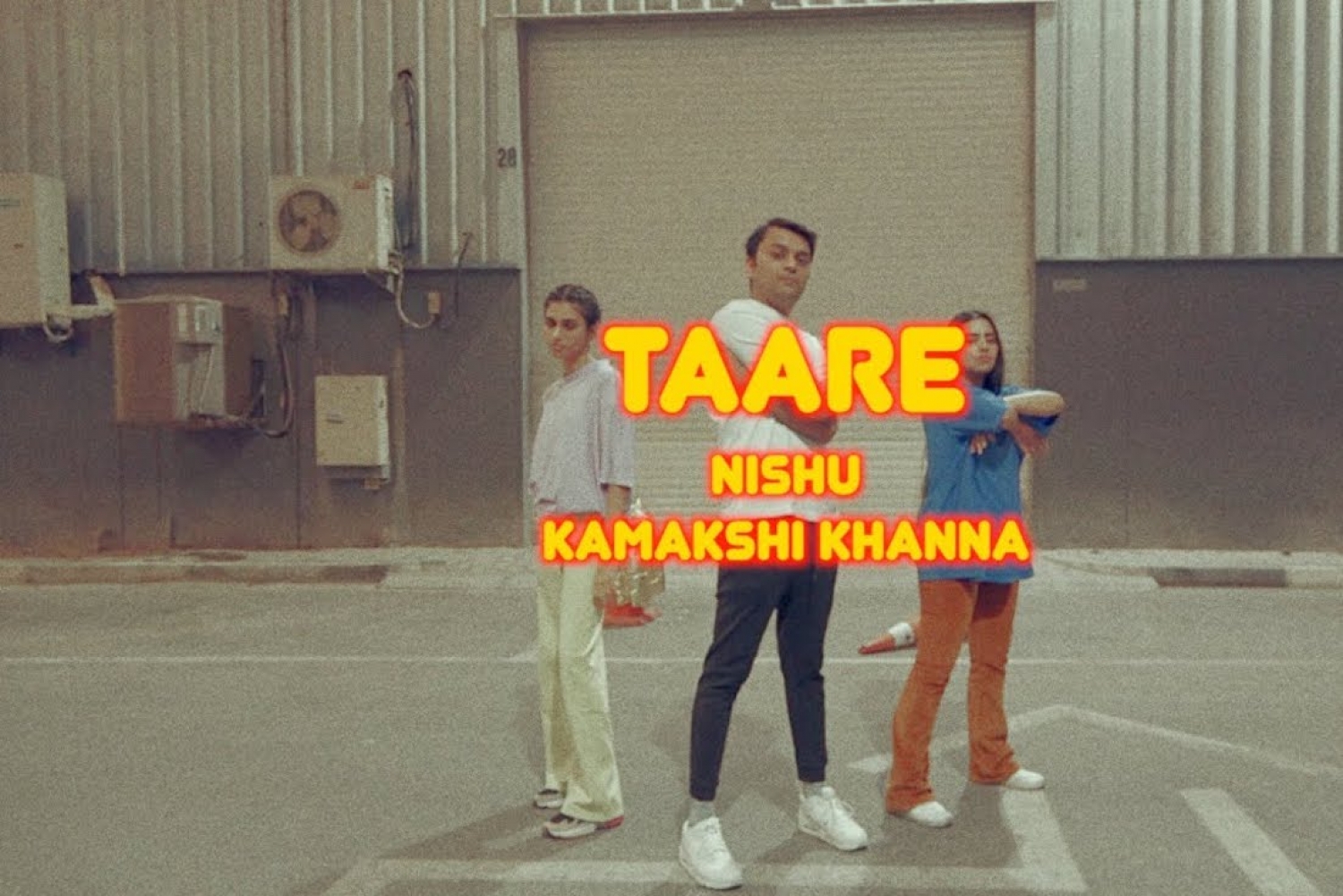 Kamakshi Khanna's incredibly melodious voice meets Nischay Parekh's pop electronic musical vibe to create Taare, a song about taking a blind leap of faith for love. Nischay and Kamakshi have always been in awe of each others' works and collaborating together was almost elemental to both their journeys. With their lo-fi dream pop song, Kamakshi and Nischay's brilliantly talented minds have managed to redefine the sound of indie music sung in Hindi.
Mastered by Keshav Dhar, Taare falls in the category of easy listening, but with an impressively catchy tune. Jivraj Singh, the other half of Parekh & Singh, lent his talent to create the simple and evocative artwork for the song, which can best be described as a Ludo board, where each player waits for their turn to make a move. The song has also been mixed and produced by Nischay himself.
We are in conversation with the duo to know more about their collaboration.

Kamakshi we spoke to you recently about your single Qareeb whereas it has been a while since we connected with you, Nischay. What has kept you busy since then?
NP: I've been busy constructing a life with my new wife in a new part of the world, as we moved to Dubai recently. Music is always the focus though. I have recorded lots of music for both nishu and Parekh & Singh. I'm looking forward to releasing it next year and getting back to playing shows in India and beyond.
What led to this collaboration?
KK: I've admired Nishchay's music for so many years now and getting to work with him has been so fulfilling! From Parekh & Singh to Pardo, I've been following and been inspired by his journey as an artist. One day, Nishcay sent me a voice memo of a rough song idea, which was the chorus of Taare, and the song was stuck in my head the whole day. I was immediately on board and excited!
NP: I've always been a Kamakshi Khanna fan. I loved Qareeb and felt that Taare would be a good musical context for both of us to express ourselves artistically.
What was the ideation and inspiration behind Taare?
KK: Taare is about the bittersweet urge to confess how you feel about someone! The nerves, the excitement and the dreamy state of mind, is what we intended to capture in the song in a fun and light-hearted way!
NP: There's a moment that occurs, when you're just about to leap off the edge into a confession of love or attraction. You feel like this could be a mistake or that you'll come across as silly, but you have to say the words, ask the question, take the plunge. This song is about that moment. Falling in love can feel indescribable and unquantifiable. These lyrics are an attempt at doing the impossible.
What was the artistic and creative vision behind the music video for Taare?
KK: Jivraj designed the cover inspired by Ludo. I love how old school, simple and playful it feels. Ayesha Kapadia directed the music video shot in Dubai, with some bits that I shot myself in my backyard in Delhi. It was interesting and insightful to bring this Delhi-Dubai collaboration to life with so many talented visionaries!
NP: We just wanted to create something organic and fluid in nature. The narrative was not the primary focus of our music video, we were more interested in creating a mood.
Combining your two distinct sounds has created a wonderful music experience for the audience. What has been the most fulfilling part of working together?
KK: I've always loved Parekh & Singh but it's so inspiring to see Nischay bring dream pop to Hindi pop music in India. It was really nice hearing our voices and artistic sensibilities collide. It was also the first time I explored this chill, lo-fi pop space and I couldn't have asked for a better collaborator to do this with.
NP: Kamakshi is just an exceptional singer and musician. I loved mixing her vocals, blending in harmonies and really allowing her voice to lead this production.
Did you face any challenges while creating within a pandemic?
KK: Not really! Personally, I've adapted to the work from home culture and think it sometimes makes life easier and pushes you to explore ideas that you otherwise wouldn't have.
NP: I find remote working and collaboration to be very enjoyable, and perhaps more efficient. I have always preferred to work remotely — even before the pandemic — so this was a very easy process for me.
Has the pandemic changed the way you view music and your own personal works?
KK: The pandemic has gotten me closer to my art and music, which has helped me cope with hard times. I've had more time to reflect and reconnect with my purpose as an artist.
NP: I've always felt that music should be created and shared without worrying about timelines or contexts. Platforms, distribution channels and culture change constantly, but music and real art should be timeless and creators should be allowed to focus on creating timeless art. I have always believed this and the pandemic has reaffirmed this belief. I don't enjoy chasing trends or numbers, I am only interested in creating music that can exist in it's own time capsule and universe.
As music artists, what are some stories you wish to tell through your work?
KK: I just wish to tell stories that are true and based on my lived experiences, in a way that makes others feel less alone.
NP: I would like to tell any story that interests me. I have written songs about physics, animals, love, loss, outer space et cetera. Anything that deals with the wide range of human experiences that we engage with, is an idea for me.
Lastly, what more can we expect from the two of you?
KK: After three Hindi releases in the pandemic, Qareeb, Duur and Taare, I am finally releasing my English music. A collaboration, and a few singles showcasing me as more vulnerable than I've ever been before, which is always fulfilling!
NP: More music this year from nishu and a new Parekh & Singh album, along with music videos.
Text Devyani Verma
Date 27-08-2021