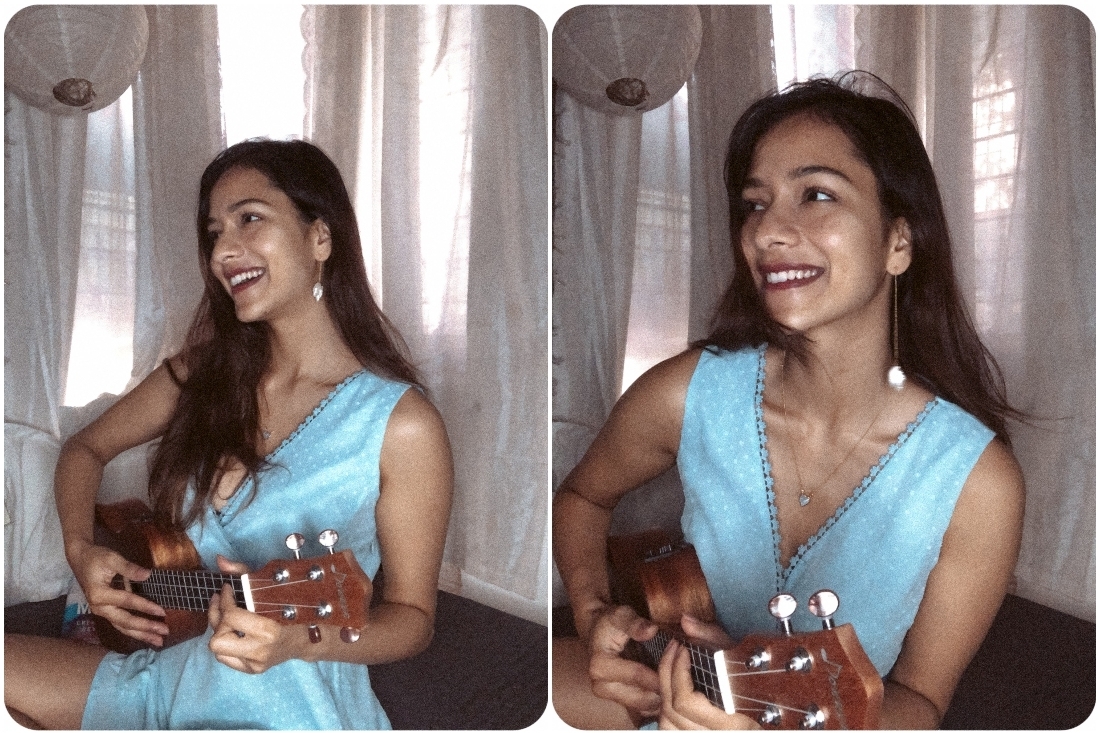 'A song has the ability to heal a person and when you hear someone else's pain, you feel less alone in yours. That's what I want my songs to be,' says musician Tanmaya Bhatnagar. When we first spoke to her, she told us about her story of rooting and uprooting. Her father was in the army, so she lived in Chennai, Tamil Nadu, Gangtok, Sikkim and Rajasthan, before settling in Delhi. She's from everywhere and nowhere, finally finding her home and solace in music. Tanmaya also told us about her ailing mother, who first introduced her to music. Music was the one thing that kept her sane and somehow connected with her mother. Art can do powerful things. Healing is just one of them. The 20-something musician wants to share that with us. Share her art so that maybe, it can heal the others too. Her music will call you to pause in this chaos. It's beautiful and haunting.
She's just released a new track called I Can't Go Back to Sleep. We got in touch with her to know more.
When we last spoke, you were in Germany. Are you back? What has kept you busy?
Yes. I am finally back in India. I reached about a week ago and wow does it feel strange. I was gone a long time but I was extremely happy to see my family and cuddle with my cats again. Even though it's only been a week, I've been prepping for my next release I Can't Go Back To Sleep. As an independent artist, you have to work 10 times harder for your release because you are preparing pretty much everything yourself, before and after the release!
What has kept you inspired/sane to keep creating in these strange times?
For me, being away from home was essential. I needed some space and time to heal. I have always been vocal about how for me, growing up in my house has been difficult because of my mother's illness. It takes a toll on you emotionally as you grow, and you cannot heal in the same environment you were hurt in. So, I am thankful for the time I was in Germany because, even though things were far from normal, there were so many things that kept me going. I got to witness three different seasons in Europe, which I had never seen before. We don't see that extreme shift in seasons here in India, so that inspired me a lot. I was learning German as well. Being idle is not something that sits well with me, so I feel the need to keep doing things to avoid having an empty mind. Of course, sometimes it's not possible to be active all time, though I kept on creating, collaborating, and continued planning things for my upcoming EP/ Album, while I was there.
What inspired your new track, I Can't Go Back To Sleep?
Well, strangely, I dreamt of this melody. At that time, I was trying to heal from my previous relationship and had many sleepless nights. One of those nights, I woke up from a dream where things were, alright. Perhaps that's something I was longing for. But this melody was playing in my head constantly, so I wrote I Can't Go Back To Sleep on my ukulele that morning.
If your music were a person, how would you describe it?
Emotional. Just too emotional. But strong and courageous to be the telling stories that have hurt them.
What's next?
I am yet to hit the studio again. It's been pretty Do-It-Yourself for now, which I really enjoy. I love being in my own space and creating something personal. What this time has taught me is that, you can make your visions come to life even if you're continents apart from the people you are working with. So, I would like to keep that up and not be bound to always going to a studio. I like the treatment of a song when it's recorded at home and has little elements of yourself in it.
Text Hansika Lohani Mehtani