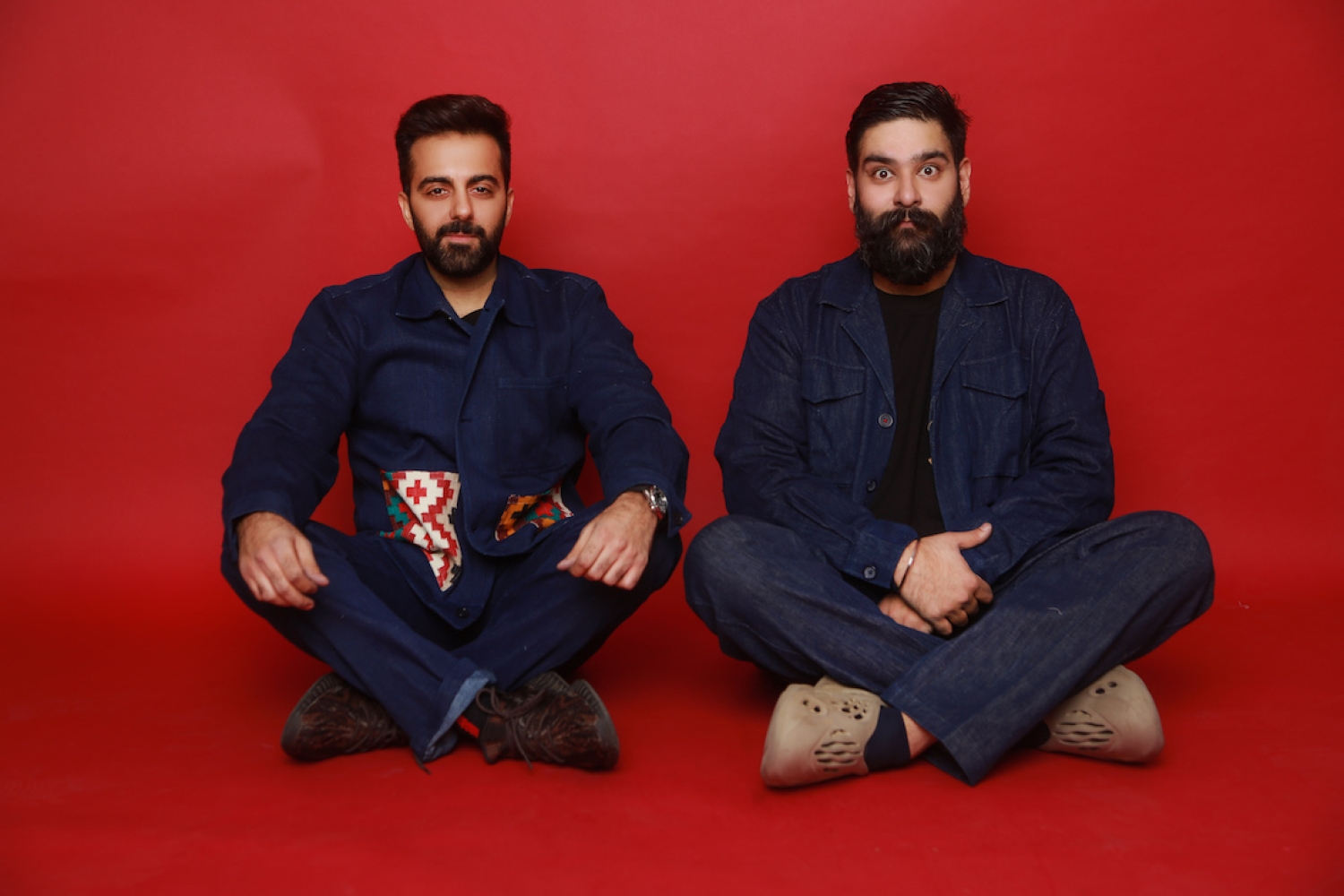 The artist-duo, hailing from Delhi, Tech Panda x Kenzani are deeply invested in making Indian electronica more popular. What they keep in mind when making music in the studio is, "To keep India with us, maintaining the essence of vintage sounds and modernising it for a modern audience," says Rupinder, aka Tech Panda. They are really good at blending the old with the new while showcasing their solid Indian roots. "I try and make sure that I don't lose the essence of the Indian sound," asserts Kedar, aka Kenzani. While they have a bunch of hits to their name and have cultivated a very loyal following, Dilbar — made in collaboration with Rusha & Blizza — has catapulted them to viral status. They are prolific producers as they'd released sixteen singles in 2022 and plan on releasing ten songs over the next quarter. More about them below.
Individually, when and how did your romance with music begin?
Kenzani: When I was a kid, I used to listen to all sorts of music, all genres – house, trap, hip-hop, urban Asian. There was always music playing around me. My speakers would start in the morning, and there wasn't really any time that I was without music. I was exposed to all sorts of music and styles. Music is in my DNA but I never really thought of producing music till much later, when I was 25, 26. I don't know why I felt drawn to the idea of making music but I think it was because I was looking for a very specific, special blend of sounds and I couldn't find it.
Tech Panda: Music was gifted to me by my family. My mother and grandmom would listen to a lot of classical music. My grandfather was an Army man, and I had the privilege of his tastes and collection. My father was a fan of Attaullah Khan Esakhelvi. So I had access to a variety of music at any given time, and that's how I fell in love with music too.
How did you both get together to create music?
Kenzani: Funny story, we met through a common friend and immediately discussed our goals towards music. Next thing we know, we are having a studio session trying to see what comes out at the end of it. Sure enough, by the end of it, Saawariya was born. After that, we started making hundreds of tracks just to brainstorm possible track structures. After much analysis, we commenced releasing tracks that we loved the most.
Tech Panda: I guess, for me personally, the biggest draw was that I was finally introduced to someone who liked messing around with software and had an inclination to work on creating new cool sounds. He was an amiable and chill person to be around and we decided to sit in the studio one day without any proper agenda or plan as such. We decided to collaborate on a few songs but still kept our original names because we didn't think we would go that far. One thing led to another, and here we are in 2023.
Walk us through your process of creating music…
Kenzani: I place no limitations or restrictions when I am making music in the studio. Whatever feels good, whatever gives me goosebumps. I try and make sure that I don't lose the essence of the Indian sound. I don't make Indian electronica only, I do make other kinds of genres and I think that's important. It's important to not have any pre-set limitations or ideas while you're making music. You might end up with technically sound music but it may not excite you or be experimental enough. If what I make excites me, I go ahead with the release.
Tech Panda: I keep my mood at the forefront when making music. I am very clear that I don't necessarily stick to just dance floor friendly music. Music that you can listen to at home, in the kitchen, in your car or share with your friends during a relaxed evening, is stuff that I crave to create. Also I'm a sucker for melodies and that's always the starting point of any work we've put out so far. Another thing that I consciously do is not to overfill a track with too many elements — achieving simplicity in sound is the key. And I try always to aim for that during studio time.
How did you come up with your stage names and what do they mean?
Kenzani: No special story here unfortunately! My first name is Kedar and my last is Santwani and I combined the two together and came up with Kenzani. And it sounded Japanese, cool. So why not!
Tech Panda: Panda was a name given to me in school for being lazy. Like a panda basically. Tech Panda was inspired by tech house and my friends named me Tech Panda.
How would you describe your sensibility to someone who is new to your music?
Kenzani: A long time ago, there was music made in India that was deeply rooted in our culture and traditions, and this is music that we don't really get to hear. The new generation isn't really familiar with this sound and I feel compelled to modernise the traditional sounds that I love and feel so connected to for a new set of listeners, young and old. It appeals to people of all ages. So how I would describe our music is that it's an amalgamation of many different genres, made in a way that sounds effortless.
Tech Panda: Our music is focused on keeping India with us, maintaining the essence of these vintage sounds and modernising it for a modern audience.
Who brings what to the table when creating music?
Kenzani: We don't have set duties. we both work individually in our studios and share music with each other that we know the other person would get and appreciate. We get together to finish a song and maybe, Tech Panda is a little more involved in polishing up the song given his experience, but we both do things together and individually.
Can you talk about the experience of creating Dilbar?
Kenzani: We had shared a collaborative idea with Rusha & Blizza two years ago but it took Dilbar for us to finally get together. It was great working with them, and loved their vision for Dilbar.
Tech Panda: 'Dilbar' is surely close to our hearts as far as collaborations go. There was a certain ease of working with Rusha & Blizza as our visions aligned from the word go. Having said that, I'd like to say that some of our best work is yet to happen with some new collaborations about which we are very excited.
What can we look forward to from the music coming out this year?
Kenzani: There are a lot of collaborations happening with artists and labels. And that's exciting. Lots of releases coming up, including our album that features a lot of folk artists. I think the Indian music scene is set to scale great heights, and we want to be a part of that high.
Tech Panda: I think this will be a memorable year of Tech Panda and Kenzani. We are very excited for us, and for our fans!
Words Hansika Lohani Mehtani
Date 10-05-2023