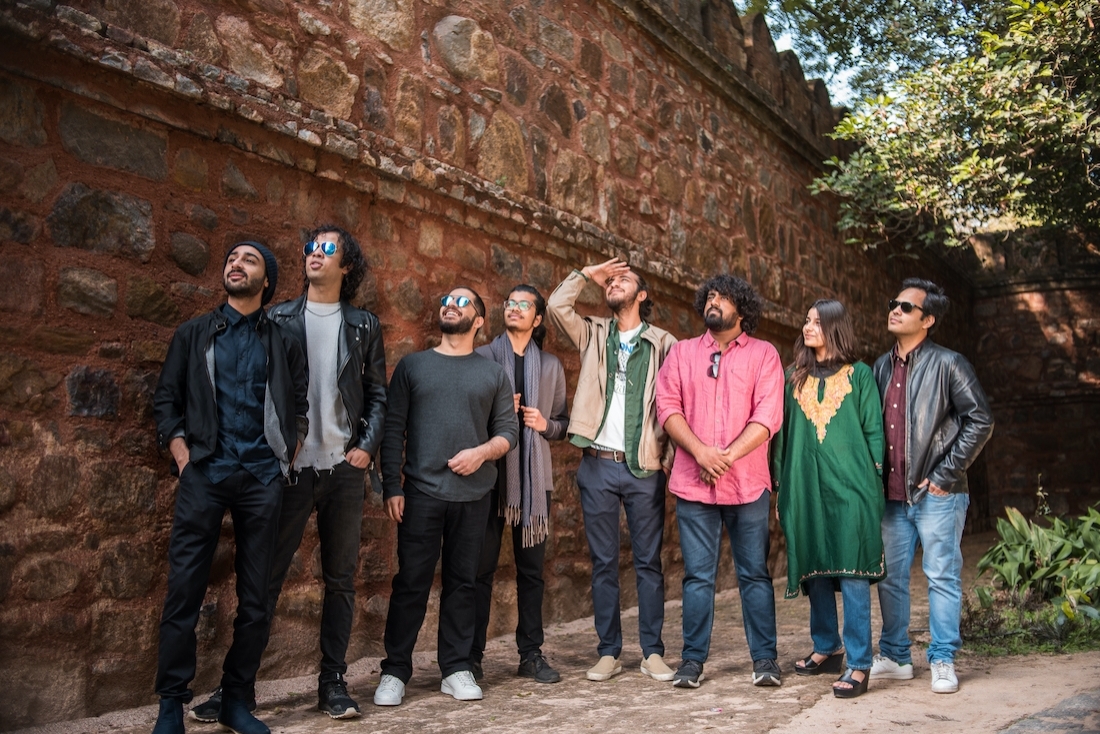 The Revisit Project is a Funk/Jazz fusion band, bringing together their love for old school Funk cats like James Brown, Stevie Wonder, The Meters and Tower of Power, and their observations about contemporary India with sarcastic undertones in the writing style. They started out in 2014 as a tribute band, rediscovering some of the lost treasures of Hindi film music and giving a contemporary Funk/Jazz fusion touch to the renditions. The jam sessions led the band to realise it's true potential in terms of writing original music and thus, the first album called Here We Go was released in 2017.
An experimental jam based on the Hindustani classical raag Jog, their new track is called Jog Through the Park. The tune doesn't follow the strict rules of the raag, but tries to amalgamate the free flowing jazz fusion techniques with the soul of the Indian scale, and features one of the modern prodigies of Indian classical on Sarod, Rohan Prasanna. In conversation with the band's saxophonist, Abhay Sharma, about their journey and the new single.
To begin with, how and when did you get together?
We started out in August 2014 with a different line-up. Varun and I are the only current members to have been part of the initial core group. I wanted to make a band that pays respect and tribute to the old Indian film composers and some Jazz Fusion legends, by putting together contemporary arrangements of some of my favourite tunes of yesteryears. The idea was to learn together from these classics and then eventually make a self-sustaining model for the band by pitching to weddings and corporate gigs (since I had been playing commercial gigs professionally from the age of 15), and taking that money to finance our future musical pursuits.
The band initially started out as a tribute band, what inspired you guys to do that?
The most imperative pre-requisite for any independent act is to be well versed as a group, and at the same time, manage the financial aspects of life as a unit. Most of the acts that I saw as a kid eventually ran out of gas, since they couldn't make enough from the independent music scene. Thus, some of them have become strictly commercial bands now. I just reversed the logic by making use of my pre-existing contacts in the commercial music scene, and made a band that goes from commercial to independent.
And what made you guys switch to creating originals?
The plan was always to be in a position to write music. Whatever we learnt from the music we played at gigs, led to a point where the band had understood how to take forward a jam scenario. Also, writing music became a habit. With us meeting regularly for gigs and jams, the logical progression was to make original music. The only hang up was people leaving the band, otherwise we've always been able to switch between both the music scenes. We all love Pancham Da as much as we love Jaco Pastorius.
The band finds its voice in a marriage of funk and jazz. Can you elaborate more on your music sensibility?
Music in general is a reflection of all that one consumes. For us it's been a mixed bag of various artists such as Tower of Power, John Scofield, Weather Report, Pancham Da, Herbie Hancock, Vulfpeck, John Mayer, Chick Corea, The Meters, Stevie Wonder and so many more. There's another batch of artists we enjoy individually. Coming from different schools of music, the sweet spot for all of us is Funk and Jazz Fusion music. The groove is the most pivotal part of our music, everything else aligns accordingly. We keep exploring how to make a jam sound good, and that's the plan.
Jog through the Park has an amazing amalgamation of jazz and classical music. What inspired the track?
I have been exploring Indian raags for a few years now, and it was a tune I had worked out while working on Raag Jog. The inspiration comes from a Chick Corea/John McLaughlin collaboration tune called Raju. The tune itself has a brilliant section initially, with Rohan exploring the raag further. Since we are all learning, we didn't follow the rules of the raag strictly. But, this is definitely a direction we can take in the future. The idea was to not diminish the Hindustani element, and at the same time arrange the tune in the traditional jazz fusion format.
As a band, who brings what to the table. Is there a method to the madness?
The band comes together to arrange a basic idea brought forth by one of us. We jam out the tune for weeks to iron out major arrangement changes for the tune. I'd write basic ideas for our tunes, and then the band takes over to put it together. Arrangement is paramount for us. Recently, we've been recording demos and that has helped tremendously.
Lastly, are you guys working on anything new?
We are working on two new tunes. One of them is a ballad which Chezin will sing, and the other is an RnB/Jazz Fusion style tune called Vibes for Tribes. We are planning to work every month on something. Hopefully, things will get better in 2021. Looking forward to a good year.
Text
Hansika Lohani Mehtani