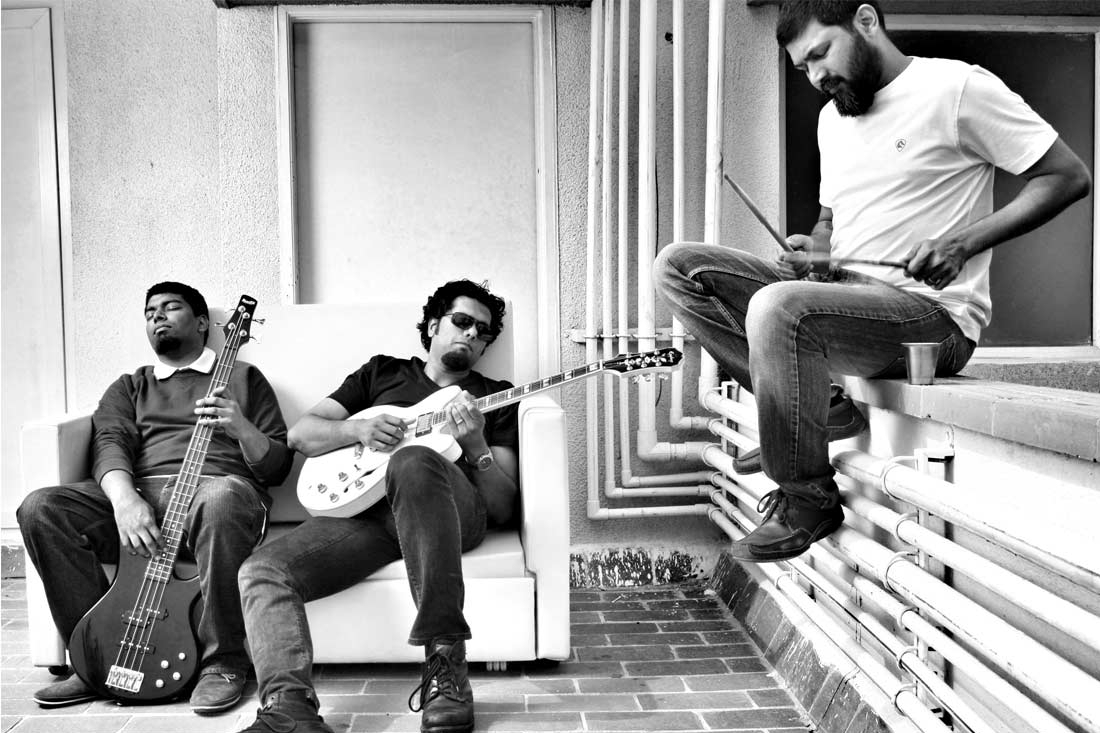 It's been more than two decades since the royalties of rock from India captured our minds with their powerful aesthetic 'Bangalore Rock'. Known to have coined this famous terminology in the early years of their formation in 1996, they like to consider themselves to be a brand characterized by an Indian soul with a global approach. Composed of three pioneers in music- Bruce Lee Mani (guitarist and singer), Rajeev Rajagopal (drummer), and Leslie Charles (bassist), Thermal And A Quarter also known as TAAQ is quite versatile in their identity and had released seven studio albums by their 20th anniversary in 2016, their second album being the first concept album to be released by an Indian rock band. Having performed in various music festivals and events around the globe and also being recognized for their role, they are proud of where they have reached and what they have accomplished so far. Being compassionate beings they also run TAAQADEMY, a music educational institution based in Bangalore that trains under-privileged children in the city.

Ready to perform at the Kasauli Rhythm & Blues Festival 2018 on March 30th, we catch up with them on their eventful journey of 20 years in discovering and redefining music as musicians from India. Anticipating the release of their next album A World Gone Mad, which will be released very soon, Bruce explains what this voyage means to him…
You identify yourself as a 'Bangalore Rock' band, which is an interesting approach to expressing your style of music that pays homage to rock music infused with the essence of the land that conceived it. Was it a result of experimental jamming sessions that led you to find this new genre or was it a pure honest instinctive realization?
It actually happened across a long period of time. When we started the band our music was all varied because our band members came from all backgrounds and from different musical taste-some were into jazz, some into punk, and fusion. So the music we made at that time in the late 90s, as with any struggling new band, were very much about the influences we had and we wore it so proudly and we always had some difficulty in describing the genre of music that we did. So we would end up with some ridiculous 'jazz-punk, blues, progressive metal rock…' some nonsense like that which had way too many hyphens in it!And so for a long time we struggled with it in terms of what is our style and it was only after a few years and albums down that we realized that a lot of our songs and subject-matter were in many ways a temperament of the city that we live in and based on our experience of living in Bangalore and our lives here, and the city in many ways was growing as an urban home and it had gotten under our skin and was manifesting itself in the lyrics and songs we made. So it was a realization that you can have Chicago blues or New Orleans Jazz and why not 'Bangalore Rock', so that how the name came up which reflects how Bangalore is a key to our perceptions, our beliefs and our music in many ways, and we are technically a form of rock music, so 'Bangalore Rock' came quite organically like that.

It's been more than 20 years since Thermal And A Quarter (TAAQ) started. How is the journey progressing?
Well, the best thing about it is that the journey is still progressing. It is not a feeling where we think we have done it for so long and in many ways it feels that we have a lot more to say and do. So we are in a good place where still feel like we are growing and even the music is evolving and changing with the album and in many ways it's responsive to what's around us. We try to stay quite relevant but we don't try to incorporate any kind of 'sound' that happens to be 'trendy', we have very much stuck to the brand of music that we make, and we are still happy to be on the train.

What evolution in music have you witnessed through these years in India?
It's been great! When we started in '96 there were very few bands that were doing their own gigs and very few audiences who were open to coming out and listening to new bands and music and there wasn't any solid structure of support from the industry-the radio people wouldn't play your music and the recording company wouldn't distribute your music- there was really no place for people to discover you before they saw you on gigs. So it was quite a battle at that time, with only few bands writing and promoting their own music. So late 90s was part of that process but in the early 2000s with globalization and IT happening (in Bangalore especially) there were new ways of distributing your music and engaging the audiences, and being part of a tech city like Bangalore we used that to our advantage. We also discovered that we didn't need labels anymore and could do our own thing independently and work in the best way possible, so now in the country there's so many ways to perform and places to perform, along with serious educational institutions where you can learn and music stores where you can buy world-class equipment. So I would say that music is about the entire ecosystem and how it has evolved over the years to support a new musician now. We are trying to develop this sustainable ecosystem for musicians through our school wherewe have more than 35 musicians who work with us full time and they are musicians by profession as they work with us, who make, release and perform new music themselves. This makes music viable and dignifies profession where musicians are perceived as unemployed or devalued for career especially in our country. So we are happy to be a small part of this movement.
The Team
L to R- Rajeev, Leslie, Bruce and Tony Das
You have performed at various international and national venues throughout these years…
We have performed across the world in various events to various audiences and one of the things that happens is that when we play internationally we don't have an ethnic attachment; yes we are Indian, we look Indian, we have Indian perspectives, and we don't have any Indian instruments to support that, which might not be what some Indian audiences expect- they might expect some sort of Indian-ness in our music. And we are not that. We are very Indian but we don't overtly have any ragas or Indian languages, so it's an interesting experience. And presenting to the larger audience outside with an Indian identity is also interesting as whatever mainstream film and media that has reflected India, contradicts with our identity and gets us a lot of attention, and its not like we have forgotten to our musicians in India or lost our connection to our roots, and its not any of those things. We are advocates of India as anyone else, its just the way we grew up and we think in this language and we went to schools and read books and this is what we are and this is a valid reason also for 'being an Indian'.

The initiative started by TAAQ to educate unfortunate and less-privileged children who have a passion for music through your TAAQADEMY is a great way of giving back to what made you. What made you identify this strong sentiment during your career and put it into action?
When we started the academy we wanted a space for everyone to come together to learn from each other and jam and record and all that. 2016 was also the band's 20-year anniversary and we wanted to find some way to make that celebration special instead of just having a big party or something, so we decided to expand music education. It was an interesting experience because it was the first time we tried crowd funding. So it was a way of asking our fans and everyone else to make this happen. So that was a success and we are on our second year of educating these 1500 kids in Bangalore.

You have performed alongside various artists. Is there a special one that you cherish and is there a dream collaboration that you would like to do?
Yes we have played alongside various interesting artists and they all have been amazing journeys. More than dream collaboration, it makes more sense for me when two people come together more organically instead of 'hey, here's a big name and lets record'. It needs to have a common base ground and it needs to have 'value'. When I say value it doesn't mean million views on YouTube, but for both the artists and to the viewers.

Congratulations on your success and for inspiring young artists. What are the things that you have realized as practicing artists in India and what would you advice the younger generation of musicians in our country who are venturing into the industry?
There's so much to say but the at the end of the day you have got to love what you do and do it because you love it. You should be doing it without any expectations of success or fame or any other stuff. If you love it and do it right, you will find a way to make it work… You might/might not be a billionaire but you will be doing what you like which makes it enriching and fulfilling.


Text Tony Jacob