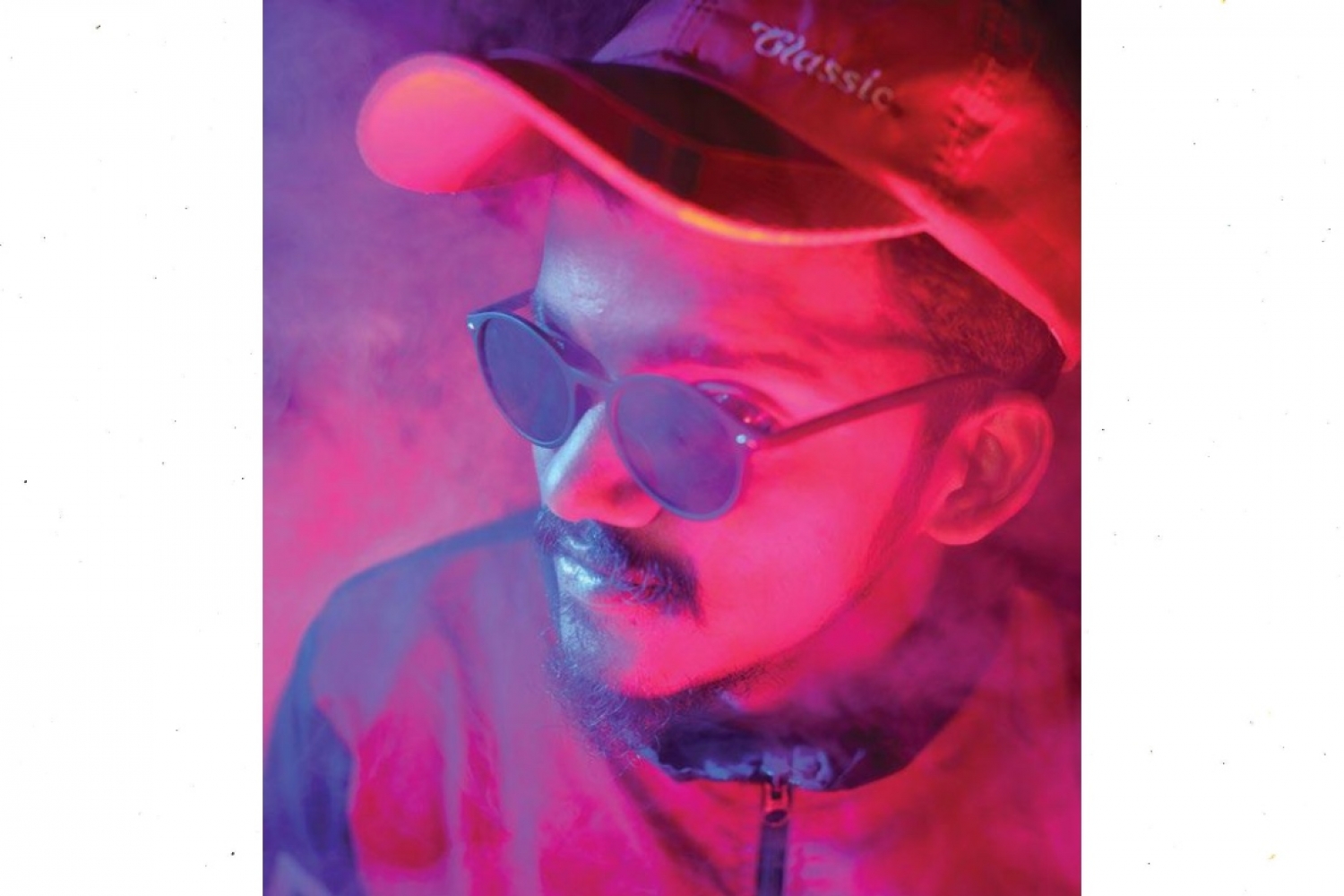 Thirumali
South Side Heat
Not too long ago, Vishnu MS was on the streets of Kottayam in Kerala, rolling off words that came from a deep space within, searching for an identity. Like most extraordinary rappers, who ever made it big, Vishnu MS, now famed as Thirumali—meaning honesty and greatness—has come from the suburbs. The young boy, who dropped out of college to make music, is now being pitted to break away Malayalam rap from the margins and make it go mainstream.
A cornerstone of the Southern heat, Thirumali started rapping close to eight years ago. "Back in high school, I'd begun to listen to musicians like Jackson and Eminem," he recalls. "But eventually, I leaned toward hip-hop because of its lyrical value." By the time he went to college, he was a "total hip-hop head": not just listening but also performingcovers of tracks by Lil Wayne, Drake, Kendrick Lamar, J. Cole.
Vishnu's first track, 'Svasakeasam', gave out an anti-smoking message but he took it down simply because "it was not that good". But what has come since, has more than cemented his place in the list of rappers coming out of this country. Sample Malyali Da—his biggest hit yet, an RnB infused track, talks about the headstrong Kerala dudes. Their strength, their drawbacks and everything that makes them unique. Or Avastha, released in 2019, a tongue-in-cheek, angsty take on our lives and times.
"What I love about rap is its raw form. There is no hidden meaning or science behind the music. People are talking about their life or something they want to talk about in a way which we all do. We can create music with our own natural flow. There is a little criterion behind it but eventually it's all raw. It's coming straight from the heart. That's why I got so obsessed with rap music. There is freedom in creating rap music. I actually started rapping for fun, but I've grown," he says. "I began writing very raw, hard lyrics. But I've realised people like different kinds of music and that they're expecting a lot from me. I've experimented and now I write more simply. I've dropped the convoluted gram- mar and embraced conversational language."
Interestingly, before rappers like Vishnu took to make Malayalam rap receive the recognition it deserves, South-Indian rap didn't exist at all. Even a decade ago, rap in South India was rare. It was mostly confined to the fringes except for occasional appearances in films. Rahman, Suresh, Apache Indian, Blaaze among others familiarised the genre but independent artists were sparse and largely invisible.
"The South Indian rap industry is getting good attention from people. Malayalam is also getting a good response for rap from the audience. I can see a lot of people are listening to it. Even when I drop a song, I'll definitely get a 100k view for an audio. People are listening to it and they are enjoying it. And it is happening all around this country as well. So, I think there is a good future for Malayalam rap and artists in the upcoming years. That's mandatory and there is no change in that. People have started exploring it so they've realised that there is such rap as well. English rappers, US rappers, West Coast rappers are all there; UK rappers are there, Hindi rappers are there, Malayalam and Tamil rappers are there, and people have started recognising all of this. So, I think there is huge rise in rap music within just a few years and this will be on the mainstream level for a long time I think, and I believe that."
With the new music Vishnu is working on, a new vibe is promised, a departure from what's already out there. "I am working on a lot of music, and I am still experimenting with different types of music. I have made an electronic-influenced rap, a pop-influenced rap and I have made a lot of different music blend in with rap. I want to make rap enjoyable and accessible to all types of people, that's my goal. Everyone has a different taste in music. Some people have pop taste, some people like electronic, some people like rock - so I want to go to their place and their taste and make them listen to rap. So, I am mixing the genres with rap. A lot of songs are coming. I am working on different sounds and that will be a new experience for the listeners." Watch out.

This article is an all exclusive from our Bookazine. To read more such articles, grab your copy here.
Text Hansika Lohani Mehtani
Date 03-11-2021