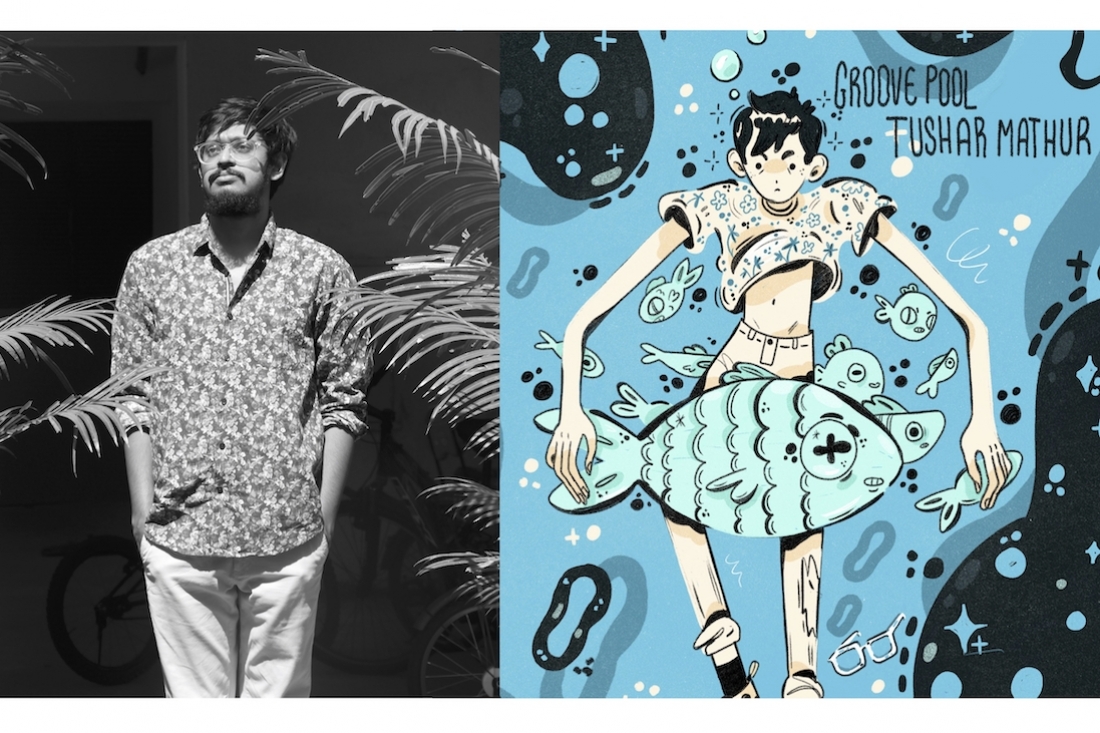 Tushar Mathur
Groove Pool
Inspired by an introvert who wants to let loose at the party, Tushar Mathur's debut single Groove Pool is an attempt to really bring out the wild, without having to think things through. It celebrates a journey from the corner of the room to being the life of the party, emphasising the need to truly be. Shot against the beautiful backdrop of Kotagiri, it brings our attention to RnB & Soul artist from Bangalore, who lets us in on his musical sensibility. Excerpts:

Tell us more about yourself and how you first got introduced to music.
I started off by going to guitar class when I was fourteen and I absolutely hated it. I didn't want anything to do with music at that time and I quit. One day, my cousin appeared with a CD in his hand and that CD changed a lot of things for me. It had twelve songs, classics like, Sweet Child O' Mine, Smoke on the Water to name a few and my brother and I listened to that CD on loop for days. Those twelve songs were very guitar centric and that's when I started showing an interest in learning how to play the guitar so when I was sixteen, during my 10th standard ('grade' if you want to sound cooler) holidays, I decided to give it another shot and I haven't looked back since.

Growing up, who were you musical idols?
Growing up, my personal favorites were bands like Led Zeppelin, Metallica, Iron Maiden, Pink Floyd and all the other classic names you can think of. It went to a point where I literally used to sit and study bands. I remember when we attended the Metallica concert (2011) in Bangalore, I took a printout of Metallica's entire wikipedia page (which is a LOT) a week prior to the concert and brought it to school to study it in class. My teacher wasn't too happy when he found out it wasn't Physics I was reading so intently.
Also, my dad loved country music so there was always country music playing at home which at the time, I didn't really like, but I've started enjoying it the past couple of years and it's definitely impacted my song writing.

What inspired Groove Pool? Tell us more about your debut single and the kind of work that went behind it.
Groove Pool is all about that kid at a party who really wants to groove and dance but he knows his two left feet won't do him much justice. The song is about myself because I can't dance for nuts. I was put in the obligatory 'Footloose Dance Class' when I was a kid but that couldn't fix it either and I'm glad it didn't because I got a song out of it. 'Groove Pool' was in the works for about four months, both the song and the video were ready in early June and I'd been taking time since then to promote this to various outlets. We shot the music video in a beautiful house in Kotagiri, my friend Sandeep helped me mix and master the track as well as shoot the video.

Would you call yourself an introvert? And what really happens to the introvert who wants to let loose at the party?
Not an introvert but more like an ambivert. I like meeting people but I also like being alone cause that's when my creativity flows and I love that entire process. Well, if an introvert lets loose and dances at a party, he lets loose and dances, that's about it. The point of my song is that, at the end of the day, it's all in your head. So just go for it. In retrospect, I should probably take my own advice more seriously at times now that I've written a song and all about it!

What is next for you?
My second track is in the works. I'm collaborating with a saxaphone player for this track and also conceptualizing a music video for it. It should be out around early September!

Text Priyanshi Jain