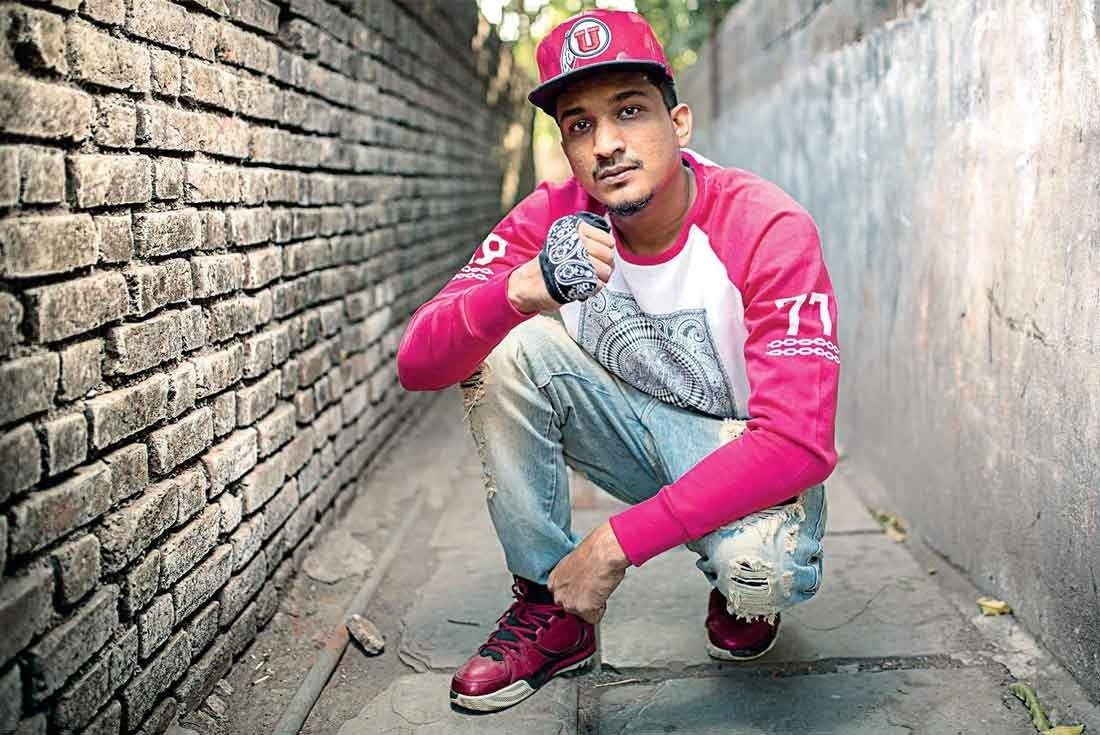 Vivian Fernandes a.k.a Divine
Not too long ago, Vivian Fernandes was on the streets of Mumbai, rolling off words that flowed from some place deep within, searching for an identity. Like most extraordinary rappers who ever scored history, Vivian a.k.a Divine was born and bred in the grimy underbelly of the city. Perhaps growing up amongst the pits is what sharpened the best of him, and from a misdirected, aimless boy was born a man whose words stood his own. When he chanced upon a guy wearing a 50 Cent T-shirt in school, little did he know that he'd stumbled upon a genre of music that would go on to define who he would become someday. Eminem and 50 Cent became his gateway into the world of rap, as Vivian spent sultry summer afternoons listening to their music on loop on his grandmother's CD player, etching every word to his memory. What began as a mere hobby soon took over all his time, and by the time he was in 11th grade, he had already started writing his own lyrics, flavouring them with unmissable beats. 'Everything changed for me when I heard a song by Lecrae. It was gospel rap, and it blew me away that he was rapping, but he was talking about God. I was writing a lot of devotional rhymes as well, because I was living with my grandmother and she would take me to church every single day and I was an altar boy for mass. That's how the name Divine came about.'

As he started out, he would drop in on a few underground rap battles as one of Mumbai's first hip-hop crews called Mumbai's Finest. With more words and beats came more confidence, and soon after, he decided to go solo. Divine became the talk of the streets when his song Mere Gully Mein with MC Naezy went big on Youtube and catapulted him into fame. A few months later came Jungli Sher, which saw him at his most honest. The raw, ballsy words coupled with a sick beat outlines his childhood growing up in the slums of JB Nagar Andheri, with an absentee father, and a mother and a brother who made up for everything he ever missed out on. Jungli Sher became the first single by an Indian artiste to be released worldwide by Apple Music. And if he wasn't all over the streets of Mumbai already, his song Jungle Raja with bass giant Nucleya made him seep into even the most unreachable gullies.
Perhaps what sets Divine apart from his predecessors and his contemporaries is this unshakable sense of honesty he brings to his craft. He doesn't shy away from the truth, and instead, becomes it. His tunes have the power to pick you up from any corner of the world, and drop you into the heart of aamchi Mumbai, amidst the winding streets, the people and their struggling yet spirited lives that lends the city its innate essence.

'I evolve with every song I write. Music has changed my life...from writing and recording at home to now working in some of the best studios. I can write songs faster now, and I've discovered a lot of new genres through the indie music scene in the last 5 years which has left me inspired. I still have places to go.' And so he does. Divine and his Gully Gang play muse to Zoya Akhtar's next, titled Gully Boy, starring Ranveer Singh and Alia Bhatt. Whispers on the vine suggest that Ranveer will rap Divine's tunes as he steps into the shoes of his character—a rapper born from the slums of the city. This November, marks a milestone for Divine, as he collaborates with Nucleya for a single in Anurag Kashyap's upcoming release, Mukkabaz. 'This is my first Bollywood debut, thoda sa alag bajega!' he promises.

Listen to his new single below!

Text Ritupriya Basu