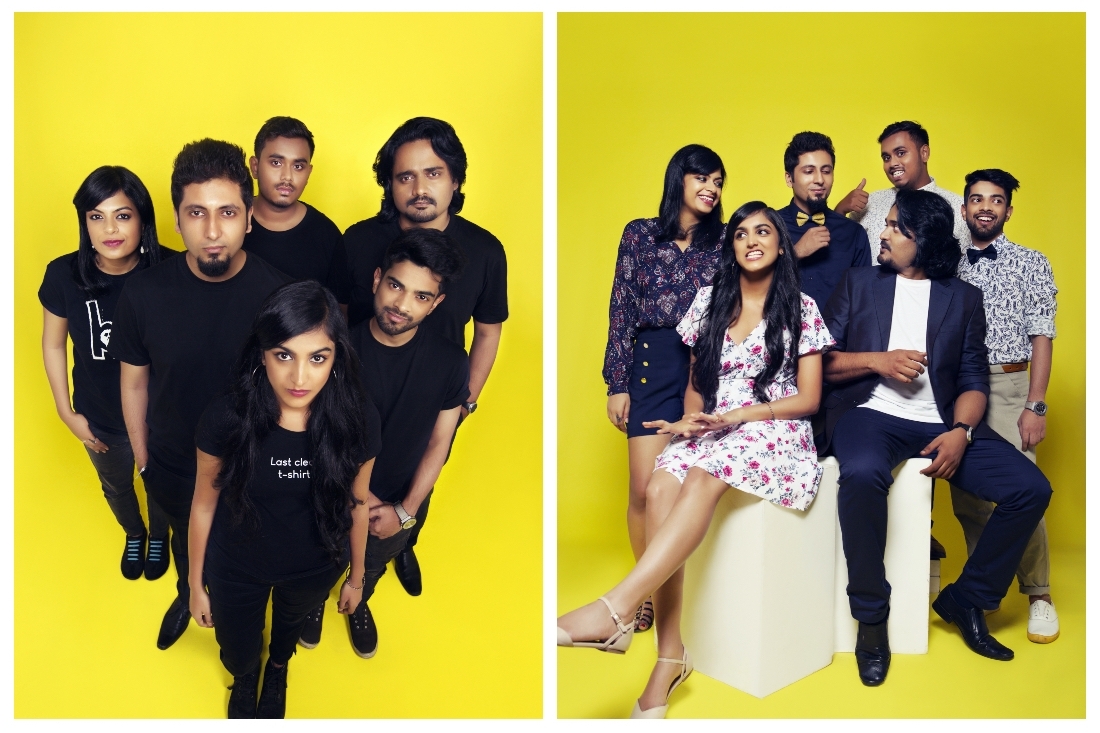 Image credit: Shoeb Mashadi
Regarded as the country's first ever all-vocal orchestra, Voctronica has been paving the way for the vocal music community in India since 2011. Over the years, the band has released numerous cover videos, created solely with the power of the human voice, which have resonated well with the audience and propelled the band to fame. From the renowned music composer Amit Trivedi to the widely popular comedy group AIB, Voctronica's signature sound has enabled them to collaborate with some of the biggest content creators in India.
The members — Avinash Tewari (beatbox, bass), Warsha Easwar (vocals, brass, strings), Aditi Ramesh (vocals, brass, strings), Arjun Nair (bass, vocals), Clyde Rodrigues (vocals, brass, strings) and Nagesh Reddy (beatbox) — use a cappella and beatboxing to emulate the power of a live band and create a sound that is intriguing and addictive.
Their all-new, all-vocal instrumental single, Seven, is now available on all streaming platforms. 'Seven is an all vocal instrumental, one of the first of its kind, set to one of our favourite time signatures. The song travels through genres and moods, influenced by everything — from Carnatic classical music to Drums and Bass — culminating in a unique experience of humans serving as instruments, experimenting with and pushing the boundaries of the powers of the human voice.'
Coming Together
Voctronica was initially put together by Sony Music, in conjunction with British Council and British beatboxer Shlomo. The initial setup was dissolved, and the current setup of Voctronica was put together by the current members two years ago. The initial challenges were just understanding where each one of us came from, and finding our sound. We were on the same page really quickly, and since then, it's been more about a constant process of growing individually, as well as a band. We're continually trying to do new things and add more to our repertoire through a constant process of trial and error.
Sound-check
Honestly, we got lucky with respect to our equation and sync with each other. We're able to read and feed off each other, without any verbal communication. However, like any band, it takes time to understand our individual strengths and weaknesses, and then form a template of working. Our sound-checks are a lot of fun because we try new tones and sounds, and experiment with our engineer to see what more we can do. Improv jams and random vocal experiments are generally what constitute a Voctronica sound-check.
Seven
Seven has almost mirrored the journey of the band, and is our debut single. The song was a result of the way this band can make music, and of being inspired by the unique opportunity to think like an instrument, instead of performing with an instrument. Initially, it came about four years ago through a bit of a loop that a couple of us started messing with, and before we knew it, it started taking the shape of an idea. It underwent another transformation when we had a line-up change in 2018, and right through its entire journey, we somehow never felt the need to fix something that wasn't broken and add lyrics to it.
The resolve to retain it as an all vocal instrumental was solid right from the start. Through all our performances of the track, live for audiences worldwide, the song went through a long test to prove its mettle, and is now the track that you hear today. It felt organic to represent the true versatile palette of what we can do as an 'All Vocal Ensemble' that is proud to represent India in this genre of music. We're excited to see it all come to life now, and it had to be the first to go out.
The Sensibility
Seven is arguably the first ever all vocal instrumental from this part of the world. So it does marry the sensibilities of how one would approach a purely instrumental composition, and yet, the palette used is only human voices, giving it a very organic flavour. The track also navigates multiple genres and influences. We're big fans of electronic music, that's where breakbeat and DnB come from, and the song had to reflect the sounds of the soil that birthed us, which came very naturally in the progression of the track, hence the Carnatic influences and the Konnakol. All in all, it's a genre hopping narrative, and everyone who's experienced it so far has felt like they took a very visual journey, almost cinematic.
Coping with Covid-19
We have had to re-calibrate the pace of things and how we keep things rolling. We had a massive year of gigs lined up internationally, that have all got a question mark hovering over them, and most of all, the whole excitement to meet and jam is something we all miss terribly. That being said, we've tried to set most things in motion to push this track out. We wouldn't want to reveal too much right now because a lot of ideas are still in motion.
It's been a challenge, adapting to this situation, but a challenge we are looking to use as an opportunity to innovate and stay on the front foot, especially in the digital realm. Of course, we miss the entire process of physically performing for our audiences, and connecting with new audiences. We can't wait for things to get better and are still positive about trying to make the most we can of 2020. If anything, the current lockdown scenario has made us even more hungry as artists, and we're using it to keep us resilient and helping us push forward.
Text
Hansika Lohani Mehtani