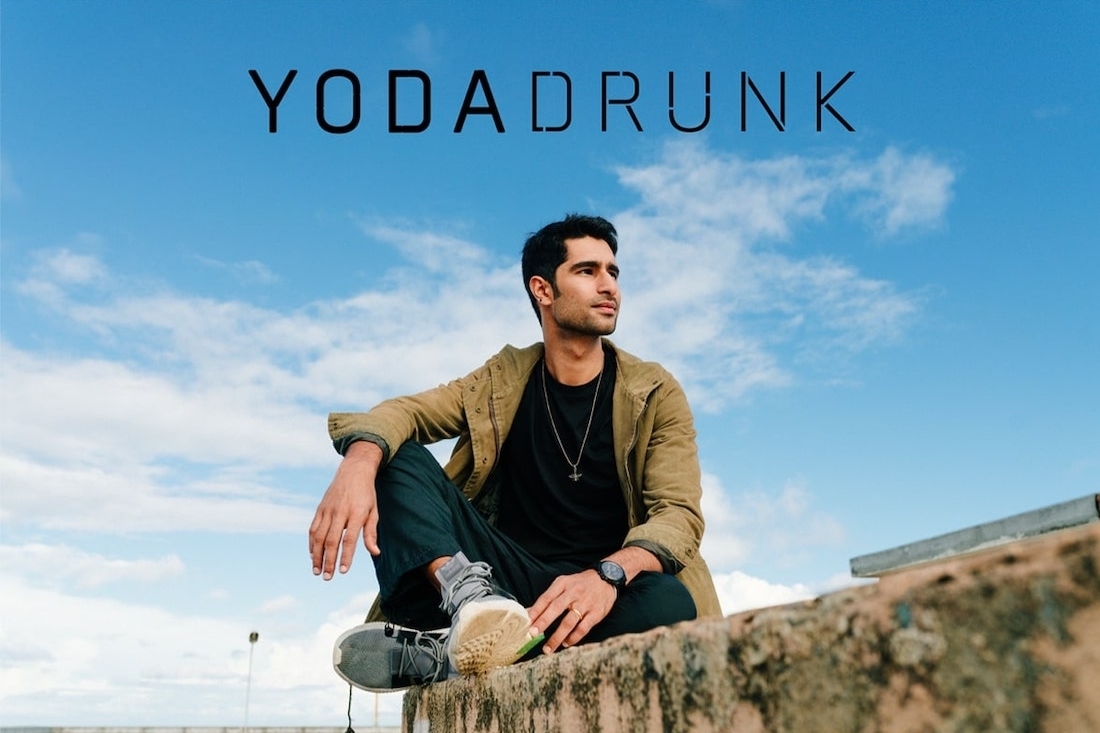 Singer, producer, drummer — musically versatile Yohan Marshall, also known as Yoda Drunk, has a distinct voice which sets him apart from his contemporaries. His unique music sensibility is a consequence of his affinity for all kinds of music genres, be it folk, fusion, Hindi or pop. Having grown up in Ahmedabad and schooled by some of the finest in the field, Yohan always knew he wanted to become a musician. He began composing music at a very young age and formed a band in high-school. Experiment Seven was his initiation into the world of independent music ensembles and made him realise his passion for the art. Inspired by artists such as Frank Ocean, French Kiwi Juice, Radiohead and Daniel Caesar, Yohan's style of music resonates with the generation whose music tastes are becoming increasingly experimental.
His latest project as Yoda Drunk witnessed him teaming up with producer Nirmit Shah and vocalist Ambika Nayak — both part of electronic duo Nothing Anonymous — for a single titled Sweetheart. The song is now available to stream on all platforms and is a unique culmination of all the experiences Yohan has had as an artist. We connected with him to know more about his journey and work so far.
THE ARTIST
My evolution as a musician has been huge. I started as a drummer, but when I attended music school I realised that my love for music went beyond any one instrument. So, I picked up the acoustic guitar and also started writing songs. I found this to be a very beautiful process, to write about things that I felt and my experiences. Then, after I moved to Bombay, I began producing a little bit. I started picking up a little bit of the bass guitar, a little bit of keys, and so on. I have always wanted different things at different stages. When I was with The Family Cheese, we were a fusion rock band. My second band, Marshall and the Mischief, which was my solo project, was to do with alt-rock, rap, pop and the like. My newest project, Yoda Drunk, deals with German based hip-hop, trip-hop and all these modern sounds and base heavy music.
I also realised that I was relatively good at putting together an act and taking it from making music in your bedroom to putting it out, making a music video, approaching the right people and getting the gig. A very significant part of my journey has been getting over self-doubt. I don't dwell on other people's opinions too much. When it's time to evolve, I find that I do evolve.
MAYA, THE ILLUSION
The EP Maya, the Illusion has five songs that I am releasing one by one. The first song called Heat of the day was released in 2019, the second release was Tilt in January of this year. The third release is Sweetheart, and all of them are part of the EP. I have two more tracks coming out. One of them titled Maya, the Illusion, will be coming out in about a month from now and it has a music video attached to it as well. I decided to scrap the idea of an EP with all five tracks because as someone who is an entrepreneur and who is in the business of music, I realised that releasing tracks one by one would be a much better strategy. So, I'm going to be doing more regular releases.
SWEETHEART
Sweetheart is the third release from Yoda Drunk, which is my live electronic crossover new act. The track is this ambient, groove-heavy, pop oriented, electronic track. It has vocals in a falsetto range, which is like a much higher voice and it is the first time that I'm attempting this entire style. The track is about abandonment. It's like being a part of a relationship which you know is breaking apart. The lyrics, 'sweetheart,I can't believe that you've abandoned me this way' describes the feeling that even while you're going through something, sometimes you feel like it's kind of coming to an end. The single features the duo Nothing Anonymous. The producer for Nothing Anonymous, Nirmit, is one of my favourite people to work with. He has produced music and material for Yoda Drunk. In a way, watching Nothing Anonymous got me really inspired about the crossover between live and electronic music. So in that way, I do feel like maybe it wasn't a collaboration, maybe I just got inspired by them!
Beyond the track and the music video created by Yazad Anklesaria and Gorkey Patwal, starring Prabal Panjabi and Kaveri Seth, I am also running an initiative called Sweetheart for Saath, through which, funds are collected for the suicide prevention centre and NGO Saath, run by my mother.
THE PANDEMIC
I got really lucky as I drove down to my house in Ahmedabad one day before the lockdown started. My dad has great foresight, he said, 'just pack your stuff and drive down, if it gets over in five days, you can just drive back!' I haven't actually been home like this in the past 10 years. I feel so lucky because I've got a chance to kind of reconnect with so many things. I've been chilling with my parents. I've been writing so much music. I actually run a music school in Mumbai as well. It's a place called Counterpoint Music. So I've been taking online classes. I've been writing music for Yoda Drunk, helping out NGOs like Salaam Bombay and so on. So, this lockdown has actually been a great time for me. It's been extremely creative and I'm using my voice for things that are bigger than just myself and I'm very happy about that.
THE FUTURE
I am currently working on the music video for Maya, the illusion. A very close friend of mine called Gazala (Soin) is a fantastic dancer. She and I are coming up with the choreography and a cousin of mine has a very interesting location. So, Gazala and I are going to be performing at this amazing location. I don't want to give away too much, but, that's what is upcoming as of now.
I'm very happy to say that I've always had a good audience who is invested in my narrative and wants to know what I have to say. I feel like we are at a very beautiful place as an independent music industry, because in the next five to 10 years, it is going to explode. The artists that have till now been relatively underground are going to become household names. At a time like this, through my music school, I share not only my experiences, but I also help younger, very talented musicians to come to the forefront of the scene and experience life the way I did. I feel like a lot of musicians and creative individuals are crippled by the opinions of other people. It is the one thing that I feel is stopping them from doing just about everything. I have realised for me, music, education, performing music live, singing for ads, being a session-drummer, acting, modelling — all of these have made my career so enjoyable. I could only start to reach this feeling when I got rid of self-doubt and I stopped worrying about other people's opinions. I have tried just about everything that I wanted to try without worrying about what the other person would think, and that has made my journey infinitely better.
Text Samadrita Khasnabis