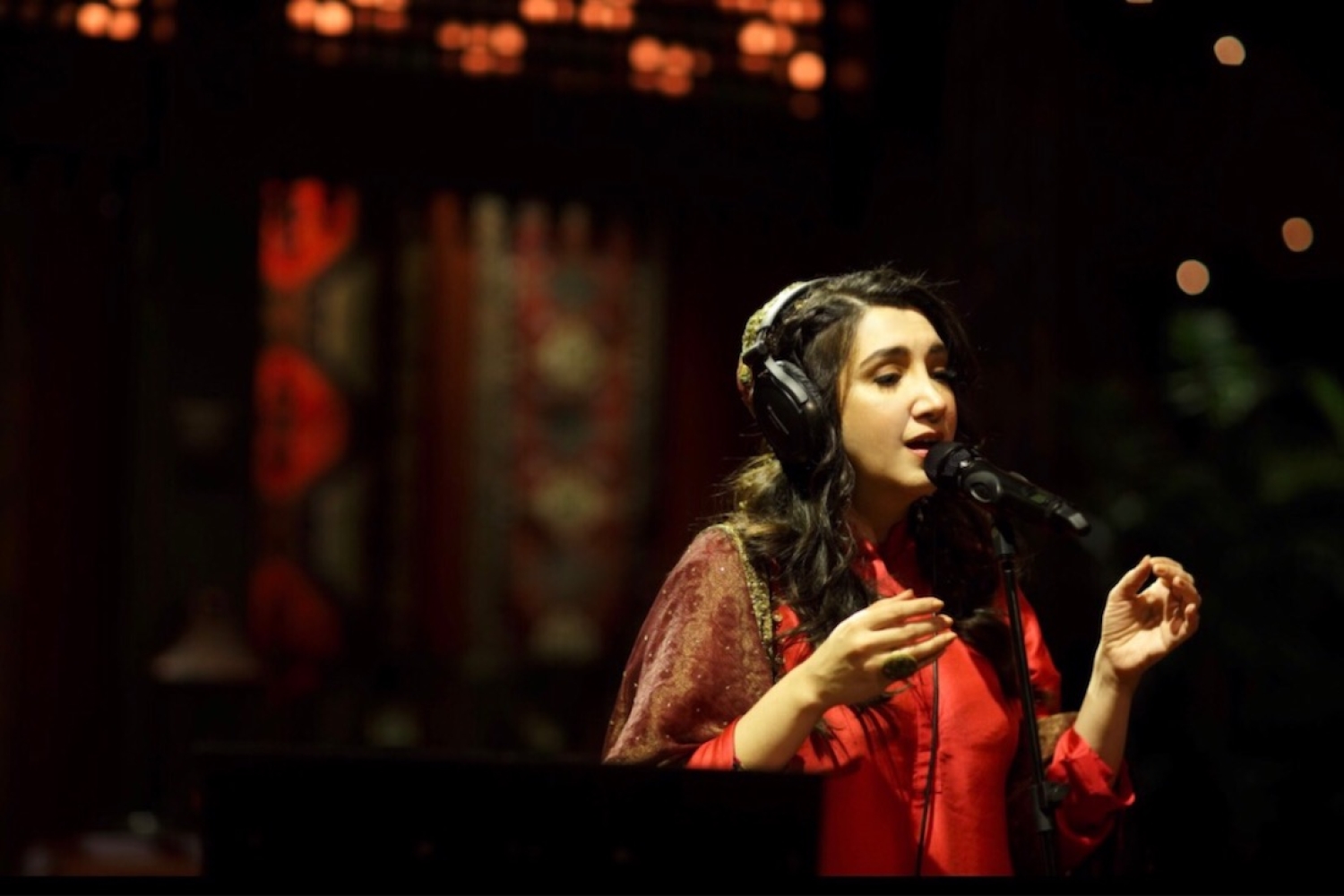 Coke Studio has been instrumental in introducing us to a plethora of talent from across the border. One such euphonious voice was that of Zeb Bangash. Zeb was globally known as one half of the popular Pakistani music duo Zeb and Haniya, a genre bending collaboration between cousins. When Haniya shipped herself off to Canada, Zeb sought refuge in music. Zeb continued to create music with sounds rooted in Central Asia, the Middle East and Western jazz, blues and pop templates, along with a South Asian aesthetic core. After their incredible session at Coke Studio, Zeb was first invited to sing for Indian cinema luminaries like A.R. Rahman (Highway), Shantanu Moitra (Madras Café) and Amit Trivedi (Fitoor), and then went on to compose music for Lipstick Under my Burkha. We're in conversation with her to know more about her roots, journey, and the future.
Let's go back a bit — tell us about your growing up years. Where did you study and what were the aspirations back then?
We were a big family! I was one of five siblings, but we also had a large extended family that we interacted with quite frequently, so there were a lot of aunts, uncles and cousins around. I loved interacting with people and enjoyed the fact that our house was an open house where all were welcome. Even so, being a Services kid, I grew up with a fair bit of order and discipline in my daily routine. We weren't allowed to watch more than ten minutes of television (cartoon time) and had to play outdoors in the evening. Also, I wasn't allowed to stay up late except during our summer holidays. I'm grateful for the childhood I had because I was a bit of a spontaneous, rebellious child and a dreamer, so it was nice to have some order and safety in my personal chaos.

Because of my father's postings, we moved around a lot when I was a kid. I never stayed in a place for more than two years and changed almost a dozen schools till high school. That didn't bother me much since I was quick to make friends and thrived on the change. My father then got a posting in Turkey (Turkiye) for a few years, and it was there that I took my A levels, learnt Turkish, and took a year off before going to the U.S. for college. I admit, I wasn't very ambitious as a child. I just liked the idea of playing different roles and got fascinated by many professions including being a cook, a cleaner, figure skater, air hostess, actuary and a business woman. I'm glad I went to a liberal arts college and only decided on my profession when I needed to.
When and how did your romance with music begin?
My earliest memory of my Nani (maternal grandmother) is of her singing to me. So for me, singing, listening to music, and making songs have always been a part of my life, largely because my family loved music. There were no professional or trained musicians in the family but just an entire tribe of people who were obsessed with and passionate about music. Some had actually taught themselves how to play instruments — one of my uncles taught himself how to play the tabla without any formal training so he used to play with the left tabla on the right side. The biggest joy while growing up was sharing mix selection music cassettes and getting to hear what our cool older siblings and cousins were listening to. Road trips were essentially family sing-alongs to old Bollywood songs and all late night gatherings were focused around listening to 'geet malas' on VHS recordings until someone started singing and then everyone would just sing. I think music has always been linked to my family and dear ones sharing and expressing love for me, which is why it has always been a magical thing.
Tell us about creating music with Haniya and the journey after you parted ways?
That time was so special and so unexpected. We were not prepared for it because we never thought people would even listen to us, let alone like us. Come to think of it, that feeling isn't completely gone, I suppose one can never be sure if some will listen to or like your music, but I know that I am different now so my music will reflect that. After the Zeb and Haniya split, I became a lot more focused on my own singing and training. I also met my Ustaad (master/teacher) around the same time, so I became a serious student of music for the first time. Along with that I collaborated with musicians, made a band and experimented a lot more than I had done when I was in Zeb and Haniya. I can't specifically say what really sounds different though, maybe we'll let the audience decide.
How did finding Ustaad Saami and learning music from him change your life?
I consider finding Ustaad Saami a real turning point in my life, and a blessing. Soon after I started training with him, I realised that even though we only talked about music in class, this practice was affecting more than just my musical self. I found it to be a transformative practice. The takeaway of this practice, especially over time, has been that I feel more aware of myself and more calm — as in I don't feel the anxiety of how and when I will make it and so on. I am content with and enjoying my journey and am present in my own work. In that sense, I feel braver to do what I want musically. I think it also rekindled my curious spirit which had perhaps dimmed down a bit, so now I am more excitable and optimistic, less jaded.

What do you think about the music coming from India? Are there any artists you really want to collaborate with?
So in my mind, musically there isn't really such a big divide between India and Pakistan because it's very difficult to suddenly, in your adulthood, start thinking of this music as separate from ours. Like I said, my grandmother would sing me a lullaby by Lata ji and that's the first song that I heard. For me, all of this music is one and the same. I honestly don't listen to music thinking it's Pakistani or Indian, but I do love a lot of indie artists like Prateek Kuhad, Lifafa and F-16s, along with Ankur Tewari who is a friend from when we first came to India. It's exciting to see many new bands have come up, especially in the last five years and I'd love to do collaborations. In Bollywood, I do really admire Arijit Singh. I think he's just great and so versatile and I'd love to do a song with him one day.

How was the experience of working creating music for a Bollywood film?
My experience was not very commonplace because I don't think that Lipstick Under My Burkha film or that team was commonplace. I had a fantastic time! In this day and age, it's a privilege for a music director to get a couple meetings before making a song for a film and I got to develop a deep friendship with both Alankrita and Anvita. Not bad right? We had so many evening hangouts with great music, poetry, talks on aesthetics, accompanied by delicious food. In that sense it did feel like a long lost cousin zone, there was so much comfort. The trust, the music making and being on the same page made the entire experience more natural and rewarding at many levels.

Can you tell us about the creative process you followed for the project? Walk us through a day at the studio when you are creating?
The seeds were sown over numerous discussions around a particular scene with the director. With that perspective, I would jam some ideas with Ankur Mukherjee, who also was arranging the songs. We would come with some tunes on the guitar and then Alankrita would show up to the studio and a certain idea/ direction would be chosen. I don't come from a high paced music making environment so making a song and recording it immediately was not something I could do. I needed some space in the middle to work further on tunes. When they were in good shape, we made Alankrita and Anvita hear them again. And after approval and lyrics, we started thinking about the sound arrangements and instrumentalists to work with. It was great fun. Each phase was different. The end bit just before delivery is always brutal but that's part of the fun.

Words Hansika Lohani
Date 23-05-2023